By: Tayler Glenn
Thanksgiving is finally just around the corner! It's impossible not to look forward to spending time with loved ones + gathering around to watch the parades. That is, after all, what makes this season so special!  But, at the same time, many of us are also a little worried about navigating the lines of decadent desserts + not-so-healthy casseroles.  Not to worry, you don't have to give up your favorites for good! Be the host with the most with these dishes for a healthy Thanksgiving everyone will love!
Honey-Glazed Squash Roast
This recipe brings together a wide range of flavors and textures that complement one another in a way that is almost magical.  For those who might be heading into the dining room worried about options for a vegetarian or plant-based diet, this healthy Thanksgiving dish is perfect for you to try!
Serves: Makes 12 servings
Prep Time: 1 hour 15 minutes
Ingredients:
5 pounds delicata or acorn squash
4 shallots, quartered lengthwise
3 tablespoons extra-virgin olive oil
½ teaspoon fine sea salt plus a pinch, divided
¼ teaspoon ground pepper
½ cup honey
½ cup cider vinegar
½ cup pomegranate seeds
¼ cup pine nuts, toasted
¼ cup fresh mint, finely chopped
Method:
Squash:
Position racks to sit on the upper + lower thirds of your oven, then preheat to 400°F.

Cut the squash in half lengthwise and scoop out the seeds.

Cut crosswise into 1-inch slices.

Toss squash slices and shallots with oil, ½ teaspoon salt + pepper in a large bowl.

Divide between 2 large rimmed baking sheets.

Roast for 30 to 40 minutes turning each piece over and rotating the pans top to bottom halfway through until the squash is tender.

Transfer the squash and shallots to a serving platter.
Sauce
Combine honey, vinegar, and a pinch of salt in a small saucepan.

Bring to a boil over high heat, then reduce heat to a lively simmer and cook for5 to 8 minutes or until reduced to about ½ cup.

Immediately drizzle the syrup over the squash.

Serve topped with pomegranate seeds, pine nuts, and mint.
Savory Sage Stuffing
Your typical Thanksgiving stuffing packs a one-two punch of refined carbs and unhealthy fats on top of more sodium than you need for a week! Upgrade your recipe with this Savory Sage Stuffing that offers 11 grams of protein without the refined carbs.
Serves: 15 (3/4-cup) servings
Prep Time: Varies
Ingredients:
2 Tbs. salted butter
1 large onion, finely chopped
2 lbs ground pork
1/2 c. almond flour
1 Tbs. ground sage
1/2 tsp. salt
1/2 tsp. pepper
Method:
In a large skillet or saucepan, melt the butter, then fry the onion until soft, about 10 minutes.
Add all the remaining ingredients, and mix well. Transfer the mixture to a large bowl, and mix to combine.
Weigh the turkey after stuffing to calculate the complete roasting time.
Roast as directed on the package.
Citrus Cranberry Sauce
Maintaining through the holidays doesn't have to mean you can't enjoy your holiday favorites! Try this low-gi recipe for cranberry sauce with a little twist.
Serves: Makes 8-10 servings
Prep Time: 20-30 minutes
Ingredients:
1 c. non-GMO erythritol
½ c. fresh organic orange juice
1 tsp. organic orange zest
12 oz. fresh organic cranberries
0.25 tsp. Stevia Extract (to taste)
Method:
In a medium saucepan over medium heat, dissolve the erythritol in the orange juice.
Stir in the cranberries, and cook until they start to pop (about 10 minutes).
Remove from heat, and transfer to a bowl. Cranberry sauce will thicken as it cools.
Turkey Meatballs with Cranberry Glaze
The big Turkey Day meal is the main focus, but what are you going to do with all of that turkey afterward? This recipe is a great way to refresh + reuse your turkey for phenomenal leftovers! See more below.
Serves: Serves 16
Prep Time: 30 minutes
Ingredients:
Meatballs:
1 lb ground turkey
1/3 cup almond flour
1 egg
1 tsp salt
1/4 tsp black pepper
1 tsp fresh ginger, minced
2 Tbsp walnuts, finely chopped
1/4 cup fresh cranberries, chopped
2 Tbsp fresh parsley, chopped
Glaze:
1/2 cup fresh cranberries
1/4 cup water
2 Tbsp granulated sugar substitute
1/8 tsp xanthan gum
Method:
Meatballs:
Combine all of meatball ingredients in a medium bowl.
Mix gently but thoroughly.
Form into 16 meatballs and place on a cookie sheet.
Bake in a preheated 375 degree oven for 15 minutes or until cooked through.
Glaze:
Combine cranberries, water, and sweetener in a small saucepan.
Bring to a boil, lower the heat, and simmer for about 8 minutes or until the cranberries start to burst.
Puree.
Pour through fine strainer to remove skin and seeds.
Return to the saucepan, whisk in xanthan gum.
Add the meatballs and toss gently to coat in the sauce.
Serve warm or chilled.
Mediterranean Roasted Eggplant Dip
Often, it's the snack and appetizer foods that cause us to go overboard on calories, fats, and carbs. Creating a healthy and savory dip to go with fresh veggies is the best way to avoid filling up on unhealthy appetizers before the good stuff comes out! Even if you're not a fan of eggplant, tossing in garlic and just a few other spices might just win you over!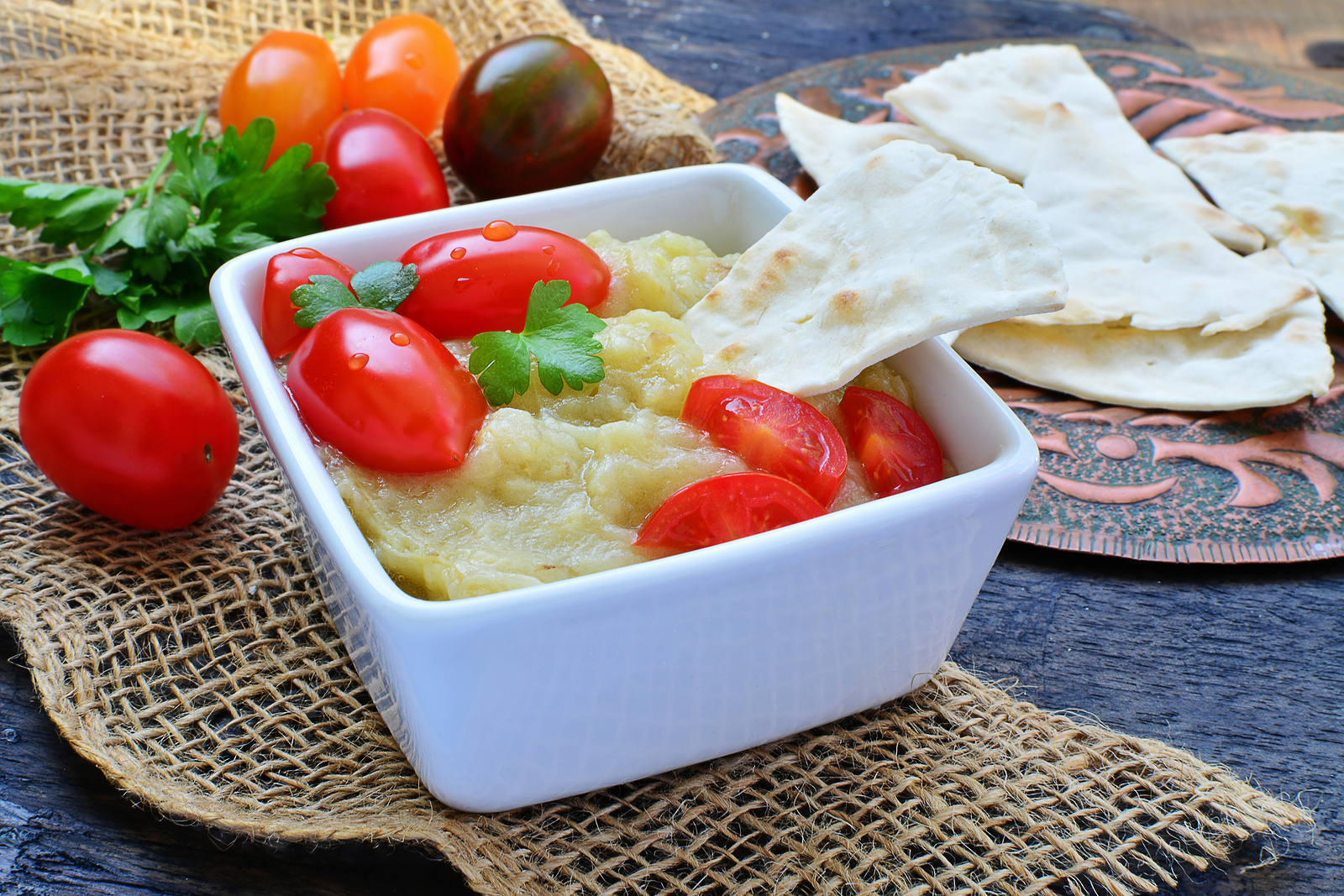 Serves: Makes 6 servings
Prep Time: 45 minutes
Ingredients:
1

 

small eggplant (8 oz), 

peeled

1

 

c.

 

chopped onion

4

 

garlic cloves

2

 

tablespoons

 

olive oil

1

 

cup

 plain Greek yogurt

2

 

teaspoons

 

lemon juice

1/2

 

teaspoon

 

salt

1/4

 

teaspoon

 

pepper

Optional topping: 2 tablespoons fresh chopped parsley
Method:
Preheat oven to 400 degrees.

Slice eggplant and place on a greased baking sheet.

Top with onion and garlic cloves.

Drizzle with oil and bake 40 minutes, flipping halfway through

Allow to cool.

In a food processor, add eggplant and pulse until desired consistency.

Transfer eggplant to a bowl and stir in the rest of the ingredients. Taste and adjust salt if needed,

Top with fresh parsley.
Pumpkin Pie Custard
If dessert is one big slippery slope for you, this healthier option offers all of the flavors and texture of a pumpkin pie without all the calories and crust from a traditional recipe. It takes only seven ingredients to create this simple and delicious dessert. Your family will be lining up for this one even if they didn't think they were a pumpkin lover!
Serves: Makes 6 servings
Prep Time: 50 minutes
Ingredients:
15

 

ounces

 

pumpkin

1/2

 

cup

 cashew milk

4

 

eggs

 

beaten

1/2

 

teaspoon

 

salt

2

 

teaspoons

 

vanilla extract

2

 

teaspoons

 

pumpkin pie spice

1

 

teaspoon

 

pumpkin spice liquid stevia 

or vanilla liquid stevia or even cinnamon stevia

Optional toppings: Whipped Cream

 + a s

prinkle of nutmeg
Method:
Preheat oven to 350 degrees.
Spray 6 7 oz. ramekins or custard cups with olive oil cooking spray.
In a large bowl or stand mixer mix together pumpkin, cream eggs, spices, and stevia.
Pour evenly into 7 oz. ramekins.
Bake for 45-50 minutes or until a knife in center comes out clean
Invert onto a plate or serve from the dish.
Best served cold.
Optional: Top with whipped cream+ top with more nutmeg
Salted Caramel Snickerdoodle Cookies
Snickerdoodle cookies are good, but what if you could take them up a notch without worrying about breaking the blood sugar bank? This gluten-free and homemade recipe is almost too good to be true, but it's just another wonderful addition to a healthy Thanksgiving spread!  Just be careful how hard press your thumb when creating the indent. Too much pressure and your whole batch will flatten when baking.
Serves: Makes 28 cookies
Prep Time: 20 minutes
Ingredients: 
Sauce:
4

 

tbsp

 

butter

6

 

ounces

 

Sukrin Fiber Gold Syrup

3

 

ounces

 

cashew milk

1/2

 

tsp

 

coarse sea salt

1

 

tsp

 

vanilla extract
Cookies:
1 

cup

 

 coconut flour

1/2

 

cup

 

 sweetener

3 

tsp

 

cinnamon

1

 

tsp

 

baking soda

1

 

tsp

 

cream of tartar

1/2

 

tsp

 

salt

1/2

 

cup

 

butter

 (

room temperature)

2

 

eggs

1

 

tsp

 

maple extract

1

 

tsp

 

vanilla extract

1

 

tsp

 liquid stevia

4

 

ounces

 

Microwave Salted Caramel Sauce
Method: 
Sauce:
Place everything except sea salt and vanilla extract in a 16 ounce or larger mason jar.
Microwave 1 minute. Stir.
Microwave 1 minute. Stir well.
Microwave 1 more minute, don't stir, let it sit for 2 minutes.
Check the color and consistency. If it still looks too loose and thin, microwave 1 more minute.
Stir in the seas salt and vanilla extract.
Allow it to cool completely.
Cookies:
Preheat the oven to 350 degrees.

Whisk the first six ingredients together in a bowl. Set aside.

In a stand mixer add the remaining ingredients except for the optional Sukrin gold and salted caramel sauce. Blend well.

Pour wet ingredients into the dry mixture, then blend again until combined.

Measure the out batter into 29 balls

Place them on a parchment lined cookie sheet.

Very carefully use your thumb or around 1/4 tsp measuring spoon to make a small indent in the center of each ball.

Bake cookies for 10 minutes.

Let cool completely then fill with caramel.

Keep in fridge to set caramel or before ready to serve!
Enjoy!
What are your favorite Thanksgiving recipes? Tell us in the comments!