Week 1 of 28 Days of Weight Loss is here. Hit the ground running this week with our week 1 grocery list and recipes carefully curated by the experts at TLS.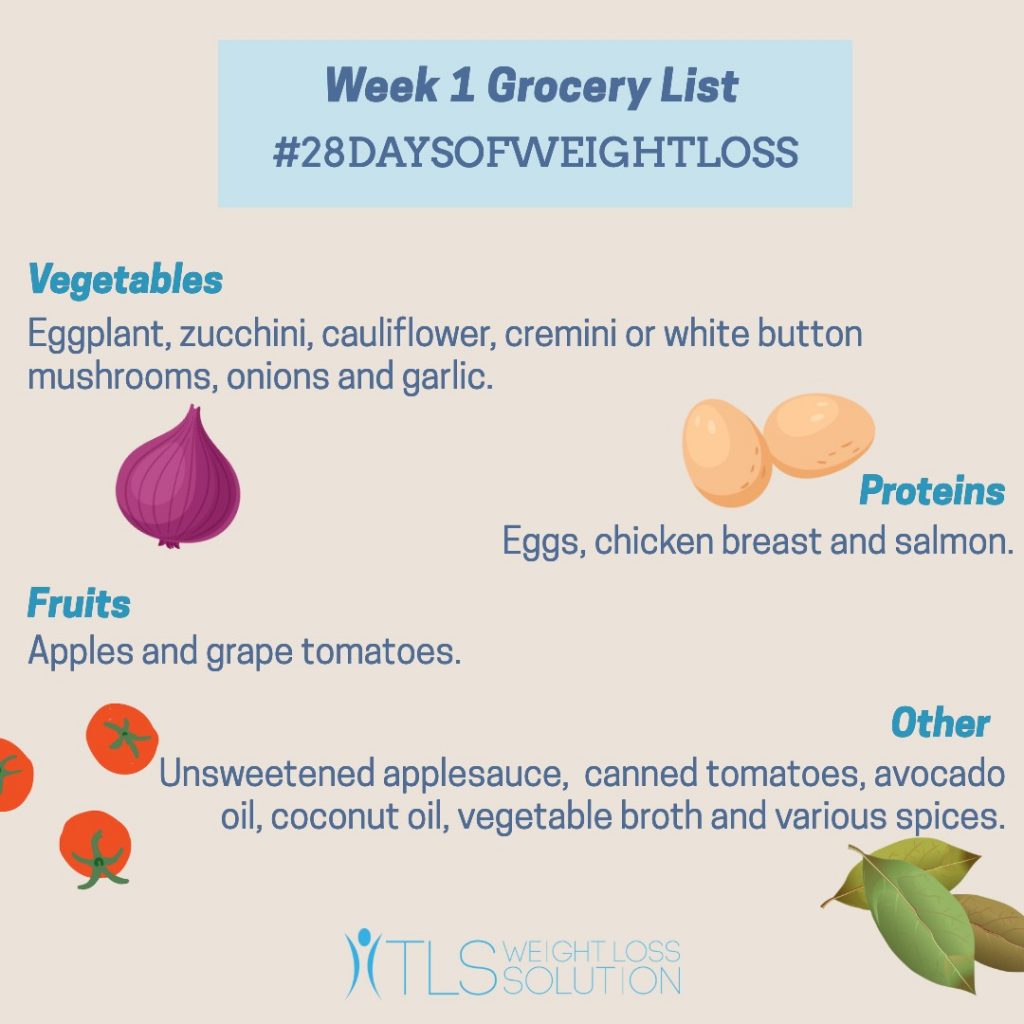 Side Dish
Eggplant Casserole
(FS, RR, SS, CC, P2)
Serves 4
1 or 2 eggplants
sliced – 1 can crushed tomatoes (or stewed)
1 box mushrooms
1 large onion
2 tsp Avocado oil or olive oil
Any spices you like. We suggest garlic, oregano, basil, etc.
Slice the eggplants, toss in a little avocado oil.
Place on baking sheet and put under broiler (set to low) for 10–15 minutes. In a casserole dish, put a little sauce on bottom then layer eggplant, mushrooms, onions and sauce.
Keep layering until you reach the top. Cover and cook for one hour at 375°F. Let cool, serve and enjoy.
Quick Breakfast
Grain-Free Protein Pancakes
(FS, RR, SS, CC, P2)
Serves 1
2 scoops TLS Nutrition Shake — Vanilla
3 oz. unsweetened apple sauce
2 eggs
Cinnamon and nutmeg to taste
Coconut oil
Mix all ingredients together. Add coconut oil to a pan and when melted, spoon mixture into pan to form pancakes. Cook on medium high heat until browned and flip.
Chicken
Chicken with Balsamic Vinegar
(FS, RR, SS, CC, P2)
Serves 1
1/8 tsp thyme
1 dash salt
1 TBSP extra virgin olive oil
1/2 tsp black pepper
1/4 TBSP. grass fed butter, unsalted
1 bay leaf
1 chicken breast, evenly sliced into strips
1/6 cup vegetable broth
1/2 cup sliced mushrooms
Season the chicken with salt and pepper. Heat oil in a heavy skillet and cook the chicken over medium-high heat until nicely browned on one side, about 3 minutes. Add the garlic. Turn the chicken pieces over and scatter the mushrooms overall. Continue cooking, shaking the skillet and redistributing the mushrooms so they cook evenly. Cook for about 3 minutes. Add the balsamic vinegar, broth, bay leaf and thyme. Cover tightly and cook over moderately high-heat for about 10 minutes. Turn the chicken pieces occasionally as they cook. Transfer the chicken to a large serving plate leaving the sauce to thicken. Let the sauce cook uncovered over moderately high heat for about 7 minutes. Swirl in the butter. Remove the bay leaf. Pour the sauce and mushrooms over the chicken and serve.
Stew/Fish
Salmon and Herb Spaghetti
(Detox, FS, RR, SS, CC, P1, P2)
Serves 2
3 zucchini
1/8 cup olive oil
7 grape tomatoes
3 garlic cloves, minced
2 salmon filets
1 TBSP basil
2 TBSP olive oil
1 1/2 TBSP oregano
Spiralize zucchini and cook in 2 TBSP olive oil quickly to retain some crunchy texture. Set aside. Cook garlic and tomatoes for 1 minute. Raise heat to medium high heat, pan sear salmon and sprinkle basil and oregano on top of salmon and cook until salmon is opaque (4-5 minutes). Toss tomatoes with zucchini pasta.
Soup/Vegetables
Cauliflower Soup
(Detox, FS, RR, SS, CC, P1, P2)
Serves 6
1/8 TBSP nutmeg
5 cups cauliflower (chopped)
2 TBSP extra virgin olive oil
4 cups water
1 medium onion, sliced
1 clove garlic, sliced
1 cup apple, cored and chopped
1 tsp salt
Pepper to taste
In a pan over medium heat, saute onion with oil until translucent and then add garlic until you smell the wonderful aroma. Add rest of the ingredients and saute until cauliflower soften. Add all the ingredients in a high bleed blender and pureed until smooth. If needed, add more water to get to the consistency you prefer.