By: Debbie Lui
Nowadays, people are becoming more health-conscious are always looking for ways to lead a healthier lifestyle. Following a low glycemic index (GI) diet is one of the more popular trends and you may have heard about its health benefits, but what can you eat on a low GI diet? We've got a few of our favorite incredibly delicious dinner recipes below!
What Is a Low GI Diet?
The Glycemic Index is a relative ranking of carbohydrates in foods according to how they affect blood glucose levels, and the low glycemic-impact diet is simply a way of eating that focuses on the foods lower in the raking. Thes foods are great for low GI recipes because they take a longer time to digest, absorb, and metabolize which helps you avoid the blood sugar spikes that can make weight management difficult. By allowing blood sugar levels to rise slower, a low GI diet allows you to better manage your blood glucose level after eating. The health benefits of following low GI recipes include:
Reducing overall + LDL cholesterol levels
Managing metabolic rate
Reducing the risk of atherosclerosis
Promoting a healthy weight management
Managing hunger
There are several factors that can affect the glycemic impact value of foods including the chemical structure of the carbohydrate, the level of refinement, food preparation/cooking methods, and other ingredients included in that food. For more information, you can visit Glycemic Index Foundation to take a deeper dive!
A low GI diet is not just for those who need to watch their blood sugar level; it 's beneficial for people of all ages!
Low GI Recipes:
These low GI recipes are simple and will definitely have your mouth watering! Share these recipes with your friends and family to enjoy, as well as the health benefits of low GI diet. After all, healthy eating can be delicious!
Seafood Tomato Quinoa Soup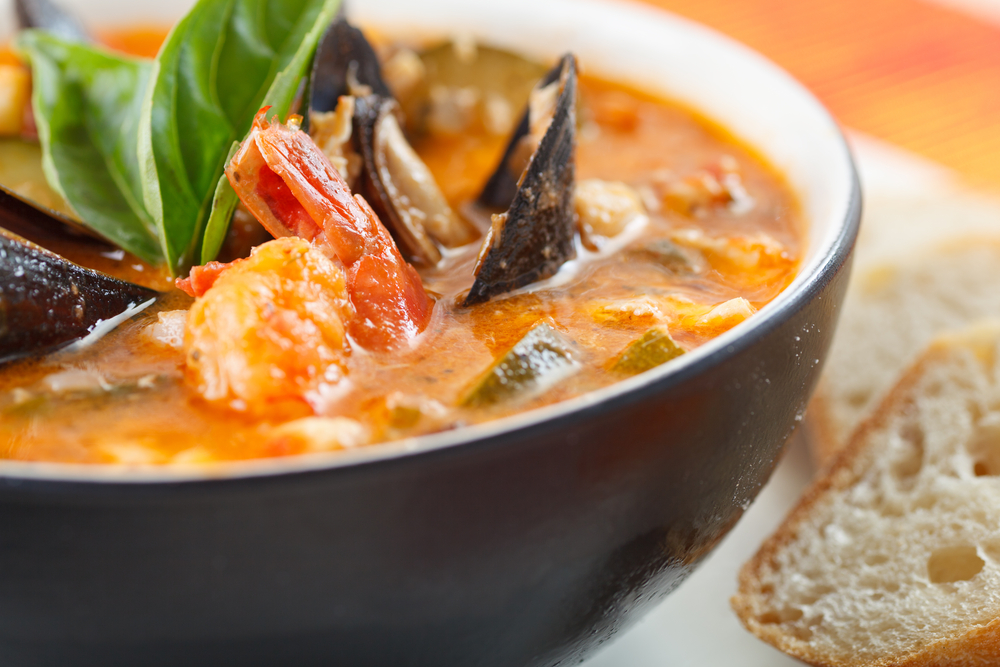 Serves: Makes 2 servings
Prep Time: 40 Minutes
Ingredients:
I medium yellow onion
2 tomatoes
8 prawns
6 mussels
½ cup cooked quinoa
½ cup tomato paste
3 cups vegetable stock (low sodium)
2 tsp. olive oil
Salt, to taste
Methods:
Dice onion and tomato.
Remove prawn head and shells, rinse together with mussels. Set aside.
In a saucepan, add olive oil.
Sauté onion and tomato until tender and the onions turn a dark brown color.
Add in prawn, cook over medium heat until it is almost done.
Sprinkle a pinch of salt for seasoning, then turn off heat and set aside.
In a pot, add vegetable stock and tomato paste, stir until combined.
Add in onion, tomato, and prawn.
Cover with lid, bring it to boil.
Add in mussels, turn heat to low.
Cook for 5 minutes.
Stir cooked quinoa in the pot, mix well and serve hot.
Enjoy!
Baked Salmon with Assorted Vegetables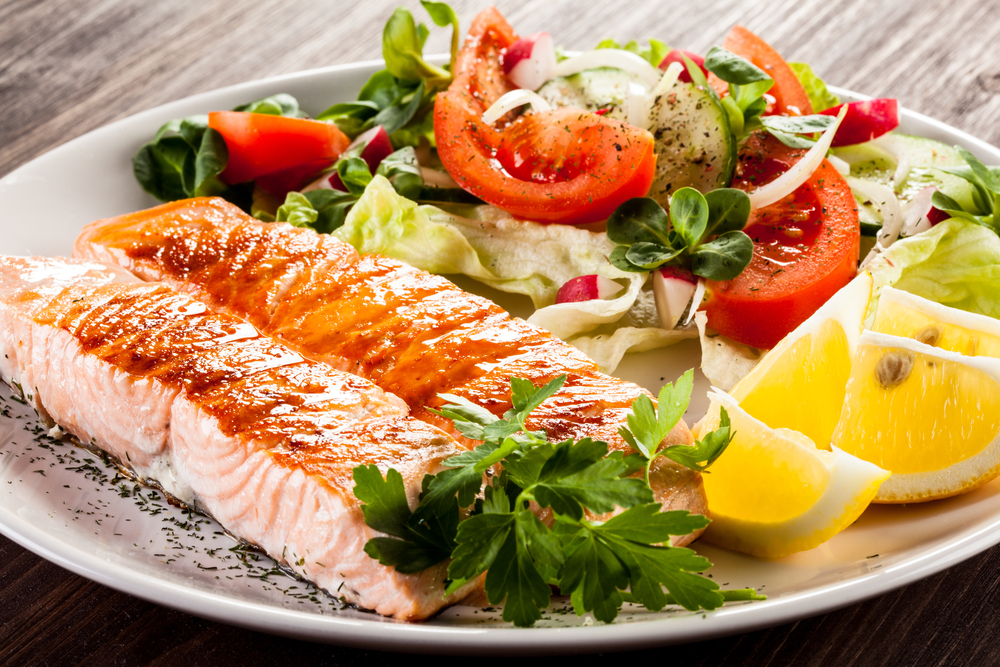 Serves: Makes 4 servings
Prep Time: 20 Minutes
Ingredients:
20 stalks asparagus
2 cups mushrooms, sliced
2 bell peppers
4 pieces salmon steak
1 Tbsp extra virgin olive oil
Pepper and salt, to taste
Methods:
Preheat oven to 350°F.
Place parchment paper on baking pan.
Gently absorb extra moisture from salmon steak with a paper towel.
Sprinkle salt and pepper on both sides of the steaks.
Place steaks on a baking pan, bake for 10 minutes.
Flip steaks, and bake for another 10 minutes or until it is cooked through.
Cut bell peppers in slices, combine with asparagus and mushroom in a bowl.
Toss with a tablespoon of oil and a pinch of salt.
In a frying pan,stir-fryy vegetables over low heat until vegetables become tender.
Enjoy!
Tuna Spinach Egg Salad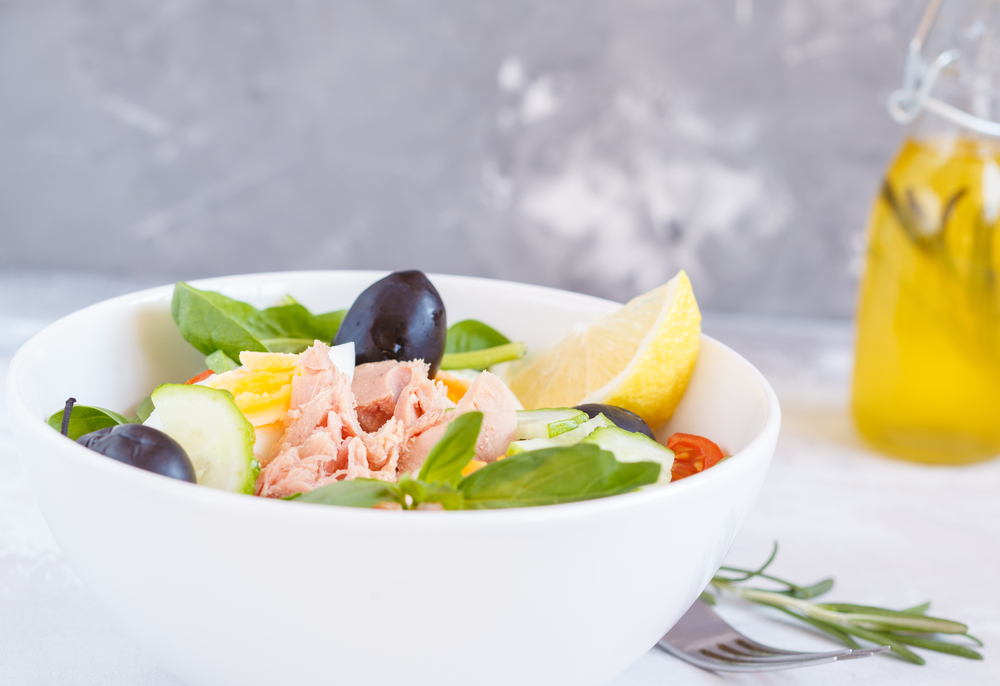 Serves: Makes 2 servings
Prep Time: 40 Minutes
Ingredients:
30 green beans
1 can of canned tuna in water, drained
1 cup corn kernels
1 cup cherry tomatoes
2 large eggs
1 cup mushrooms
2 cups baby spinach
1 Tbsp extra virgin olive oil
1 tsp vinegar
Methods:
Cut cherries tomato in half and mushroom into slices. Set aside.
In a pot of boiling water, cook green beans for 5 minutes.
Drain water and set aside.
Prepare a pot of boiling water, put eggs in, immediately turn heat to low.
Let eggs simmer for 4 minutes.
Place them in a bowl of cold water to cool down.
In a salad bowl, place all vegetables and drained tuna. Mix until combined.
In a small bowl, mix olive oil and vinegar to make the dressings.
Before serving, remove egg shell and cut the egg in halves,
Add to salad.
Pour over salad dressing.
Enjoy!
Beef and Vegetable Stir Fry with Rice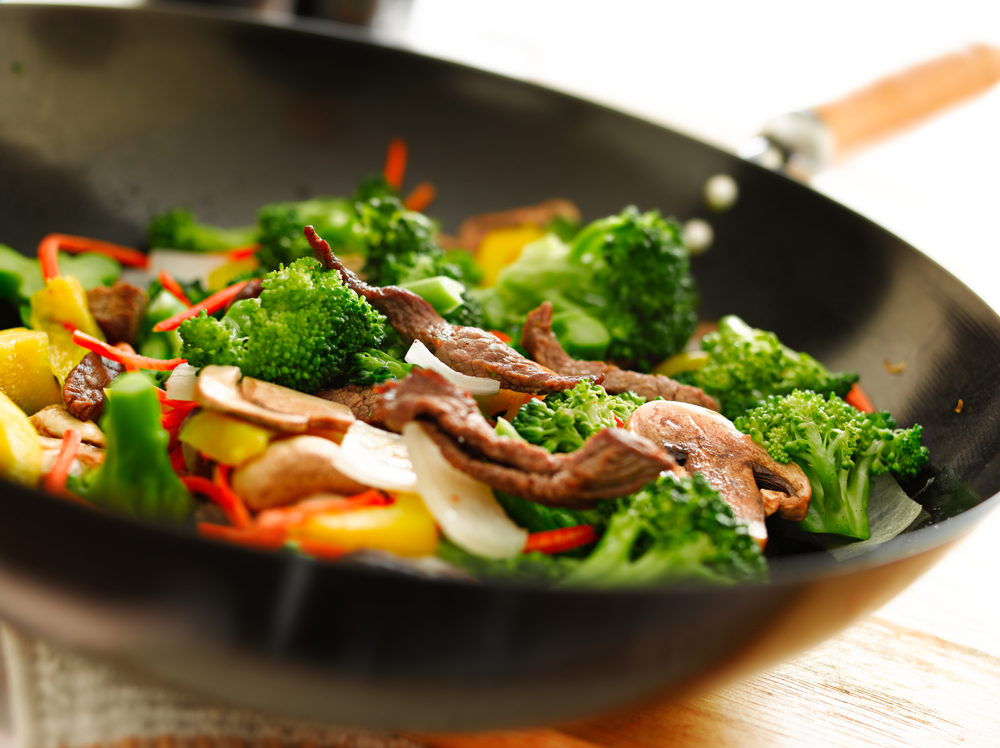 Serves: Makes 4 servings
Prep Time: 50 Minutes
Ingredients:
300g basmati rice
1lb lean beef
1/2 Tbsp sesame oil
1 minced garlic
2tsp low sodium soy sauce
1 Tbsp minced ginger roots
1 red pepper, sliced
1 green pepper, sliced
1 onion, sliced
½ tsp ground black pepper
Methods:
Rinse rice before cooking, then place in a pot, cover with water and bring to the boil.
Cover with lid and turn heat to low to simmer for around 10 minutes, or until the rice is soft.
To prepare beef, cut beef across the grain into long, thin strips.
In a large frying pan, heat oil over high heat.
Add minced garlic and stir-fry for 1 minute.
Add the beef strips and keep stir fry for 2-3 minutes or until it turns a dark colour.
Stir in the minced ginger and soy sauce. Remove the pan from the heat.
Remove and place the beef strips on a plate and set aside.
In a frying pan, cook peppers and onion for 2-3 minutes, or until the onion begins to turn brown and soften.
Add beef back to the pan and keep stir fry for another minute, until beef and vegetables are well combined.
Season with black pepper.
Serve beef with cooked rice and vegetables on plate, served hot.
Enjoy!
Basmati rice has a lower GI values, it is a good substitution for white rice which has a higher GI values if following a low GI diet.
Which of these low GI recipes would you like to try? Leave your comment below!
Source: https://www.gisymbol.com/what-affects-the-gi-value/
---
 4款低升糖晚餐食譜
By: Debbie Lui
現在,很多人都越來越注重健康,亦想尋找及實踐一個更健康的生活方式。低升糖(GI) 飲食是現在經常聽到流行飲食模式之一。我們聽說過很多關於低GI飲食的健康益處,但是你知道低GI飲食其實是一個怎樣的飲食模式嗎?血糖指數(GI)是根據食物中的碳水化合物如何影響血糖水平的相對排名。低GI食物需要較長時間消化,吸收和代謝,使血糖升高得較緩慢。因此,低GI飲食可使我們在進食後更好地控制血糖水平。低GI飲食的健康益處包括降低總膽固醇和低密度蛋白膽固醇水平,降低動脈粥樣硬化的風險;它還透過幫助管理飢餓感和新陳代謝率實現健康的體重。
能影響食物的GI值包括幾個因素:碳水化合物的化學結構,碳水化合物的精製程度,預備和烹調方法,以及在同一膳食中一起食用的食材,如纖維,脂肪和蛋白質等。如果想了解更多有關血糖指數的信息,你可以到以下網站了解更多Glycemic Index Foundation。
低GI飲食不僅適用於那些需要控制血糖水平的人,它對所有年齡層的人都有好處。
查看下面的低GI食譜,這些食譜很容易製作,必令你垂涎欲滴!今天與你的朋友和家人分享這些食譜,並與他們分享低GI飲食的健康益處!低GI飲食都可以很美味!
1)海鮮番茄藜湯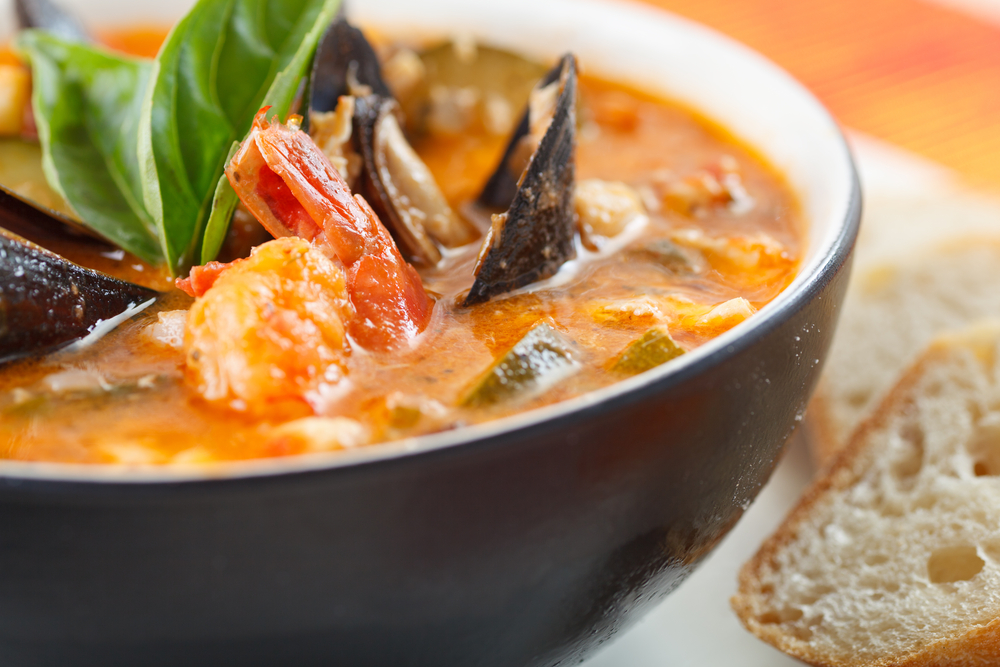 份量:2人份
準備時間:20分鐘
烹調時間:20分鐘
材料:
1個黃洋蔥(中)
2個番茄
8隻蝦
6青口
½杯經煮熟的藜麥
½杯番茄醬
3 杯蔬菜湯(低鈉)
2茶匙橄欖油
少許鹽調道
做法:
1)將洋蔥和番茄切粒,去除蝦頭和殼,與青口一起沖洗。待用。
2)在平底鍋中加入橄欖油,炒洋蔥和番茄直至軟身,洋蔥變成深色。加入大蝦,用中火煮至差不多熟透。灑少許鹽調味。關火並放在一邊。
3)在鍋中加入蔬菜湯和番茄醬,攪拌至混合,加入洋蔥,番茄和蝦。
4)蓋上蓋,煮至沸騰。加入青口,將火調低。煮5分鐘。
5)在鍋內攪拌,加入藜麥,拌勻,趁熱食用。
2)烤三文魚配什錦蔬菜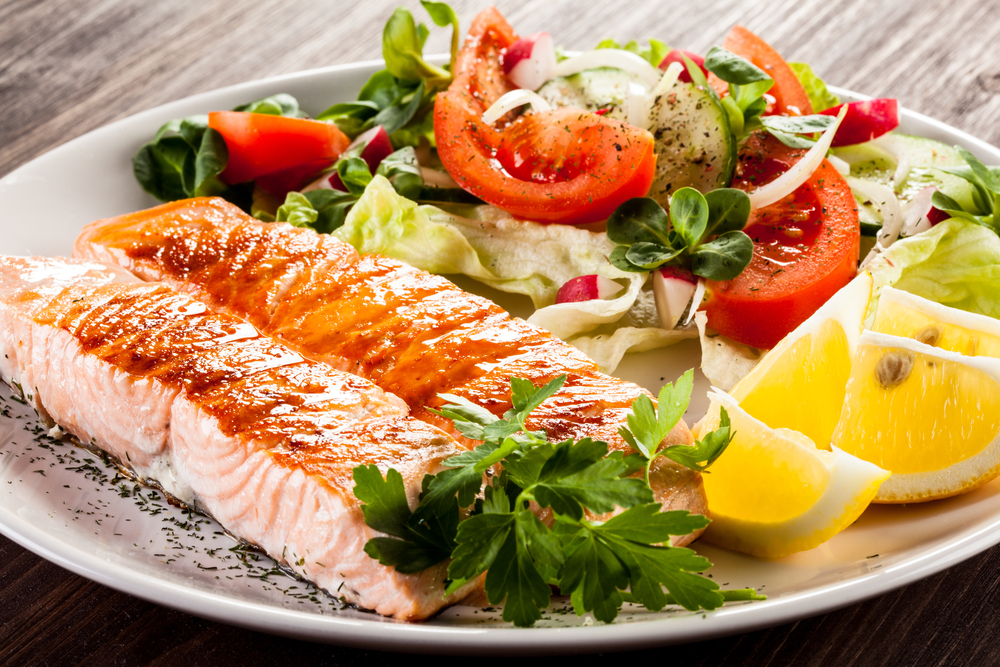 份量:4人份
準備時間:10分鐘
烹調時間:10分鐘
材料:
20枝蘆筍
2 杯切片蘑菇
2個甜椒
4件三文魚扒
1湯匙特級初榨橄欖油
胡椒和鹽調道
做法:
1)預熱焗爐至華氏350°。在焗盤上放一張焗紙。
2)用紙巾輕輕吸走三文魚的多餘水分。在魚扒的兩面撒上鹽和胡椒粉。再放在焗盤上,焗20分鐘,10分鐘後翻轉魚扒,焗至熟。
3)甜椒切片,與蘆筍和蘑菇放在一個碗裡,加入一湯匙油和一撮鹽拌勻。
4)在平底鍋中,用細火炒蔬菜。蔬菜變嫩時可關火。
5)將三文魚扒跟拌菜上碟。
3)吞拿魚菠菜蛋沙律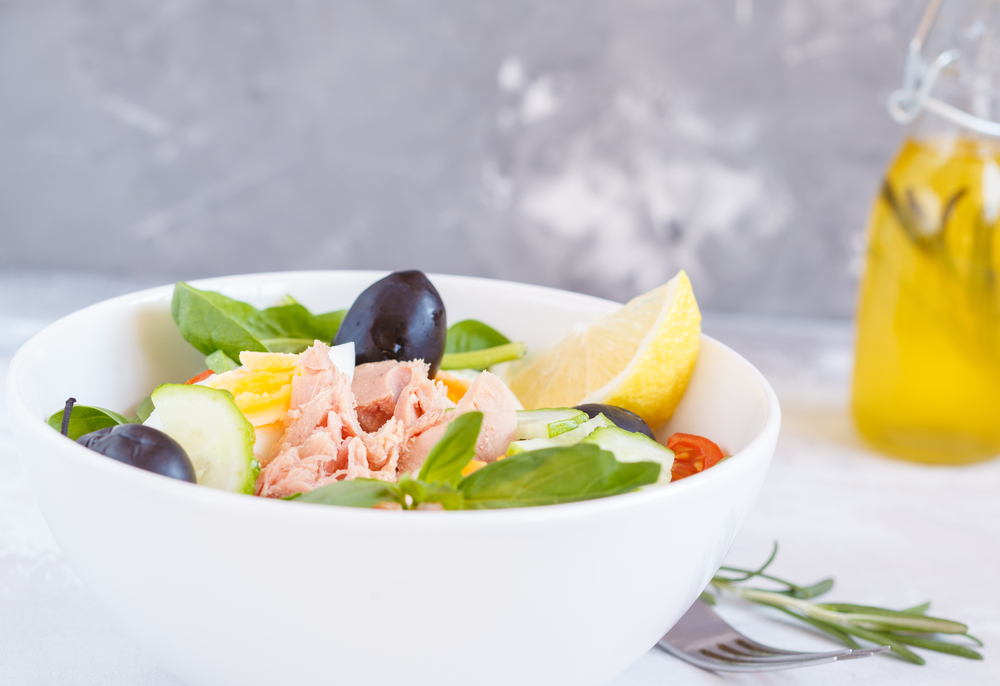 份量:2人份
準備時間:25分鐘
烹調時間:15分鐘
材料:
30條青豆
1罐水浸吞拿魚,瀝乾
1杯栗米粒
1杯番茄仔
2個大雞蛋
1 杯蘑菇
2 杯菠菜
1湯匙特級初榨橄欖油
1茶匙醋
做法:
1)將番茄仔切成兩半,蘑菇切片。待用。
2)在一鍋開水中,煮青豆5分鐘,瀝乾水分並擱置。
3)準備一鍋滾水,放入雞蛋,立即將火調低,讓雞蛋煨4分鐘,取出雞蛋,放入一碗冷水中冷卻。
4)在沙律碗中,放入所有蔬菜和己瀝乾的水浸吞拿魚。攪勻。
5)在一個細碗裡,混合橄欖油和醋做沙律醬料。
6)在食用前,碌掉蛋殼並切成兩半,加到沙律中。倒入沙律醬。立即享用!
4)牛肉和蔬菜配飯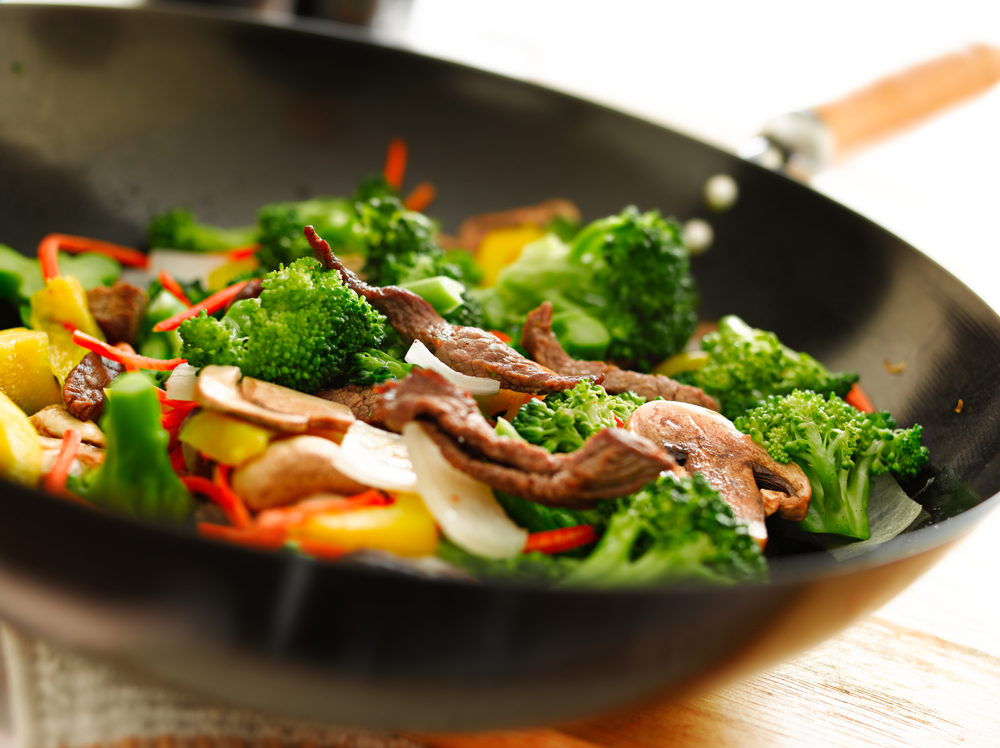 份量:4人份
準備時間:30分鐘
烹調時間:20分鐘
材料:
300克巴斯馬蒂大米 (Basmati Rice)
1磅瘦牛肉
1/2湯匙芝麻油
1個蒜蓉
2茶匙低鈉鼓油
1湯匙薑蓉
1個紅椒甜,切片
1個青椒,切片
1個洋蔥,切片
半茶匙黑胡椒粉
使法:
1)按照包裝上的說明烹煮米飯。如果你沒有電飯煲,可以用普通的鍋做飯。
2)煮前沖洗米飯。將米放在鍋中,加入水緊蓋過米,煮至滾熱。蓋上蓋並將火調低。燉約10分鐘,或直到米飯變軟。
3)準備牛肉,把牛肉橫切成細長條。
4)在一個大煎鑊裡,熱油。加入蒜末,翻炒1分鐘。加入牛肉,翻炒2-3分鐘或直到牛肉變成深色。加入切碎的薑和醬油。將鍋離火。將牛肉放在碟子上待用。
5)在煎鑊中,將甜椒和洋蔥煮2-3分鐘,或者直到洋蔥煮至開始變軟。
6)將牛肉放回平底鍋,繼續翻炒一分鐘,直到牛肉和蔬菜拌勻。用黑胡椒調味。
7)將牛肉及配菜放上米飯食用。
巴斯馬蒂大米有較低的GI值,如果你正在跟隨低GI飲食,用巴斯馬蒂大米來取代有較高GI值的白米是一個不錯的選擇。
你想嘗試哪種食譜呢?在下面留下跟我們分享!
資料來源:https://www.gisymbol.com/what-affects-the-gi-value/