Our final week of 28 Days of Weight Loss is here. Hit the ground running this week with our week 4 grocery list and recipes carefully curated by the experts.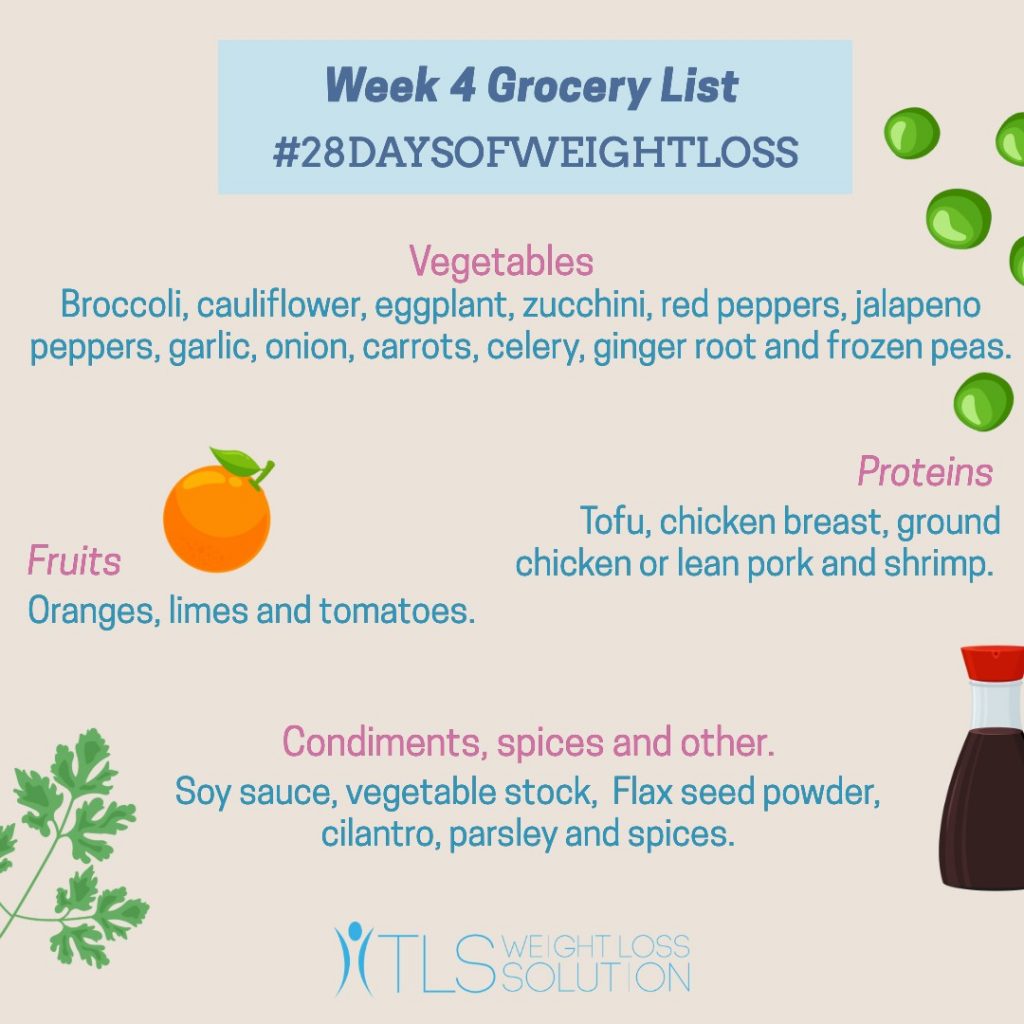 Side
Countryside Chilli
(RR, SS, CC)
Serves 8
2 tsp herbs de Provence or thyme + oregano
1 TBSP salt
4 cups flaxseed meal/powder
4 cups chopped tomatoes
1/2 TBSP black pepper
2 medium onions, chopped
1 whole eggplant, peeled and chopped
2 medium zucchini, chopped
8 jalapeno peppers, minced
1 lb ground chicken or lean pork
Combine all ingredients in a slow cooker and cook 4-6 hours on low. If cooking in a regular pot, bring chili to boil over medium high heat and then simmer for 1.5-2 hours.
Breakfast
Curried Tofu Scramble with Roasted Peppers and Peas
(Detox, FS, RR, SS, CC, P1, P2)
Serves 4
1 TBSP avocado/grapeseed oil
1/2 yellow onion diced
1 TBSP curry powder
1 cup frozen green peas
1/2 cup red bell pepper
1/2 cup water
14 oz. firm, pressed and crumpled tofu*
1/4 tsp salt
1/4 TBSP cilantro
1/4 tsp pepper
Heat the oil in a heavy-bottomed skillet over medium-high heat. Add the tofu, onion, curry powder, salt, and black pepper and sauté for 2 minutes, stirring frequently. Add water and cover. Cook 3 minutes. Stir in peas, red peppers and cilantro. Cook 2 minutes.
Chicken/Beef
Thai Chicken Stir Fry
(Detox, FS, RR, SS, CC, P1, P2)
Serves 6
1 cup cauliflower
2 cups broccoli
1/2 tsp garlic powder
1 tbsp ginger (minced)
1 cup carrot slices
1/2 TBSP ground cardamom
1/2 tsp chili powder
1 oz. curry powder
2 TBSP olive oil/avocado oil
4 chicken breasts (cut in cube)
1 TBSP soy sauce or tamari
Heat oil over medium-high heat in a pan or skillet, brown ginger before adding chicken and stir fry until fully cooked, set aside on a plate. In the same pan/skillet, stir in cauliflower, carrots and broccoli and rest of the seasonings/spices, add water if needed to prevent sticking to the skillet. Cook for 5 minutes or until vegetables are tender, stir in chicken and bring it to a boil for 1 minute. Enjoy it while it is hot.
Fish/Seafood
Caribbean Shrimp
(Detox, FS, RR, SS, CC, P1, P2)
Serves 4
1 pound shrimp
1/4 cup freshly squeezed orange juice
1 oz. lime zest
1/4 oz. lime juice
1 garlic clove (minced)
1/4 tsp salt
Mix all ingredients together. Cover and refrigerate for at least 2 hours. Cook shrimp as desired – broil, bake, or sauté. Serve over green salad or zucchini noodles or your favorite veggies stir fry.
Soup/Vegetable
Creamy Carrot Soup
(Detox, FS, RR, SS, CC, P1, P2)
Serves 6
1 cup chopped celery
Salt and pepper
6 oz. vegetable stock
3 TBSP olive oil
1/4 oz. parsley
1 cup chopped onions
1 1/2 pounds carrots, chopped
Heat oil in a large deep saucepan over medium heat. When oil is hot, add vegetables. Sprinkle with salt and pepper and stir occasionally, about 15 minutes or until carrots are softened. Add stock and cook until vegetables are very tender, about 15-20 minutes. Cool the mixture and blend until pureed and smooth. Reheat if serving warm. If serving cold, refrigerate for 2 hours.