By: Danielle Patterson
With the summer heat in full swing, it is becoming less enjoyable to participate in workouts that are outdoors. Exercise equipment cost are at an all-time high, gyms are closed, and the heat is causing us to be less motivated to workout. So, what are we to do? Below are some creative ways to enjoy your workouts in the comfort of your home and air conditioning!
Creative Indoor Workout Ideas
Workout Apps
App stores are full of fitness apps that are completely free to use on your smartphone or tablet. These apps offer guided workouts for you to do inside of your home. You can also select your fitness level, your fitness goals, what workouts you prefer, and how long you want your workout to last. Regardless of if you are someone who does not own any workout equipment, you have relied on gym equipment in the past, or if you are a beginner, apps stores are full of options for you.
YouTube Videos
Another great option for guided workouts on your smartphone, tablet, and Smart TV's are YouTube videos. When searching "workouts", you can add additional keywords that help you find the perfect workout for you. Some of the most popular keyword searches are "yoga", "circuit training", and "30-minute workout". An advantage of using YouTube videos to workout is that you can pause them to take a water break or to catch your breath whenever you need to.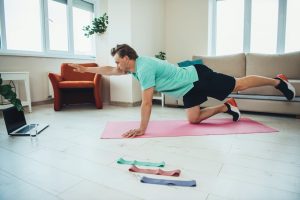 Yoga
Yoga is known for its physical and mental benefits. Beyond being a tool for weight management, yoga also builds muscle strength and increases flexibility. The best part is, you do not need a yoga mat to do yoga. You can use things around your house like beach towels, blankets, wear grippy socks on hardwood floors, or just take advantage of the carpet in your home.
Weights Around the House
We have many items around our homes that we can use as weights for our workouts. Just spending 20 minutes a day lifting weights can help build, maintain, and tone muscles. Below are a few options of weights you can use around your home:
Gallon(s) of water/milk
Bag(s) of rice
Case(s) of canned drinks
Bag(s) of potatoes
Bag(s) of pet food
Heavy books
Large bottle(s) of laundry/dish detergent
Bodyweight Workouts
Our bodies are our own best equipment when it comes to working out. Bodyweight strength training, also known as resistance training, is high intensity and provides a full body workout. Using your own body weight as a tool, bodyweight strength training improves stamina, strength, balance, coordination, and flexibility. Some popular movements in bodyweight strength training are squats, pushups, sit ups, mountain climbers, jumping jacks, and running in place.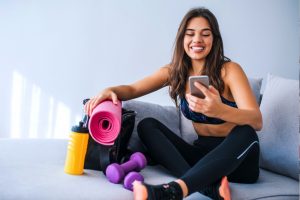 Don't let the summer heat stop you from keeping up with your active lifestyle! Indoor workouts are a great option because you can workout at your own pace while staying cool. With in-home options like apps, videos, yoga, weights around the house, and bodyweight workouts, you will be well on your way to your fitness goals!