By: Tayler Glenn
New year, new you isn't something that happens on its own! Whether you're planning to hit the gym more often, catch more quality sleep, or clean up your eating habits, you're going to need to ensure you're fueling your body with what it needs to commit to those healthy changes. From hearty bowls to rich and savory dinner courses, these are your delicious, healthy recipes to kick off a healthy 2019!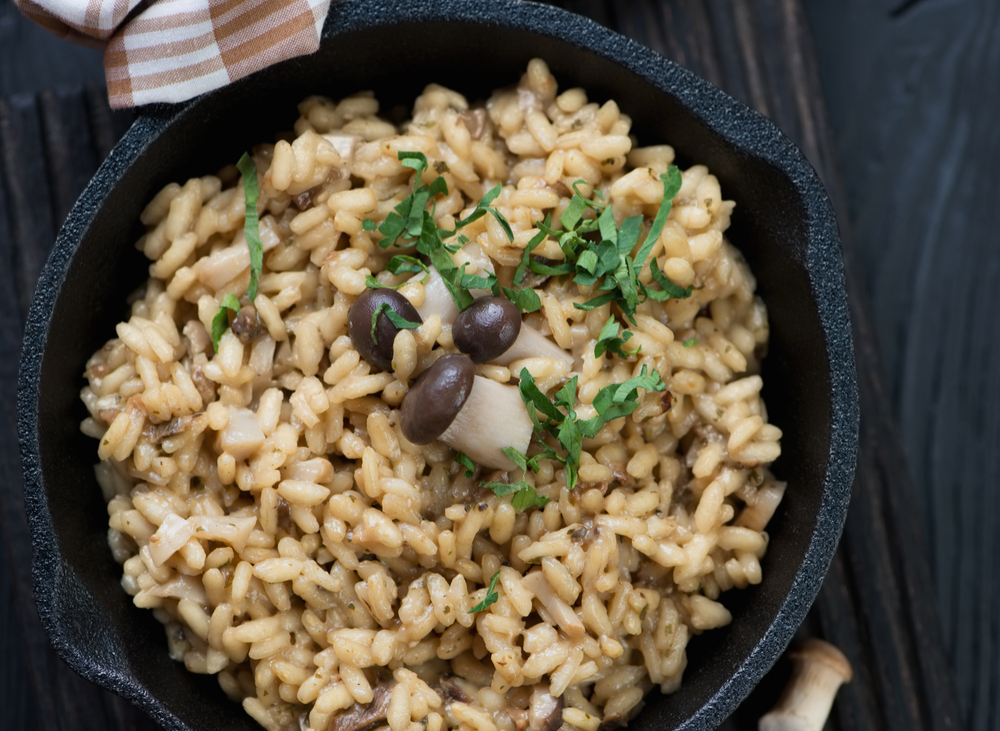 With plant-based diets on the rise, you're going to want delicious, healthy recipes closeby for dinner parties and events! Thankfully, this Mushroom Cauliflower Rice Skillet is as yummy as it is healthy. Plus, the warm flavors are perfect for chilly January nights!
Prep Time: 20 minutes
Serves: Makes 4 servings
Ingredients:
2

 

tbsp

 

extra-virgin olive oil

 

1

 

stick celery, 

sliced

 

½

 

cup

 

onion, 

chopped

 

1

 

big garlic clove, 

minced

 

3

 

cups

 

mushrooms, 

sliced

 

1 3/4 cup

 

cauliflower rice

 

1/3

 

cup

 

vegetable broth

 

Soy sauce, to taste

 

2

 

cups

 

spinach

 

Salt and black pepper, to taste

 

1

 

tbsp

 

fresh parsley,

 chopped
Method:
Add olive oil to a large skillet over medium heat.
Add onions and celery and cook until tender (about 5 minutes) then add garlic and cook for 30 seconds.
Add mushroom and sauté until it's cooked through, then add cauliflower rice, vegetable broth, and soy sauce.
Allow the cauliflower rice to absorb the vegetable broth. Cook until it is soft, but not mushy.
Add spinach and cook for 2 minutes, then season with salt and pepper to taste.
Garnish with chopped fresh parsley before serving.
Enjoy!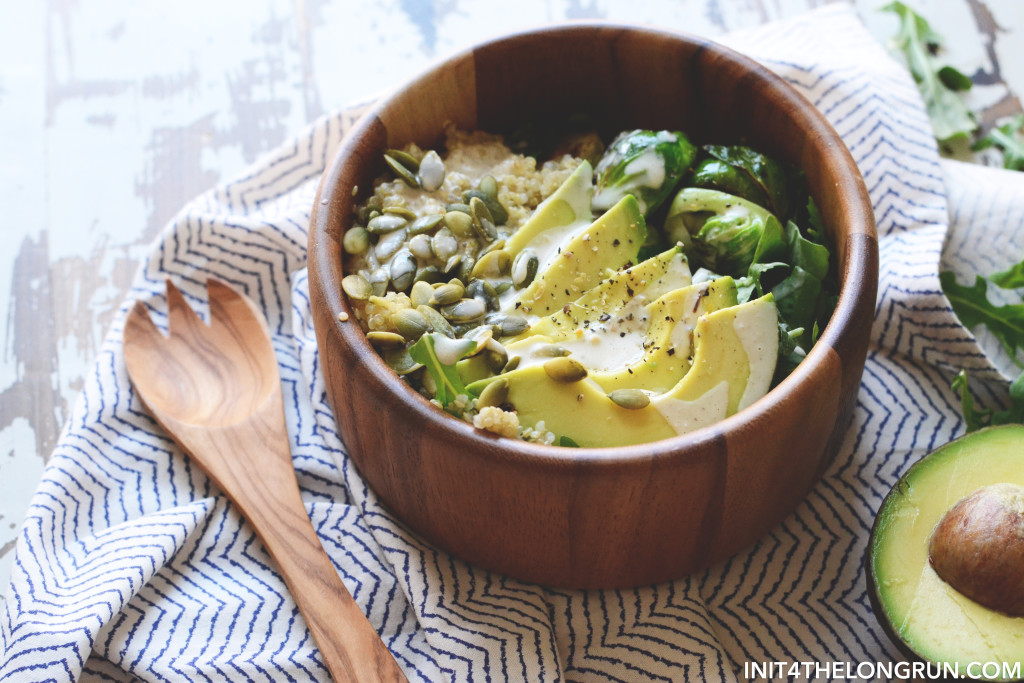 All of the delicious winter flavors you love, combined into one healthy and mess-free bowl – we're down for that! This recipe easily doubles (or quadruples!) for more hungry mouths, but the single-serving dish on on our list of healthy, delicious recipes is one you'll be happy to come home to after sweating it out at the new BodyPump class at the gym.
Prep Time: 45 minutes
Serves: Makes 1 serving
Ingredients:
1 Cup of Arugula
½ Cup of Cooked Quinoa
1 Cup of Sautéed Brussels Sprouts
1 Tbsp of Pepitas
½ an Avocado, Sliced
1 tsp of Olive Oil (to cook brussels sprouts)
Salt and Pepper to taste
1 Tbsp of Tahini
Method:
Cook quinoa according to package instructions
Sautee brussels sprouts for approximately 15 minutes or until lightly browned and tender
Slice the half avocado as desired
In a large salad bowl, mix together arugula, cooked quinoa, brussels sprouts, pepitas and avocado
Drizzle tahini or tahini sauce
Enjoy!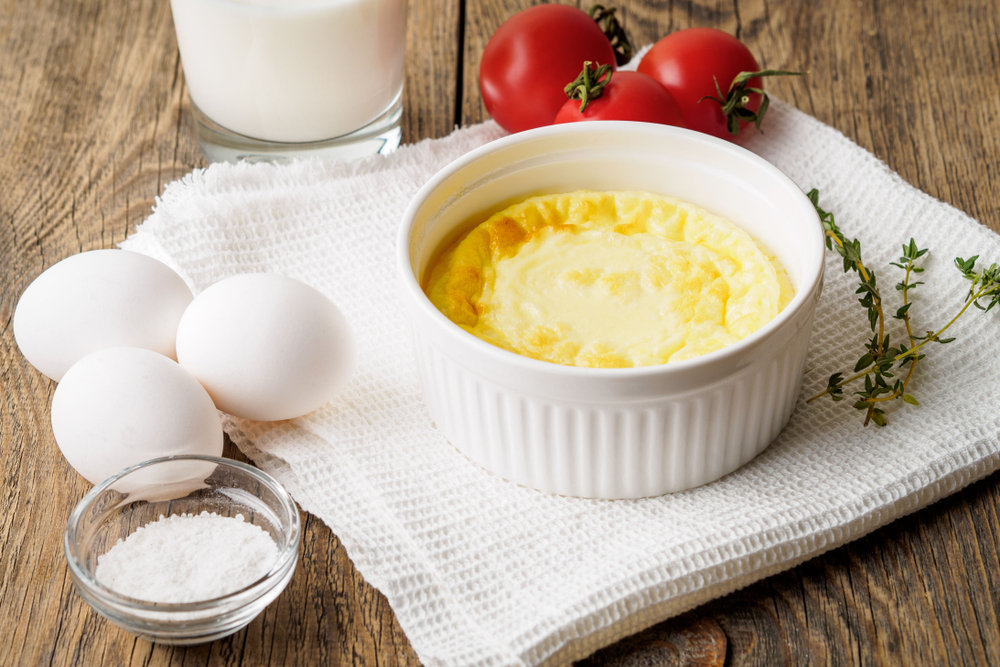 These little ramekins of baked egg deliciousness far exceeded expectations, especially for how healthy this dish is! In terms of healthy, delicious recipes, this one is easily customizable which is great if you're exploring new foods as part of your healthy 2019 resolution!
Prep Time: 1 hour
Serves: Makes 4 servings
Ingredients:
1

 

small

 

spaghetti squash

5

 

slices

 

bacon or 1/4 cup mushrooms

1

 

medium

 

onion,

 

finely diced

1

 

egg white

1

 

tbsp

 

coconut flour

1

 

jalapeno,

 

finely diced

1

 

tsp

 

pepper

1/4

 

tsp

 

salt

2

 

tbsp 

chopped parsley
Method:
Preheat oven to 425 F
Cut the spaghetti squash in half width-wise, scoop out the seeds, and place the spaghetti squash cut side down on a baking sheet.
Bake for 30-35 minutes until the skin of the squash can easily be pierced with a fork, then allow to cool slightly before pulling the squash into strands using a fork.
In a medium skillet cook the bacon or mushrooms, then remove the bacon from the skillet, leaving the grease in the pan as you cut the bacon or mushrooms into small pieces.
Cook the diced onion in the skillet for 4 minutes until the onion has softened, then add jalapeño and cook for another minute.
In a bowl, combine the spaghetti squash, coconut flour, egg white, salt, pepper, onion, jalapeño and 2/3 of the bacon until everything is well mixed.
Divide the spaghetti squash mixture between 4 ramekins and press the mixture against the sides, creating a well in the middle of each dish, then place the ramekins on a baking tray in the oven for 12-15 minutes until the edges become golden in color.
Remove the tray from the oven, crack an egg into each of the ramekins and then return them to the oven to cook for another 10-12 minutes until the eggs are cooked to your liking.
Sprinkle each dish with chopped parsley and the remaining bacon/mushrooms
Enjoy!
Enchiladas are an all-seasons meal, but you can help it feel a bit more wintery with this addition to our list of healthy, delicious recipes. This dish helps bridge the seasonal gap to make an awesome make-ahead or even make-and-freeze meal!
Prep Time: 1 hour
Serves: Makes 4 servings
Ingredients:
Peppers + Stuffing
4 medium sized bell peppers
2 tablespoons olive oil
1 jalapeno pepper, seeded and diced
1/4 red onion, diced
2 garlic cloves, minced
2 boneless, skinless chicken breasts, cooked and shredded
2/3 cup cannellini beans
1/4 cup fresh cilantro
4 cups enchilada sauce
2 oz. monterey jack cheese, grated
Avocado Cream
1 ripe avocado, sliced
3 tablespoons plain greek yogurt or sour cream
1 lime, juiced
1/4 teaspoon salt
1/4 teaspoon pepper
Method:
Sauce
Combine all ingredients in a food processor or blender until creamy and smooth.
Taste and season additionally if desired.
Peppers + Stuffing
Preheat oven to 350 F
Slice the tops off of the peppers, cut around the stems, and remove the stalk, seeds and any stem inside of the peppers.
Place the peppers cut-side up in a baking dish.
Heat a large skillet over medium-low heat and add olive oil, onions, jalapeño, and garlic, then stir and cook until softened, about 5 minutes.
Add in the chicken, beans, cilantro, 1/2 or 1 cup of the enchilada sauce, and cheese. Stir until the cheese is melted and the mixture has come together.
Evenly spoon the mixture into the peppers, then pour the rest of the enchilada sauce into the dish to surround the peppers and over top of the peppers and bake for 30 to 35 minutes.
Enjoy!