Recipes for success for week 5 of #28daysofweightloss and beyond. Be sure to share your photos with us on social media. Enjoy!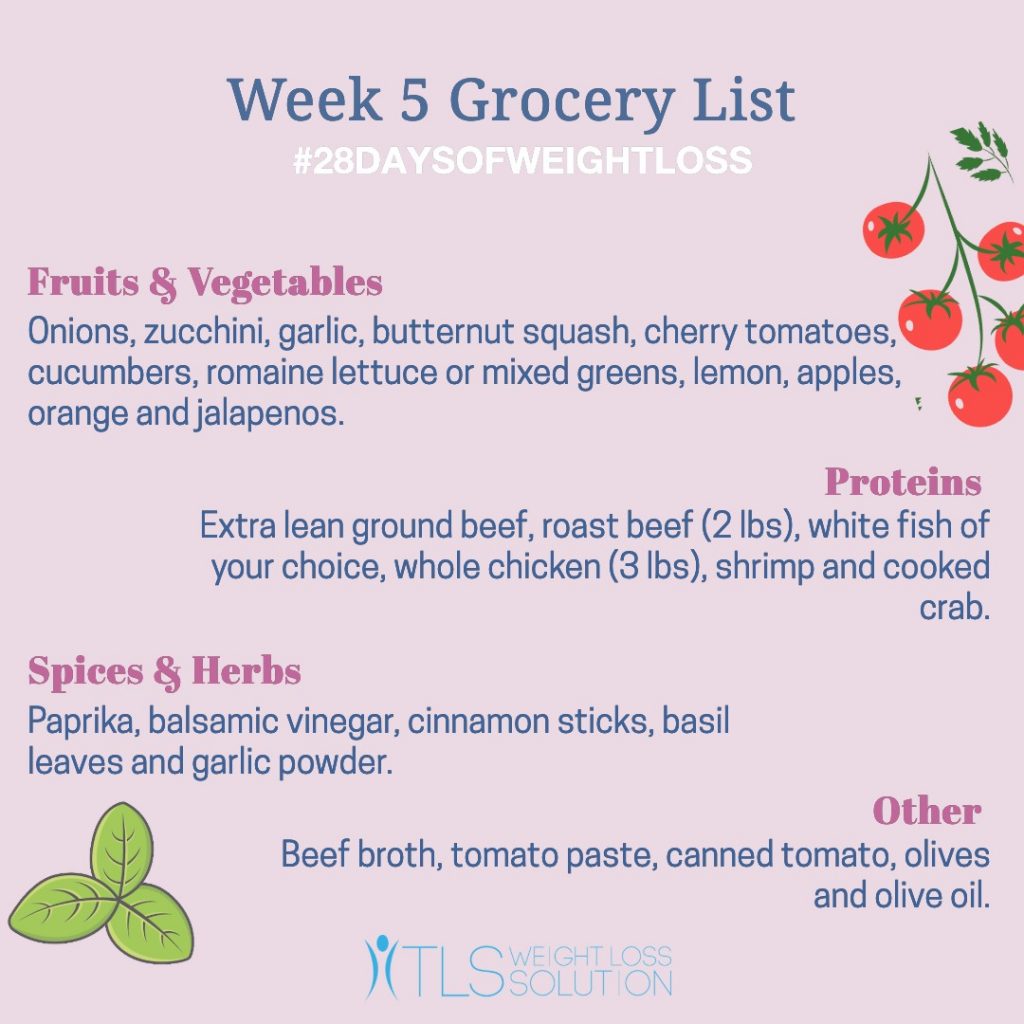 Meatballs and Zucchini Spaghetti
(FS, RR, SS, CC, P2)
Serves 4
4-6 oz. no-added-salt tomato paste (or low-sugar pasta sauce)
1/4 chopped onions
3 zucchini, spiralized
2 pounds ground beef, 95% lean
1/8 TBSP paprika
3 cloves garlic, crushed
½ tsp salt
½ tsp pepper
Mix beef with onion, garlic, paprika, salt and pepper and make into 12 balls. Place meatballs under preheated broiler for 7 minutes, turning occasionally until browned and cooked through. Meanwhile, spiralize zucchini and cook in 1 TBSP olive oil on medium heat for about 5-10 minutes or until softened.  Heat up the tomato sauce with the meatballs simmer for 10 minutes.  Add meatballs tomato sauce to zucchini pasta.
Slow Cooker Pot Roast Stew
(SS, CC)
Serves 8
2 pounds pot roast beef, chuck
4 1/2 cups butternut squash
2 cinnamon sticks
3 TBSP balsamic vinegar
3/4 cup beef broth
1/4 oz. tomato paste
1 onion, wedged
2 apples cut into 1/2 wedges
1 tsp sea salt
Place all ingredients except squash and apples in a large slow-cooker. Place on low for 6 hours. Stir in squash and cook 1 1/2-2 hours longer until squash is tender. Add apples to the last 1/2 hour of cooking. Remove and discard cinnamon.
Lemon Basil Chicken
(FS, RR, SS, CC, P2, P1)
Serves 4
1/2 tsp garlic powder
1 TBSP basil leaves
1 lemon
1 garlic clove
3 pounds whole chicken
Preheat oven to 375 degrees. Remove excess fat from chicken; fasten neck skin to back with skewer. Fold wings across back with tips touching. Grate 2 tsp lemon peel, reserve. Cut lemon into halves; rub chicken with half of lemon. Place garlic, basil and remaining lemon in cavity. Rub chicken with reserved lemon peel; sprinkle garlic powder and remaining basil over chicken. Place chicken, breast side up, on rack in roasting pan. Cover and bake 1 hour. Uncover and bake 30 minutes longer.
Fish Veracruz
(FS, RR, SS, CC, P2, P1)
Serves 4
2 cloves garlic, chopped
1 orange (juiced), add some orange rind for flavour if you like
1 TBSP onions
4 fish fillets (white fish)
1/4 cup olives (pitted, chopped)
1 TBSP olive oil
1 oz. canned tomatoes
½ Jalapeno
Preheat oven to 450 degrees. Coat baking dish with nonstick spray. Heat the oil in a large skillet over medium high heat. Add onion and garlic, jalapeno and cook 4 minutes, or until softened. Add the tomatoes, olives, and juice and cook 5 minutes. Place the fish in the baking dish and top with tomato mixture. Bake 10-12 minutes or until fish is no longer translucent.