Week 2 of 28 Days of Weight Loss is here. Hit the ground running this week with our week 2 grocery list and recipes carefully curated by the experts.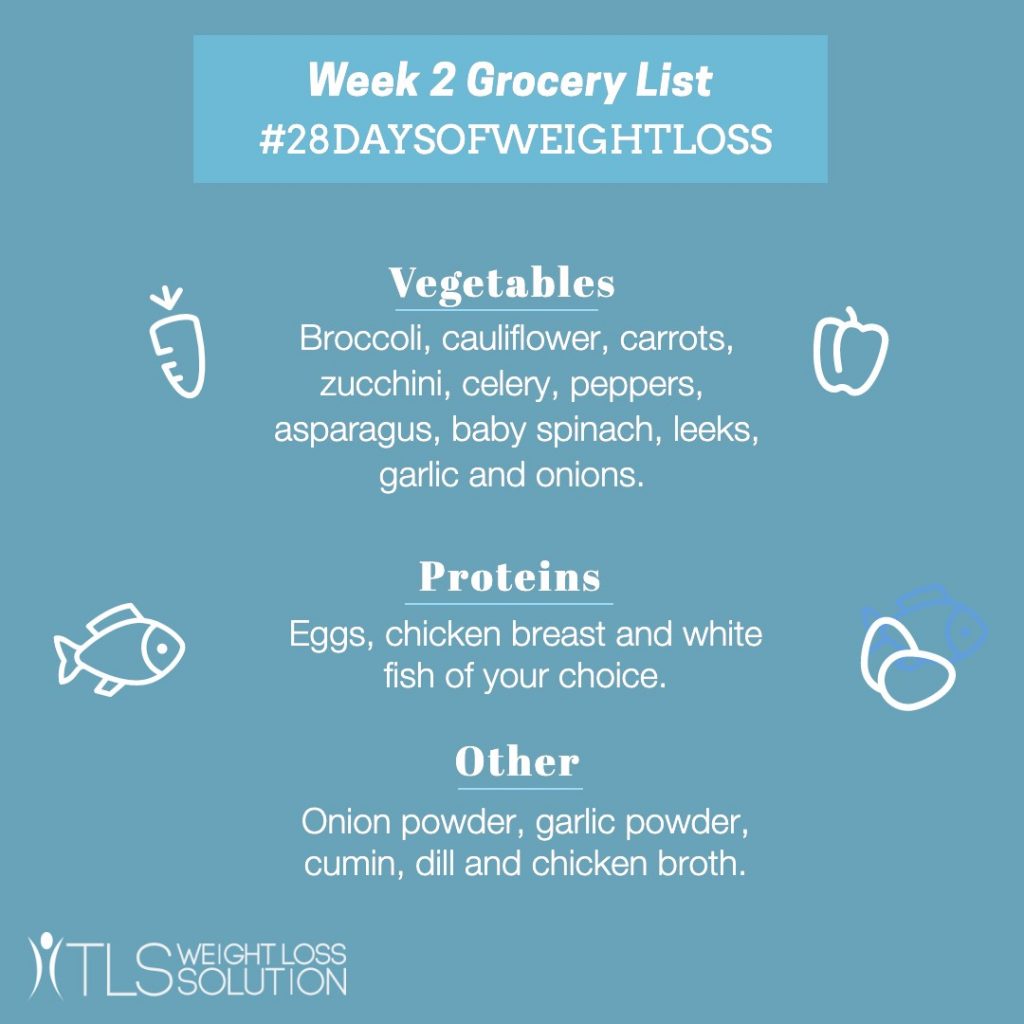 Side
Zucchini Hash Browns
(Detox, FS, RR, SS, CC, P1, P2)
Serves 2
2 eggs
1 tsp garlic powder
1 tsp onion powder
1 dash pepper
2 tsp olive oil
1 cup shredded zucchini
Mix all ingredients together in a bowl. Using your hands to form 2 large patties. Heat oil or use oil spray in a skillet over medium heat, put the hash brown patties on the skillet and let it brown before you flip on the other side.
Breakfast
Asparagus Frittata
(RR, SS, CC)
Serves 4
2 cups asparagus
1 leek
2 cups baby spinach
1 tsp extra virgin olive oil
1/8 tsp black pepper
6 large eggs
1 TBSP avocado oil
Preheat broiler and set rack 6 inches from the flame. Crack eggs into a large bowl; add pepper and salt to flavor. Lightly scramble and set aside. In a large oven-safe pan, heat oil over medium-high heat. Add the leek and sauté for 1 minute, stirring occasionally. Add the asparagus, sauté for 3 minutes or until almost fully cooked. Add spinach and season with salt and pepper. When the spinach is almost fully wilted, spread the mixture across the bottom of the pan and pour eggs over top. Turn pan so eggs fully cover vegetables. When the edges of the eggs start to separate from the edges of the pan, turn off heat. Place pan under the broiler until the frittata is lightly golden and the eggs are fully set, about 5 minutes. Immediately turn the frittata onto a serving plate and garnish with parsley, if desired. Cut into slices and serve.
Chicken/Beef
Moroccan-Style Chicken with Vegetables
(Detox, FS, RR, SS, CC, P1, P2)
Serves 2
2 chicken breasts
1 1/2 tsp cumin
1/2 tsp cinnamon
1/2 TBSP salt
1/2 tsp pepper
12 1/2 oz. can diced tomatoes
Zucchini, cut into 2" slices
Preheat oven to 450 degrees. Center chicken breasts on 2 parchment papers (8×8 in size). Combine spices, then sprinkle half of the mix over the chicken. Combine the remaining spice mix with the tomatoes and spoon next to the chicken. Arrange zucchini slices over the chicken and tomatoes. Wrap the parchment paper to wrap like a packet leaving some room for heat circulation. Bake 20-22 minutes.
Fish
Easy White Fish and Vegetable Packets
(Detox, FS, RR, SS, CC, P1, P2)
Serves 4
1/2 tsp black pepper
1 tsp dill weed
4 TBSP chicken broth
1 cup broccoli
1 cup cauliflower
1 cup carrots, chopped
1/4 tsp salt
4 fish filets
Heat oven to 450 degrees. Place each filet on a 12-inch square of parchment paper. Top each filet with 1/4 of the vegetables and sprinkle with dill weed, salt and pepper. Pour 1/4 of the broth over vegetables. Fold parchment paper to make a tent, fold top edges over to seal. Repeat for remaining fillets. Place packets on ungreased cookie sheet. Bake until veggies are crisp and tender and fish flakes easily (about 40 minutes)
Soup/Vegetable
Cauliflower Spanish "Rice"
(Detox, FS, RR, SS, CC, P1, P2)
Serves 4
1 cauliflower head, grated to the texture of rice or use food processor to pulse until it looks like the texture of "rice"
2 garlic cloves – chopped
1 medium green bell pepper, diced
1 medium red bell pepper, diced
3 celery stalks, diced
2 large carrots, diced
2 TBSP extra virgin olive oil
1 medium tomato – diced
2 tsp cumin
Heat oil in a large skillet and sauté chopped vegetables until heated through. Add broth and lower heat, stirring often. When cauliflower starts to soften add tomato and spices and cover over low heat until it reaches the texture of Spanish rice. Adjust seasoning and broth to taste and texture.