By: Tayler Glenn
Offices are tempting places. With take-out always close by and breakroom snacks just a few steps away, you deserve a lunch that makes saying "no" easy! Ditch the soggy sandwiches and microwavable portions for our new favorite low-GI lunches!
Egg Roll in a Bowl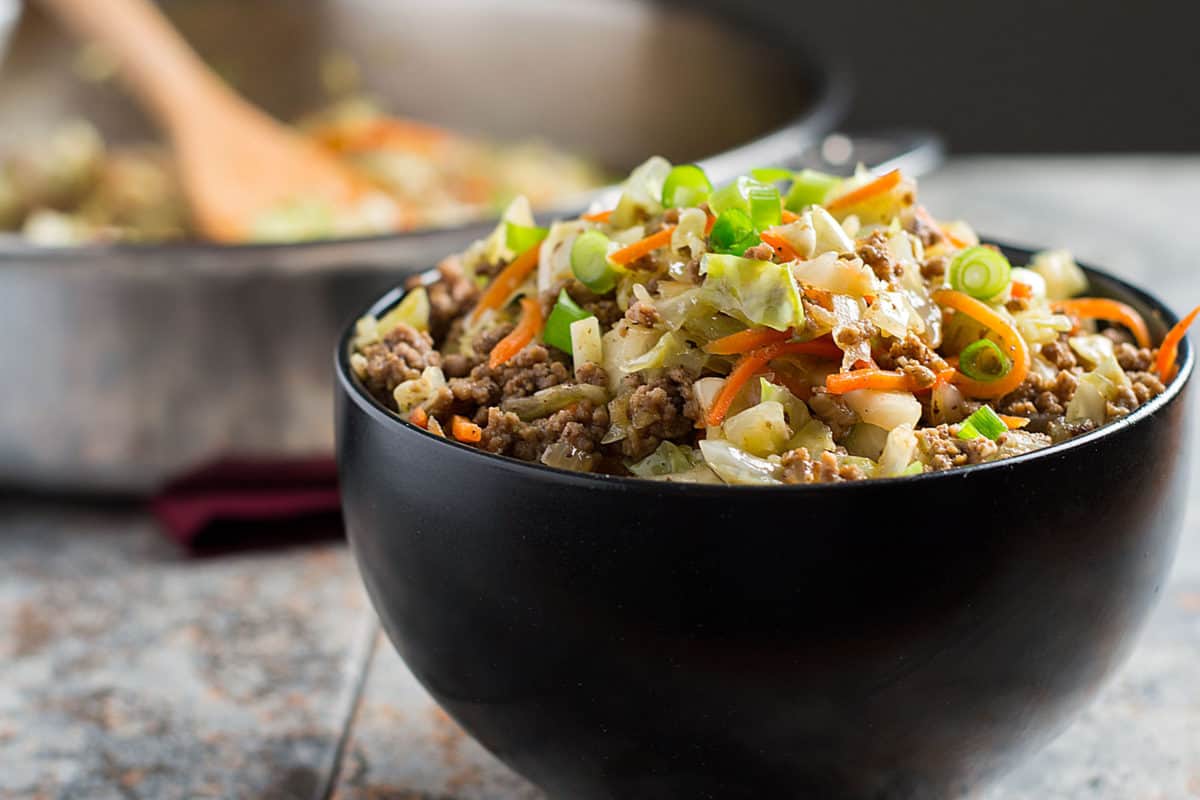 Prep Time: 25 minutes
Serves: Makes 6 servings
Ingredients:
1

 

T

 

avocado oil

 

6

 c 

cauliflower rice

 

2 

cloves

 

garlic,

 

minced

 

1 

lb

 

lean ground turkey (or tofu if v/vg)

 

3

 

c

 

shredded cabbage

 

1

 

large

 

carrot, shredded

 

1

 

tsp

 ginger, grated

 

1

 

T

 

toasted sesame oil

 

1

 

T 

low sodium soy sauce

 

salt & pepper,

 

to taste
Prep:
Add oil to a large skillet on medium-high heat.

Add cauliflower rice and cook until tender, then divide evenly into 6 containers.

Add garlic and turkey/tofu to the skillet on medium-high heat, crumbling the pork as you cook.

Cook until pork is 3/4 cooked, then add in cabbage and carrots.

Cook 2-3 minutes, then add ginger, sesame oil and soy sauce, and combine.

Add salt and pepper as needed, and cook until vegetables are tender and meat is fully cooked.

Divide egg roll filling ingredients into containers,  & garnish with scallions.
Enjoy one right away & stash the rest for later!

Seared Cilantro Chicken & Creamy Zoodles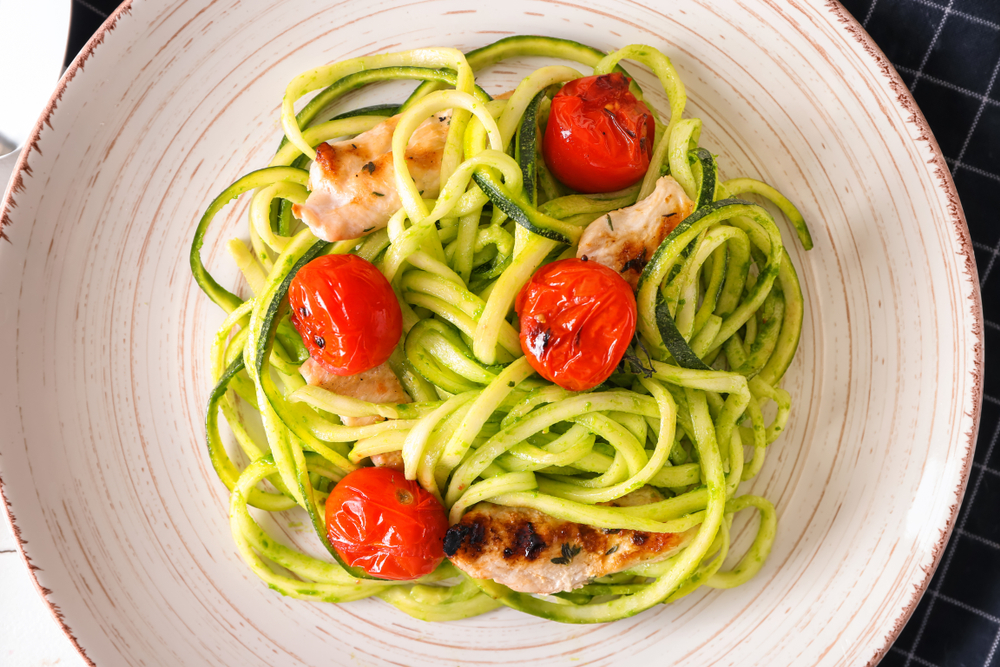 Prep Time: 40 minutes
Serves: Makes 2 servings (double or triple as needed)
Ingredients:
Cilantro Sauce:
3/4 c

 

cilantro

1/2 c + 1 T nonfat plain Greek yogurt
3/4 garlic clove
juice of one lime
salt & pepper, to taste
1/5 T avocado oil
1.5 T white wine vinegar
For the Rest:
2

 large zucchini, cut into noodles

2

 

chicken breasts

Salt & pepper, to taste

salt

 

pepper, garlic powder and paprika, to taste

1/4

 

c

 

cilantro pesto

1

 

c

 cherry tomatoes, halved
Prep:
For Sauce:
Add all ingredients to blender, and pulse until smooth
For the Rest:
Place pan on medium-high heat with drizzle of oil & preheat oven to 350F
Once the pan & oil are hot, pat chicken breasts dry and season with salt & pepper, then place chicken in pan
Allow to sit for about 3-4 minutes per side, then flip and repeat.
Once done, place in oven for 20-25 minutes or until cooked through
Once chicken is removed from pan, add tomatoes to sear for ~5 minutes.
Remove tomatoes and allow pan to cool slightly, then turn heat to low and add raw zoodles until they reach desired tenderness.
Remove chicken from oven and slice once cooled.
Remove from pan, and top with cilantro sauce, sliced chicken, and tomatoes.
Divide into containers and enjoy!

Avocado Peach Salad Wraps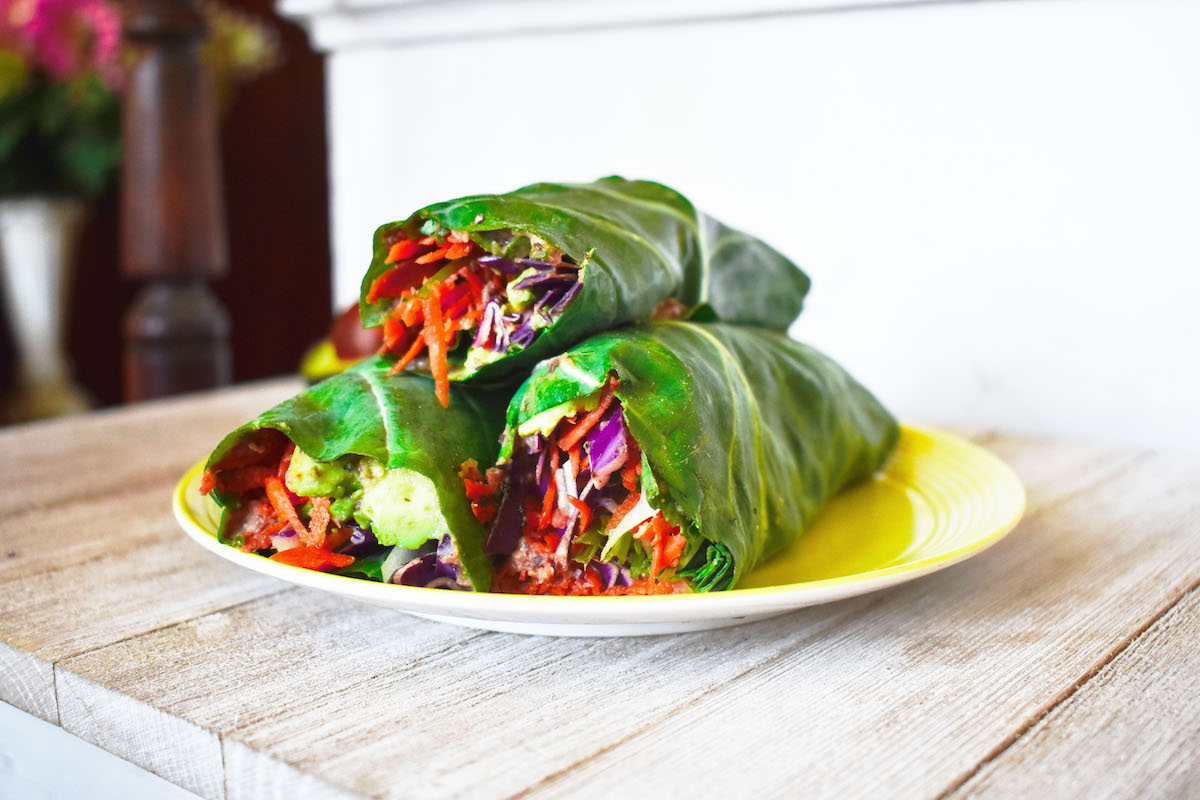 Prep Time: 10 minutes
Serves: Makes 2 servings (double or triple as needed)
Ingredients:

6

 

large collard green leaves

1

 

avocado

juice from one lemon

1

 

can chickpeas

 

drained

1

 cucumber

 

diced

1/4

 

small red onion

 

diced

1/2

 

red bell pepper

 

diced

4

 

radish

 

diced

1/4

 

tsp

 

salt

1/4

 

tsp

 

black pepper

1/2

 

tsp

 

dried thyme

1

 

peach

 

sliced
Prep:
Prepare collard greens; don't eat them raw. Put a large pot of water on the stove to boil. Trim out the center stem of 6 leaves with a pairing knife, drop leaves into boiling water for 2 minutes until bright green, then remove and set aside.
In a bowl, mash avocado & lemon juice, then stir until it has thinned out. Add all other ingredients except peaches, & stir well to combine.
If you're saving these for the week, stop here and simply store greens
& mixture in separate portioned containers.
Place a large spoonful of the chickpea mixture into the center of a leaf, top with sliced peaches, then roll collard leaf around the salad by first folding in sides, then rolling from bottom to top.
Enjoy!