By: Tayler Glenn
We love Fall and all of the festivities that come with it, but we aren't as excited over the way those extra-fatty and overly-sweetened foods make us feel! If you're like us then you want to get the best of both worlds. So, to get the best versions of our favorite classic staples, we've rounded up these 5 smart swaps for healthier Fall recipes!

Mashed Potatoes | Cauliflower Parsnip Mash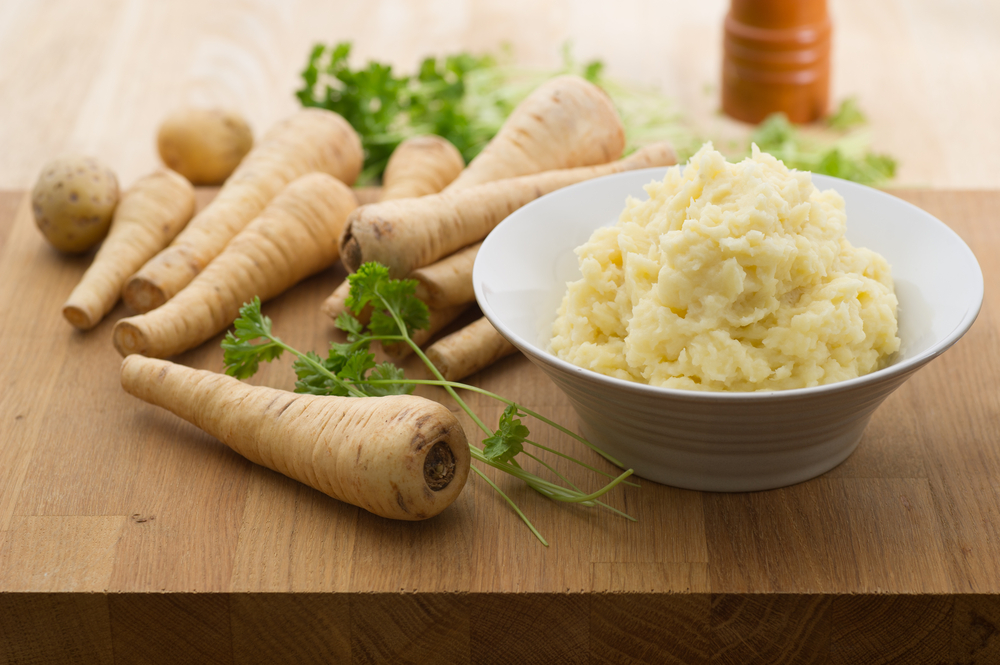 Lighten up the standard side of butter + sodium-filled mashed potatoes with one of our classic healthier Fall recipes with a twist on tradition: a creamy, savory cauliflower parsnip mash! This recipe calls for only 6 main ingredients and a faster cook time than potatoes which already makes it a favorite in our opinion. The cauliflower does a great job of adding a little more bulk while adding to the powerful nutrient contribution of our fall superfood, the parsnip! Combining nutty parsnips + savory roasted garlic with a touch of olive oil, the extra rich taste might just make you forget all about the traditional pound of butter + sour cream.Prep Time:  45 minutes

Serves: Makes 6-8 servings

Ingredients:
5 medium parsnips, peeled & chopped into 1-inch chunks
1 medium head cauliflower, chunked
2 tablespoons olive oil
½ tablespoon fresh lemon juice
1 teaspoon sea salt
1 heaping rosemary, minced
Freshly ground black pepper, to taste
Roasted garlic (use 4 to 5 cloves in the mash; save the remainder for another use)
Method:
Roasted Garlic:
Preheat the oven to 375°F.
Cut a ¼ to ½-inch slice off the top to expose the cloves, place cut-side up on a sheet of aluminum foil.
Drizzle with olive oil and pinches of salt and pepper and wrap in the foil, then roast for 35 to 40 minutes or until golden and tender.
Mash:
Bring a large pot of salted water to a boil + boil parsnips until tender (10-12 mins), then scoop into blender
In the same water, boil the cauliflower until tender (10-12 mins), then scoop into blender
Add 4 to 5 cloves of the roasted garlic to the blender along with the olive oil, lemon juice, ½ teaspoon of salt, and a pinch of pepper and blend until smooth, pushing down contents as necessary.
Transfer to a serving bowl and stir in the rosemary while the mash is still warm.
Add a drizzle of olive oil, more pepper, if desired, and enjoy!

Sweet Potato Casserole | Winter Squash Bake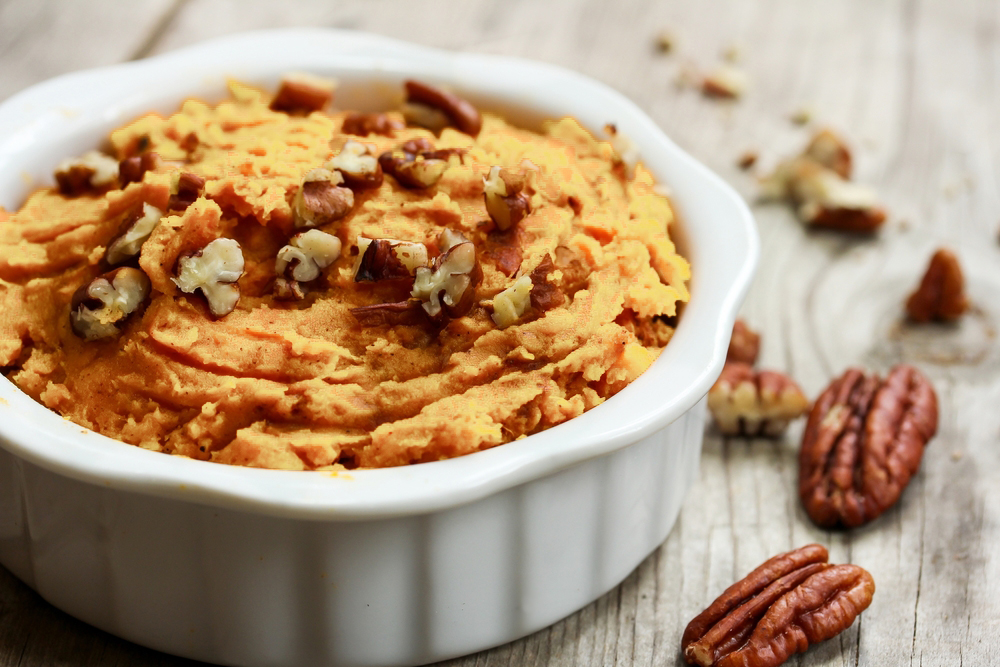 When we think of sweet potato casserole, we envision globs of butter mixed with warm sweet potatoes and covered in a thick layer of brown sugar + melted marshmallow. Delicious? Absolutely. Healthy? Not even a little. Thankfully, you can still enjoy the satisfying texture of warm starchy goodness with a sweet twist by swapping your casserole with a winter squash bake! This smart swap replaces the butter and sugars with dried fruit and a little natural maple syrup to really bring out the warmth of our favorite nutrient-packed winter squash one of our most popular, much healthier Fall recipes:
Prep Time:  1 hour + 10 minutes
Serves: Makes 8 servings
Ingredients:
~3 pounds winter squash

 (

acorn, butternut, carnival, or any other similar winter squash)

1/2

 

cup

 

coconut milk

2

 

eggs

1

 

teaspoon

 

vanilla extract

1/3

 

cup

 maple syrup (or sticky sweetener of choice)

2

 

tablespoons

 

cornstarch

1

 

teaspoon

 

ground cinnamon

1/8

 

teaspoon

 

ground cloves

1/8

 

teaspoon

 

ground nutmeg

cinnamon

 

for sprinkling on top
Method:
Preheat oven to 400 degrees, then cut squashes in half and seed.
Lightly oil baking sheet, place halved winter squash cut side down, and roast about 45-55 minutes.
Once cool, scoop out the flesh with spoon
Reduce oven to 350 degrees.
Place squash in food processor and process until just about smooth, then add coconut milk, eggs, vanilla, maple syrup, cornstarch, cinnamon, cloves and nutmeg.
Process until smooth, then pour into a baking dish.
Sprinkle with cinnamon. Bake for 45-50 minutes or until set.
Let cool, then top with dried cranberries and enjoy!

Apple Pie | Baked Apple Crumble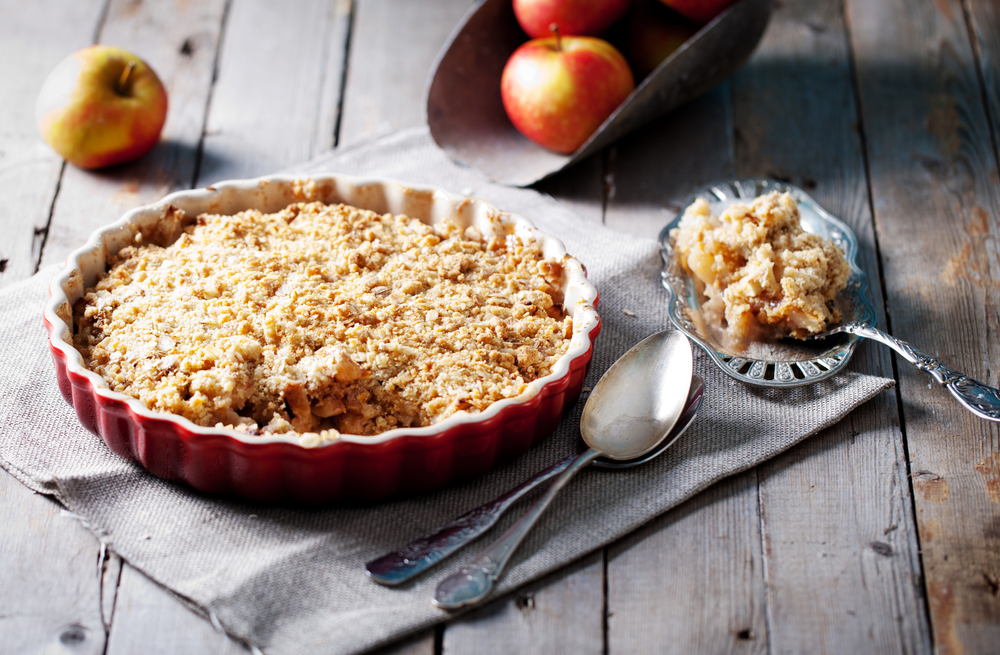 Apples are a Fall staple, but combine that with the amount of butter and sugar found in most pies and you've pretty much canceled out any sort of health benefits they might offer! Instead of smothering the benefits of this Fall superfood, enhance it with a blend of spices and a touch of sweetness instead. This low-calorie, indulgent dessert has just the right balance of crust and fruit to land it a solid spot on the list of healthier Fall recipes!
Prep Time:  1 hour
Serves: Makes 9 servings
Ingredients:
Streusel:
¾ cup oats
¼ cup whole wheat flour
1 tsp cinnamon
2 Tbsp. maple syrup
1 ½ tbsp unsalted butter, melted
Filling:
6 cups diced red apple
2 tbsp cornstarch
1 ½ tsp cinnamon
Method: 
Preheat the oven to 350°F, and lightly coat an 8"-square pan with cooking spray.
To prepare the streusel topping, whisk together oats, flour, and cinnamon in a small bowl.
Make a well in the center, and pour in the maple syrup + butter then stir until combined.
To prepare the filling, toss the apples with the cornstarch, cinnamon, and nutmeg until coated.
Transfer the filling to the prepared pan, press down with a spatula, then sprinkle with topping.
Bake at 350°F for 50-60 minutes or until the apples are fork tender.
Cool completely to room temperature
Enjoy!
Reeses' Cups | Protein Peanut Butter Bites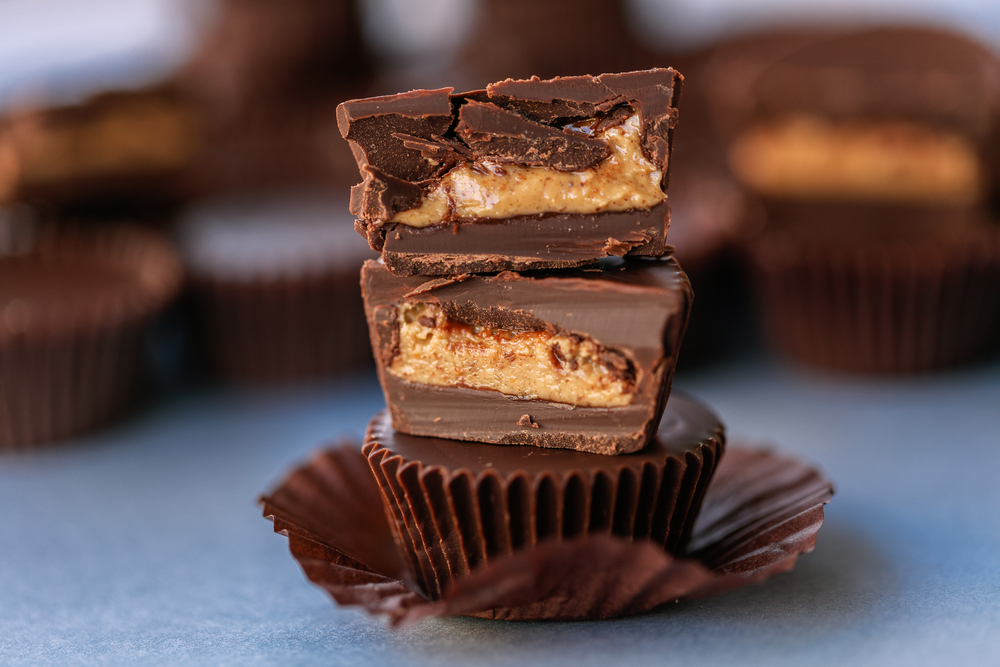 Did you know that Reeses' Cups are the most beloved Halloween candy in America? While Skittles take first place for most pounds sold at over 3 million pounds each year, the decadent combination of smooth peanut butter and sweet milk chocolate holds a special place in our hearts. Why deprive yourself of something so delicious when you can try this treat on our list of healthier Fall recipes? Using protein powder and dark chocolate, this option might just keep you out of your kids' candy stash!
Prep Time:  30 minutes
Serves: Makes 12 servings
Ingredients:
1/4 cup powdered peanut butter, prepared with water
3 tablespoons TLS® Shake – Vanilla
1 cup dark chocolate chips
1 Tbsp. coconut oil
Method:
Line mini muffin tin with lightly greased muffin liners, set aside.
In bowl, mix peanut butter + 2 Tbsp. TLS® Shake, adding the additional Tablespoon if needed.
Roll mixture into 12 marble sized balls, set aside.
In a microwave-safe bowl, melt dark chocolate chips and coconut oil
Add 1 teaspoon of chocolate mix into the bottom of each muffin liner, then place in freezer for about 10-15 minutes or until chocolate hardens.
Next, place one protein peanut butter ball on top of each hardened chocolate + gently flatten until it has a smooth top.
Top with two teaspoons of chocolate + place in freezer for 10-15 minutes or until chocolate is set.
Enjoy!

Pumpkin Spice Latte | Protein Pumpkin Spice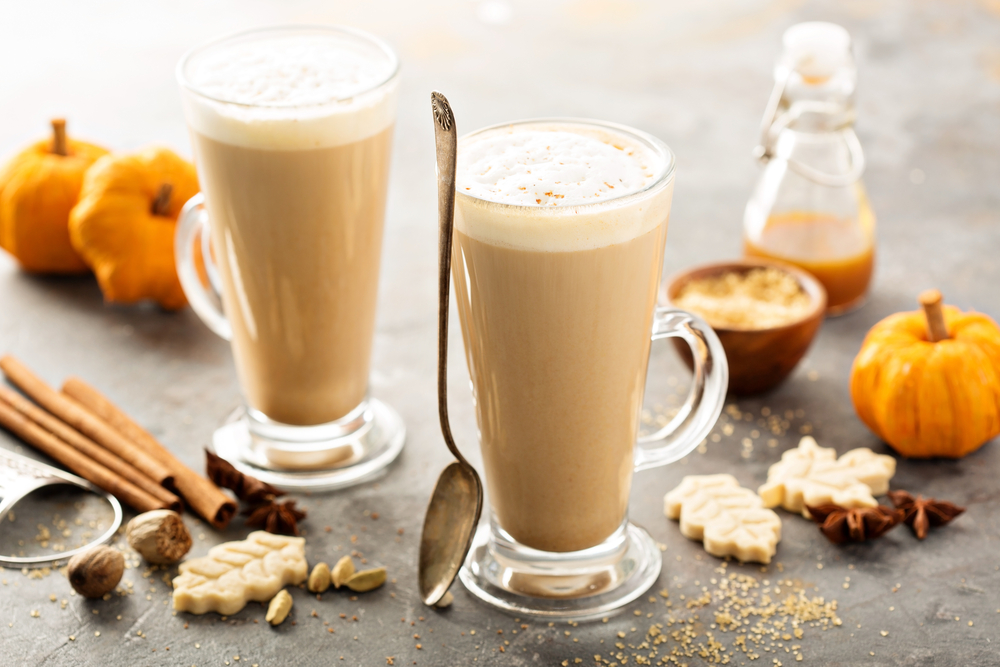 C'mon, you knew this was coming. While we love all things pumpkin, the typical Pumpkin Spice Latte packs almost 400 calories and over 50 grams of sugar! While delicious and definitely worth indulging in once or twice, it isn't something that should make a regular appearance in your food logs. Instead of skipping out on this seasonal staple, try one of these healthier Fall recipes for a Pumpkin Spice pick-me-up that won't throw you entirely off-track.
Prep Time:  7 minutes
Serves: Makes 1 serving
Ingredients:
1/2

 

cup

 

strong coffee*

 

or espresso

2

 T

bsp

 

pumpkin puree

1/2

 T

bsp

 

maple extract

1/2

 t

sp

 

vanilla extract

1/2

 t

sp

 

ground cinnamon

1/4

 

tsp

 

ground nutmeg

1/8

 

tsp

 

ground cloves

1/8

 

tsp

 

ground allspice

1/8

 

tsp

 

dried ginger

1/2

 svg. TLS® Shake – 

Vanilla

1

 

cup

 

unsweetened cashew milk
Method:
In small bowl, combine all ingredients besides cashew milk

Pour cashew milk into sealable jar or cup, then use an immersion blender for 30 seconds to foam.

If you don't have an immersion blender, use a milk frother or use a sealable jar to shake the milk vigorously for 30-45 seconds with the lid on tight.

Remove the cover, and place the milk into the microwave on high for 30-40 seconds, or until the milk starts to bubble up almost to the top of the jar.

Repeat these two steps (emulsifying and then heating) until milk is frothy.

Pour the coffee-pumpkin spice mixture into a mug.

Holding back the milk foam with a spoon, carefully pour the steamed almond milk into the mug.

Gently spoon the foam over the top.
Enjoy!
BONUS: Healthier PSL Creamer
If you want to take the calorie count down even further (or you just enjoy more of an actual coffee taste to your coffee) then check out the Pumpkin Spice Creamer recipe below:
Prep Time:  7 minutes
Serves: Makes 10 servings
Ingredients:
2 cups unsweetened cashew milk
¼ cup pumpkin purée
½ – ¾ tsp ground cinnamon, or to taste
⅛ tsp ground nutmeg
⅛ tsp ground ginger
¼ teaspoon vanilla crème stevia, or to taste
Method:
Add all of the ingredients to a medium pot over medium heat, stirring frequently, for 5-7 minutes or until completely heated through.
Transfer the mixture to a glass measuring cup, and let it cool completely to room temperature.
Once cooled, whisk the mixture to reincorporate the spices.
Transfer to a glass jar or an airtight, cover, and refrigerate until ready to use.
Enjoy!
Which healthier Fall recipes are you looking for?
Let us know in the comments so we can find it for you?