Did you know that the average weight gained during this past year was 30 lbs? This is why our TLS Spring Into Action promotion has come at a perfect time.  Open to everyone in our US, Canada and UK markets, get ready to spring into action with us. 
Gather some co-workers, friends and family and join us and lose unwanted pounds and feel better than ever! With the accountability and fun we will have embracing the TLS lifestyle, success is yours.
Spring into Action runs 7-weeks and will be hosted on a private Facebook group this month, taking you through the TLS 30-Day Jump-Start program together.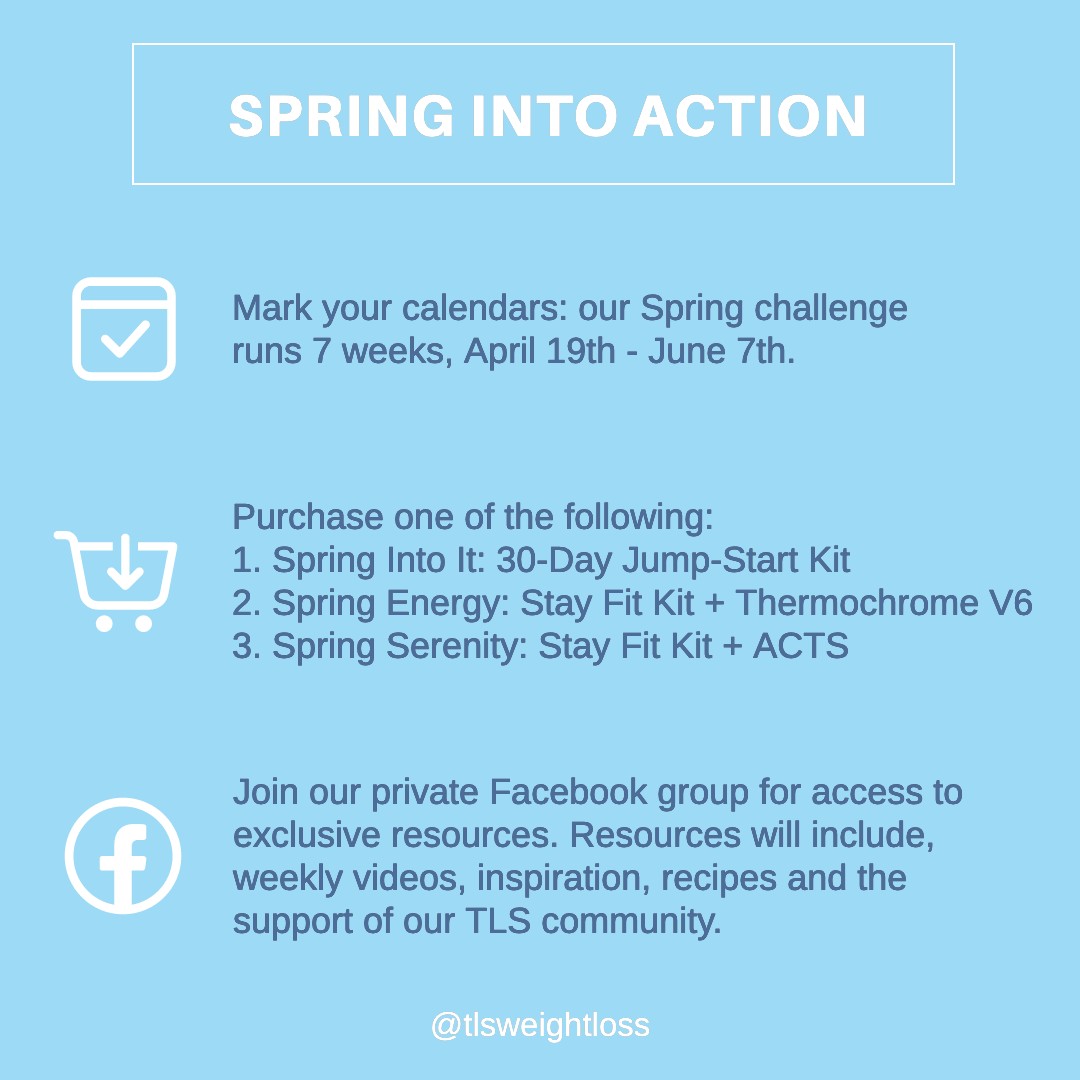 Official start date: is Monday April 19th.
We will be sharing daily videos with tips, education, recipes and so much more. Not only will you have corporate support from our Directors of TLS, Melanie Nelson and Sosan Hua, we will have our top TLS Certified Trainers and Coaches participating to help answer questions, taking the guess work out what to do.  
A purchase of one of our 3-programs will be required as we will be leading everyone through the TLS program.
Spring Into It: 

TLS 30-day Jump Start Kit

Spring Serenity:

Stay Fit Kit and TLS ACTS

 

Spring Energizer:

Stay Fit Kit and TLS Thermochrome V6

 
To receive your Products in time for our Start Date of Monday the 19th – be sure to order before April 12th. 
To learn more about TLS and this promotion we will be conducting 2 LIVE TLS overviews open to everyone, invite your guests.
Wednesday, April 7th at 8:00pm EST.
Thursday, April 8th  at 8:00pm EST.
There is power in a group doing something together at the exact same time, it creates community, accountability and fun. Join our private Facebook Group to support made especially to support our participants. Click to join.
You will be required to answer the membership questions after requesting to join in order to be admitted – be sure to request to join right after your order your products – so you have your order number handy – we will be verifying them.  Please allow 24 – 48 hours for request to be approved. 
 Whether you are looking to get back on track, lose some unwanted weight, keep your current TLS momentum up or enhance your existing health routine the TLS Spring into Action is a perfect way to launch your goals and get the results you desire. 
We are excited and can't wait for it to begin!  
Remember, you are worth it,
Melanie D. Nelson