By: Amanda Belo
Condiments are probably the staple of many of your go-to meals. The trouble is, some condiments may be holding you back when it comes to establishing healthy eating habits and seeing results! While some pass the healthy test, others (that's you, ketchup) we're giving others the boot for these healthy condiment alternatives.
The Bad: Condiment Overload
A good meal depends on taste and flavor, among other things. Many times, that comes from certain store-bought sodium and sugar heavy sauces or dressings. Some of the usual culprits?
Ketchup
Relish
BBQ sauce
Mayonnaise
Butter
Soy sauce
Teriyaki sauce
Salad dressing
Jelly or Jam
Sour cream
Hot sauce
Tartar sauce
Pasta sauce
Guess what? You can still enjoy your lean burger, chicken or whatever else without dousing them in empty nutrients. Even better, making your own version or trying a healthier alternative is a totally do-able solution!

The Good: Swap This for That
KETCHUP
Ketchup is the classic of classics in terms of sauces. What you may not know is that the bottled ketchup on the supermarket shelves or in restaurants often is high in sugar, sodium and high fructose corn syrup.
Healthy Condiment Swap: Try some fresh salsa just for kicks! Salsa, especially when made at home, still contains lycopene-rich tomatoes, and is low in salt and calories. Would you rather have the smooth texture over chunky? No problem! See a healthier mayonnaise recipe below.
MAYONNAISE
It's no secret this spread and added ingredient is not so heart-friendly. Talk about being high in saturated fat and calories!
Healthy Condiment Swap: Switch it up with Greek yogurt combined with herbs and spices for flavor and creaminess, or avocado as a substitute for a healthier fat.1 Pesto or hummus can also serve as mayo alternatives as spreads for sandwiches and wraps.1
SOY SAUCE
You can still savor the umami taste that soy sauce provides without getting your unwanted sodium fix. When stir-fry or sushi calls your name, tamari or liquid aminos can serve as suitable alternatives for savory flavoring.
Healthy Condiment Swap: Tamari is gluten-free (made without wheat, but contains soy), comes in a reduced-sodium option, and has a similar taste to soy sauce.2 Liquid aminos – soy and coconut – are gluten-free options. Coconut aminos come from coconut sap, is free of soy, contains less sodium than soy sauce.3 Or, you can always use a reduced-sodium soy sauce in moderation.
BBQ SAUCE
Sugar, sugar and more sugar can run rampant in may BBQ sauces you buy at the store. Coat your meat or poultry in a marinade that still keeps the tangy, sweet or spicy taste of BBQ sauce and still keep you satisfied.
Healthy Condiment Swap: Try an olive oil, fresh lemon juice, black pepper marinade with herbs to complement your meat.4 For a tangier taste, use sweeter juices like pineapple or orange instead of lemon.4
SALAD DRESSINGS
Ranch dressing is a relationship that's hard to break up with. Like mayonnaise, think about all the calories, salt and fat we douse our salads in that comes with ranch and other rich dressings.
Healthy Condiment Swap: Instead of the buttermilk, whole milk, mayonnaise or sour cream that richer dressings contain, make your own and add Greek yogurt as a base for your new creamy dressing go-to.5 A vinaigrette or olive oil dressing is also a suitable healthy option for salads – and easy to make on your own!
JELLY OR JAM
What's peanut butter without jelly? What's toast without jam? It's less sugar! You don't have to sacrifice the sweetness that these yummy spreads bring.
Healthy Condiment Swap: Lose the added sugar and artificial sweeteners by adding fresh, canned or thawed fruits chopped or pureed.6 Additionally, using a nut butter solely instead of a jam that carries a natural sweetness after the nut is roasted can help curb your sweet tooth (e.g. cashew butter, almond butter).6 Even raw honey used moderately can be a good alternative.6
BUTTER
Butter has a high saturated fat content, but it is a spotlight ingredient for many a cook and baker. To cut the fat, thankfully you have a few good options!
Healthy Condiment Swap: Switch butter with applesauce or fruit purees. Applesauce, mashed banana and avocado can all add moisture to your baked goods as well as added nutrients.7 Olive oil and coconut oil can also be good alternatives, just watch the amount of coconut oil you use to leave out unnecessary fat you're trying to avoid from butter.7

Make Your Own Healthy Condiment!
On busy days when you're in a pinch and need to go with a store-bought sauce or spread, some brands do carry reduced or no added sugar and salt alternatives – but why not try carving some time out on the weekend to make a healthy sauce on your own? Here are a few recipes to get you started!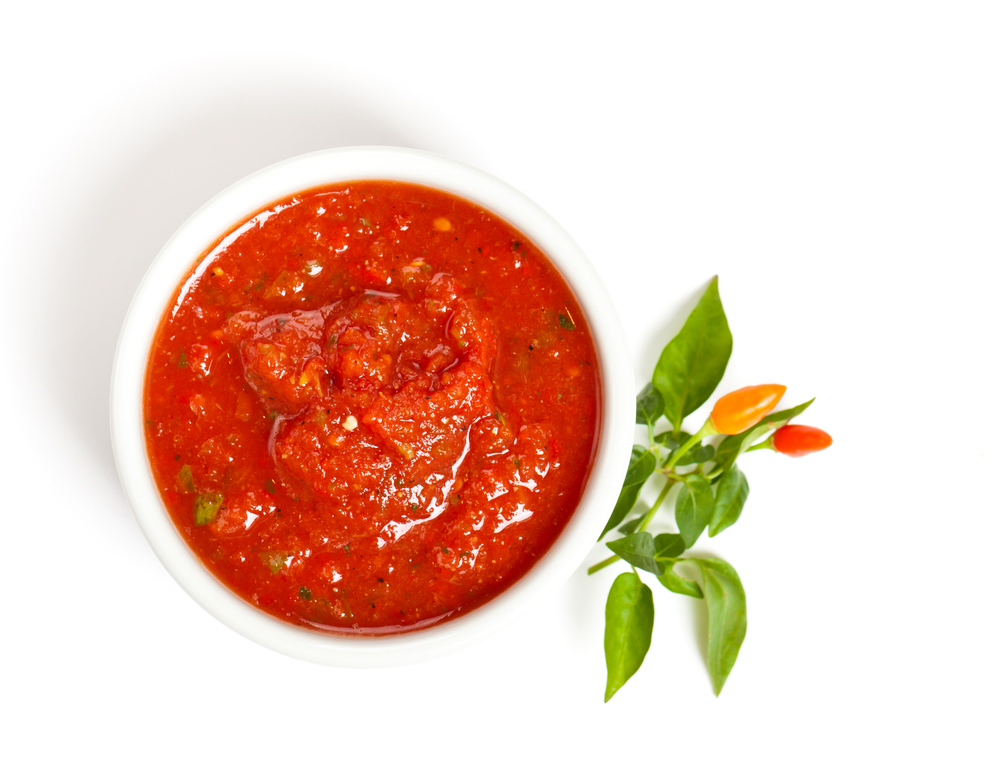 This healthy condiment can be used in place of ketchup
Ingredients:
2 garlic cloves
½ cup roasted red peppers from a jar (about 2) chopped
1/2 cup unsalted, roasted almond
2 tablespoons red wine vinegar, plus more to taste
1/4 cup olive oil
Salt and pepper, to taste
Method:
Purée garlic, red peppers, almonds and vinegar in a food processor until smooth.
With motor running, add oil and process until smooth
Season with salt, pepper and more vinegar, if desired.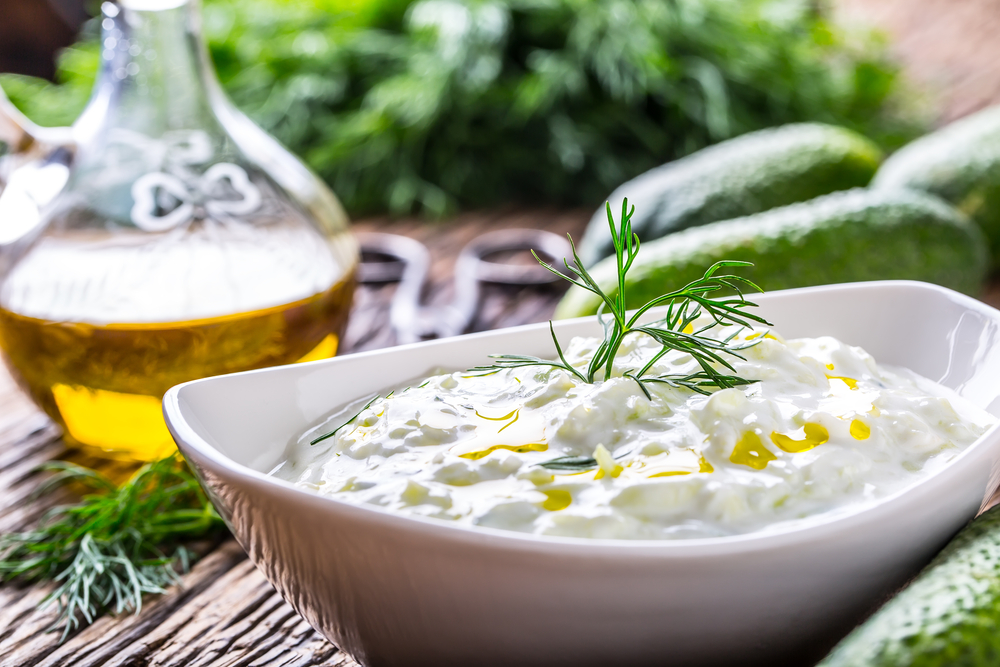 This healthy condiment can be used for salads or wraps

Ingredients:
½ cup fat-free yogurt
½ cucumber, chopped
1 teaspoon lemon juice
1 clove garlic
Freshly ground pepper to taste
Method:
Blend all ingredients together in a food process or blender, and store in the fridge.
If you don't have a food processor or blender, then chop the cucumber finely instead and mix the ingredients together for a chunkier dressing or dip.

Skinny Alfredo Sauce Made with Cauliflower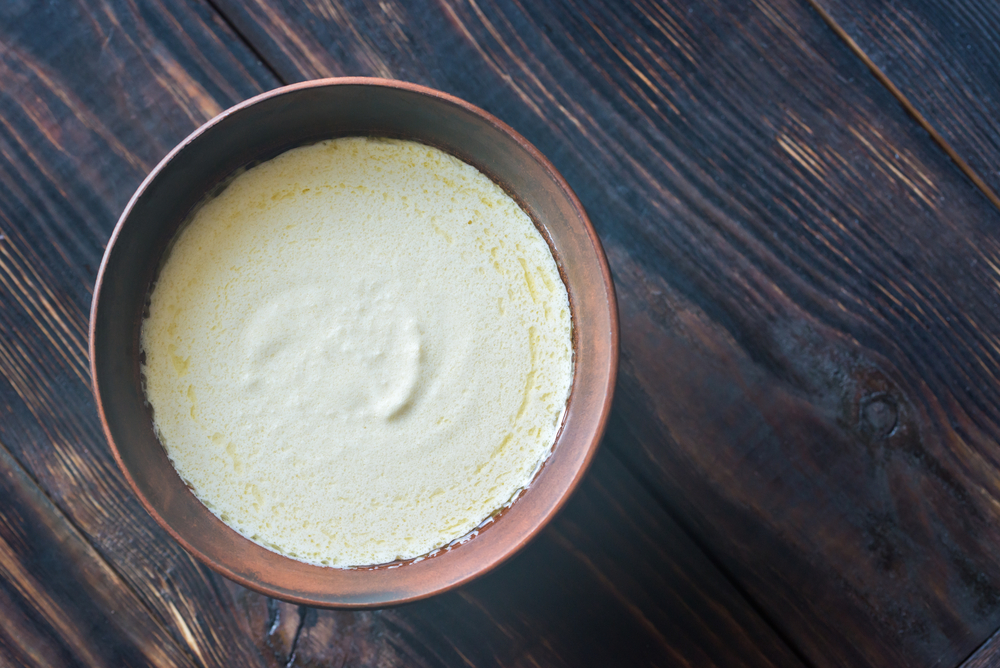 Ingredients:
4 cloves garlic, minced
2 tablespoons unsalted butter
1 tablespoon olive oil
2 heads of cauliflower (about 7-8 cups cauliflower florets
1/2 teaspoon salt (more to taste)
½ teaspoon pepper (more to taste)
1 and ½ cups skim milk (more to achieve desired consistency)
pinch of freshly grated nutmeg
3/4 cup grated parmesan cheese
fresh parsley for serving
cooked pasta for serving 
Method:
Sauté the minced garlic with the butter and olive oil in a large skillet over medium-low heat. Cook for several minutes or until the garlic is soft and fragrant. Be careful not to brown the garlic. Remove from heat and set aside.
Meanwhile, bring a large pot of water to a boil over high heat. Add the cauliflower, cover, and cook until cauliflower is tender when you stick a fork in it (about 8-10 minutes). Drain.
Transfer the cauliflower to the blender. Add milk, sautéed garlic/butter, salt, pepper, nutmeg, and milk. Blend or puree for 2-3 minutes until the sauce is silky and smooth. Stir in Parmesan cheese. You can add more milk if it seems too thick. Toss with your favorite cooked pasta and serve immediately topped with fresh parsley if desired.