By: Christine Howard, Social Media Manager
When you think of dessert, chances are it's something delicious but also something that's loaded with sugar, carbs, fat or all of the above. Think again. Enjoy dessert again, without all of the guilt, with TLS Nutrition Shakes. Loaded with 18g of protein, 10g of fiber and 24 vitamins and minerals, TLS Nutrition Shakes are the perfect enhancement to your desserts – from donuts to brownies, pancakes and beyond. Here's a little taste of TLS-approved recipes that you may want to indulge in on #NationalDessertDay and beyond.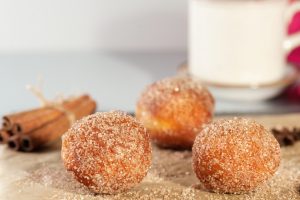 DUSTED DOUGHNUT HOLES (Servings: approximately 16) (SS, CC)
1 cup of oat flour
1⁄4 cup of Stevia powder
1⁄4 cup of almond milk
1 tsp of baking powder
1 tsp of cinnamon
1⁄2 tsp of salt
1⁄2 tsp of vanilla extract
1⁄4 tsp of baking soda
4 egg whites
1 serving of TLS Nutrition Shake — Creamy Vanilla
DUSTING (optional): 1⁄4 cup of Stevia powder 2 tbsp of cinnamon
Preheat the oven to 325 F. Coat mini muffin tray with cooking spray. Combine the dry ingredients and the wet ingredients separately. Combine the dry ingredients with the wet ingredients and mix thoroughly into a uniform texture. Bake for 20–25 minutes. Remove while warm and roll in dusting, if desired.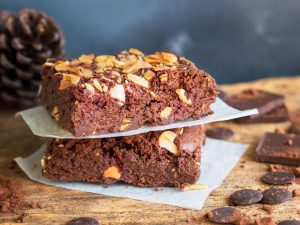 MOCHA BROWNIES (Servings: 12) (SS, CC)
14 oz of sweet potatoes (skinned)
31⁄2 oz of dark chocolate chips
2 tbsp of oats
3 egg whites
1 tsp of agave nectar/maple syrup
1 tsp of instant coffee
1⁄2 tsp of cinnamon
1⁄2 tsp of baking powder
1⁄2 tsp of coconut oil
1⁄2 cup of almonds (chopped) (optional)
1 serving of TLS Nutrition Shake — Chocolate
Preheat the oven to 350 F. Boil potatoes over medium-high heat until soft, then combine them with the protein powder, oats, coffee and baking powder using a blender or food processor. Melt chocolate and coconut oil for 1-2 minutes over low-medium heat, stirring consistently, then add to other ingredients along with agave nectar/maple syrup and egg whites, mixing thoroughly. Coat an 8×8 baking pan with cooking spray. Pour batter and bake for 30 minutes.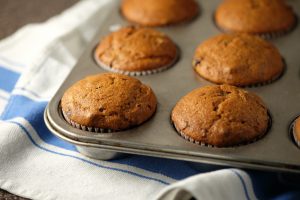 PUMPKIN SPICE MUFFINS (SS, CC)
2 scoops of TLS Nutrition Shake — Creamy Vanilla (or Limited-Edition Pumpkin Spice Flavor)
1 egg
2 tbsp of no-sugar added applesauce 1⁄4 tsp baking powder
2 tbsp of canned pumpkin
1–2 tbsp of crushed walnuts (optional) 1 tsp of pumpkin spice
1⁄2 tsp of nutmeg
1⁄2 tsp of cinnamon
Mix and pour the mixture into the muffin pan (makes approx. 6 in a normal muffin tin). Bake at 400 F for 12–14 minutes (depending on how big the muffins are).
Take a look at the TLS resource page for endless recipes to make with your favorite nutrition shake flavor. Enjoy National Dessert Day and be sure to tag TLS Weight Loss in your nutrition shake-enhanced recipe, @tlsweightloss and #tlsweightloss.