By: Melanie Nelson, Director of TLS Sales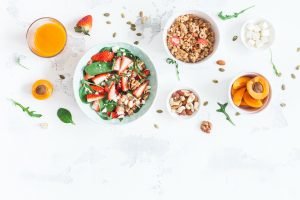 Lazy summer days, sleeping in and weekends full of food and festivities. Sometimes it's difficult to keep a healthy routine and it's even tougher to get back into one. Here at TLS, we help our clients to get back on the healthy wagon! Here are some sure-fire ways to do so.
Commit to a DETOX week – Our NutriClean® 7-day Cleansing System is invigorating way to reset the body and palate for healthy habits. Doing it alongside a few friends and family members is always recommended. We recommend following it up with one of our TLS programs or using our 30-Day Jump-Start Kit program, which includes the Cleansing System.  Learn more about the Jump Start Kit.
Start slower – Get a few friends or family members together and choose one of our TLS programs. Choose from Sure and Steady or Continued Commitment, so you can ease your way back into better habits. https://www.tlsslim.com/resources/our-programs
Sign up for a challenge – Nothing like a challenge and a deadline to get you going!
Find a workout buddy – Chances are, there is someone in your life feeling just like you are. The desire to make some changes – it's more fun to make changes with a friend. Hiring a personal trainer to whip you into shape can also be an option. Either way, this type of accountability can be just what is needed to get back at it!
The truth hurts – This may not work for everyone – but for most is can be extremely motivating. Sometimes we need more than that feeling of our clothes being a little snug to make a comeback. Doing the full work up – weighing in, measurements, BMI to see how far we have fallen, can be the kick in the pants to get back on the wagon.
Stop those feelings of guilt or regret about all those indulgences that come along with summertime. It's time to look forward.  If you need some more perspective, here is a GREAT read on 7 ways to get back to it from our TLS Coaches: https://blog.tlsslim.com/2020/04/7-steps-to-getting-back-to-healthy-eating/
Thanks for reading, remember you are Worth it!