By: Tayler Glenn
Grills, pools, and an amazing cookout or two! This is the season for all of the delicious outdoor meals we've been dreaming of since last Fall, and breaking out the grill for Father's Day couldn't be a better way to kick off the season. A cookout can seem tricky if you're trying to stay on the healthy side, but these healthy recipes that cut the bad stuff without sacrificing flavor to help you create the perfect cookout menu for Father's Day  – or any day!
Rhubarb BBQ Sauce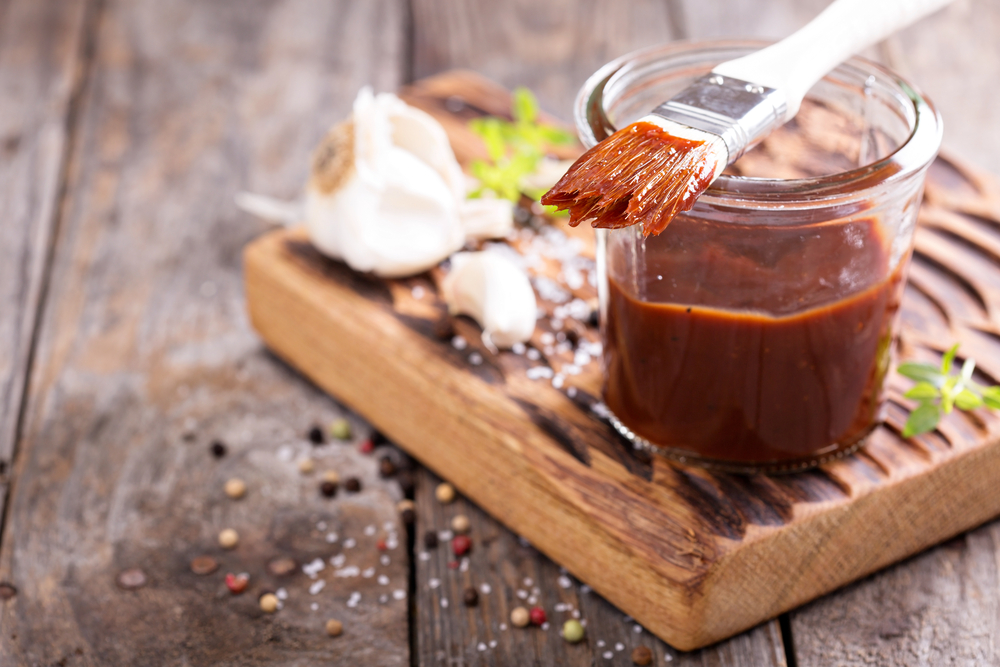 Typical BBQ sauces are loaded with sugar, and that alone is enough to derail my healthy intentions for the meal. I'm all for homemade sauces, and this one is one of my favorites – plus, I've never had a complaint! With a nice smokey taste that finishes with a touch of heat, this BBQ sauce might just become a house staple.
Prep Time: 3o minutes
Serves: Makes 16 servings (2 cups)
Ingredients: 
2 cups chopped rhubarb
1 cup tomato sauce
3/4 cup chopped onion
1/4 cup tomato paste
1/4 cup apple cider vinegar
3 T jalapeno, diced & seeded
Brown sugar Stevia, to taste
1 1/2 T blackstrap molasses
2 tsp minced garlic
1 1/2 tsp smoked paprika
1 1/2 tsp stone ground mustard
1/2 tsp salt
1/4 tsp black pepper
oil for cooking
Prep:
Heat 1 tablespoon oil in a medium-sized pot over medium.
Once hot, add the onion + jalapeno and cook until 6-8 minutes, stirring occasionally.
Add garlic and stir for about 30 seconds, then add rhubarb, tomato sauce, tomato paste, vinegar, 2 tablespoons brown sugar Stevia, molasses, garlic, smoked paprika, mustard, salt, and pepper.
Stir to combine and reduce heat and simmer uncovered until rhubarb is tender (12-15 min).
Remove from heat and let cool for at least 10 minutes, then place in your blender & blend until fully smooth.
Return to the pot over low heat, taste and adjust seasonings as needed
Serve immediately or allow to cool then store in a sealed container in the fridge for up to 1 week.
Enjoy!

Turkey Burger with Sun-Dried Tomatoes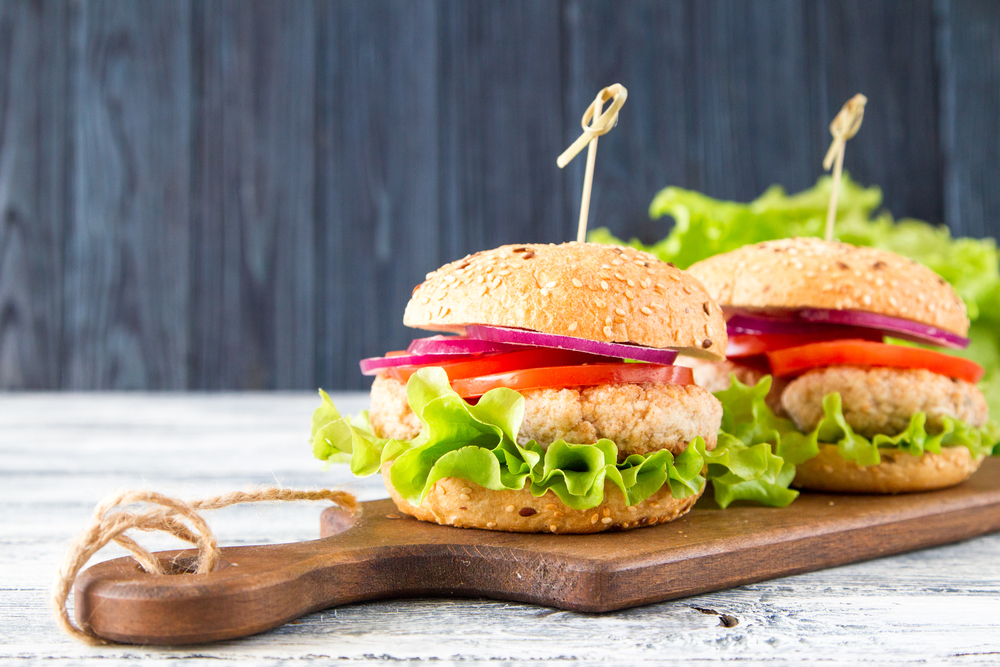 A healthy lifestyle means including delicious foods of all kinds. After all, who would stick to a diet that tasted like cardboard? If you thought burgers were off the list on your meal plans, think again. This recipe uses lean ground turkey, savory sun-dried tomatoes, and low-fat feta for a protein-packed cookout recipe!
Prep Time: 2-30 minutes
Serves: Makes 4 burgers
Ingredients:
1 lb. lean ground turkey
1/2 teaspoon black pepper
Sea salt to taste
1/2 cup diced sun-dried tomatoes
1/4 cup low-fat feta cheese
2 tablespoons diced green onions
Prep:
Combine all ingredients in large bowl and mix well until all ingredients are combined
Divide into 4 patties
Clean the grill and preheat to high.
Grease the grill by lightly dipping a wad of paper towels in oil and carefully rub over the grates using tongs until glossy and coated.
Place the turkey burgers on the grill and cook for five minutes, covered, until grill marks form.
Flip and continue to cook, covered, for 3-5 minutes more.
Place on bun or lettuce wrap, top with additional veggies
Enjoy!

Dill & Buttermilk Summer Salad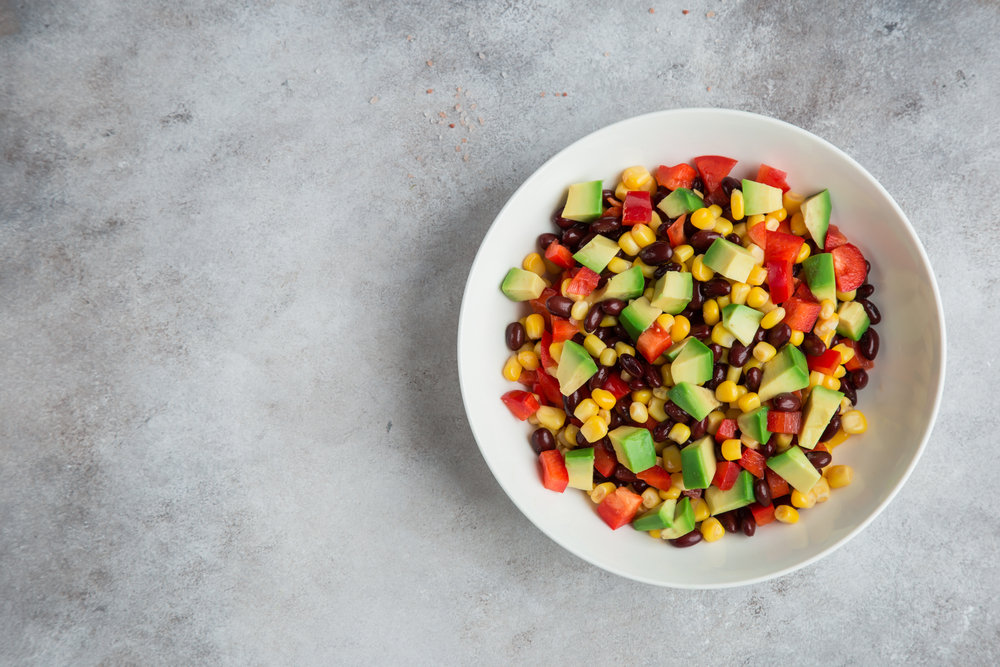 Salads are great options for cookouts – as long as you're not depending on the lettuce to stay crisp in these 90 degree days. I love this recipe because it incorporates so many summer veggies while taking the pressure off the greens & adding texture that will complement any main course on the grill.
Prep Time: 15 minutes
Serves: Makes 6 servings
Ingredients:
The Dressing
1/3 cup nonfat plain Greek yogurt
1/3 cup low-fat buttermilk, well shaken
1 tsp Dijon mustard
1 tsp lemon juice
Pinch Stevia (optional)
1/8 tsp salt
1 tbsp chopped fresh dill
The Salad
6 cups lettuce, chopped
1.5 cups cooked corn
1 tomato, chopped
1 green onion, sliced
3/4 cup edamame, cooked & shelled
1/2 avocado, chopped
1/2 cup blueberries
1 tbsp sunflower seeds or pepitas, unsalted
Prep:
The Dressing:
In a small bowl, whisk together the yogurt, buttermilk, mustard, lemon juice, and salt.
Gently stir in the dill.
Taste, and add Stevia if needed (a small pinch should do)
The Salad:
Place chopped lettuce in a serving bowl.
Sprinkle corn, tomato, green onion, edamame, avocado, blueberries and sunflower seeds or pepitas over top.
Serve with the dressing on side
Enjoy!

Grilled Summer Skewers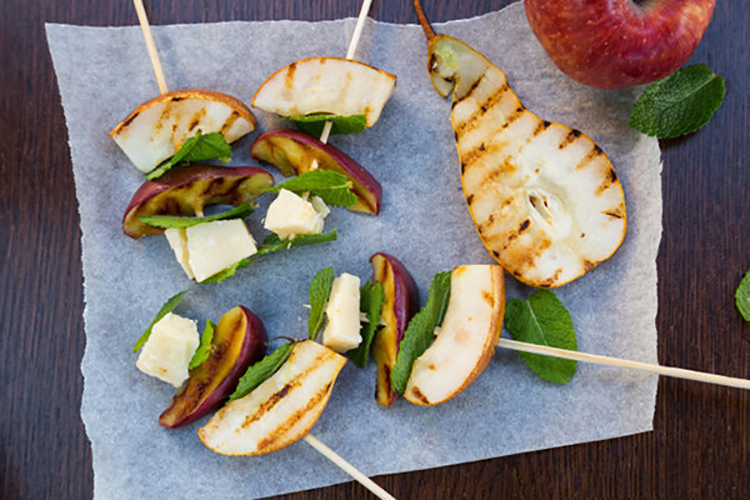 BBQs are notoriously meat-heavy, but the heat may mean opting for lighter fare is going to be best. On those hot summer days, skewers are the way to go! These are filled with fresh summer fruits that are grilled to give a unique flavor that won't disappoint.
Prep Time: 10 minutes
Serves: 4 skewers
Ingredients:
1 apple, quartered
1 pear, quartered
4 cubes Parmigiano Reggiano cheese (or other hard cheese of choice)
4 fresh mint leaves
Balsamic vinegar
4 metal skewers
Prep:
On a hot grill, quickly cook the pears and apples until grill marks appear.
On each skewer, add a slice of pear and a slice of apple with a mint leaf in between.
Add the Parmigiano Reggiano (heat tip of metal skewer first for easy insertion)
Drizzle with balsamic vinegar
Enjoy!

Red Apple Slaw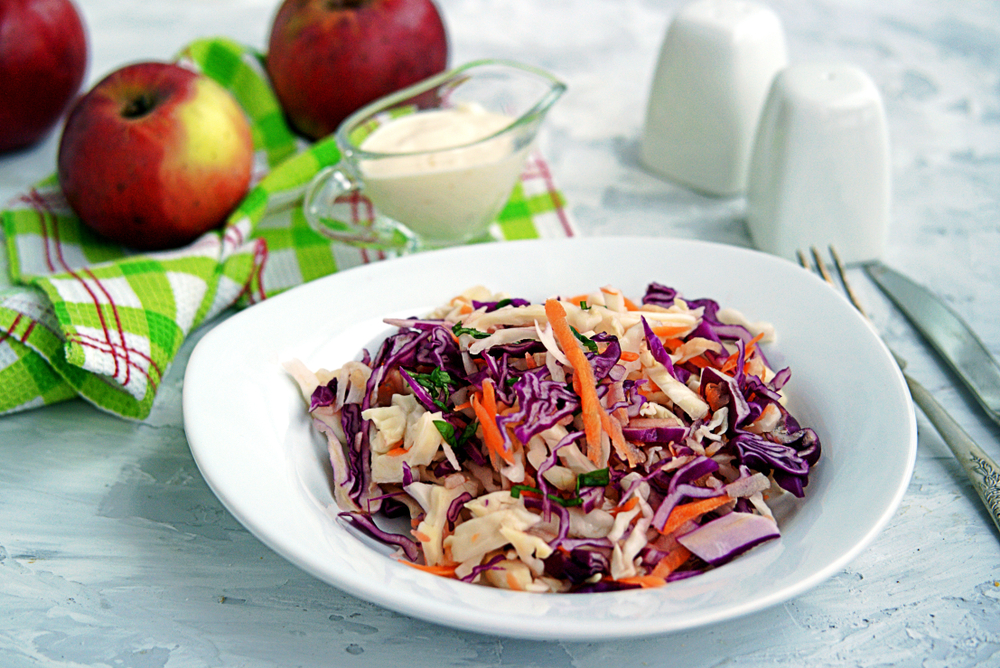 You didn't think we were going to make a cookout post without some slaw, right? Traditional red slaw (Carolina Style, for those of you a little more North) is filled with sugar. This red slaw takes a slightly different route by combining tart, crunchy apples with the tang of a traditional slaw.
Prep Time: 1o minutes
Serves: Makes 4 servings
Ingredients:
3 cups shredded red cabbage
1 cup coarsely chopped red cabbage
2 red apples, cored & cubed with peel
¼ cup white balsamic vinegar
2 T olive oil
2 tsp honey
Sea salt and black pepper to taste
Prep:
Combine cabbage and apple cubes in a large salad bowl
Add vinegar, oil, and honey in a separate bowl, then stir to combine
Combine all ingredients in the original bowl, and add salt and pepper to taste
Serve immediately or allow to sit overnight for best taste
Enjoy!