By: Brianna Glenn
As we all crawl out of winter hibernation, our spirits are high and our stomachs are growling for only the freshest of produce. With juicy red tomatoes and berries, rich purple radishes and eggplant, and golden yellow corn and squash, summertime brings a blissful rainbow of nutritious produce to our plates. Paired with your favorite protein for dinner, or a cool homemade crème for dessert, these veggies and fruits are literally the "cherry on top" of our favorite season of the year—summer.
Bright Veggies
What good is that grilled chicken or shrimp without fresh corn and tomato salsa with a dash of basil? Check out this list of bright summer veggies, perfect for any meal or snack of the day.
Basil
Broccoli
Corn
Cucumbers
Eggplant
Green Beans
Okra
Radishes
Summer Squash
Tomatoes
Pair crunchy cucumber slices with a creamy cheese wedge for a light post-workout snack. Roasted okra seasoned with a little sea salt and garlic is a wonderful compliment to a fresh steak and potatoes dish. Pair a nice white wine with eggplant parmesan for a tasty summer meal!
No-Fry Eggplant Parmesan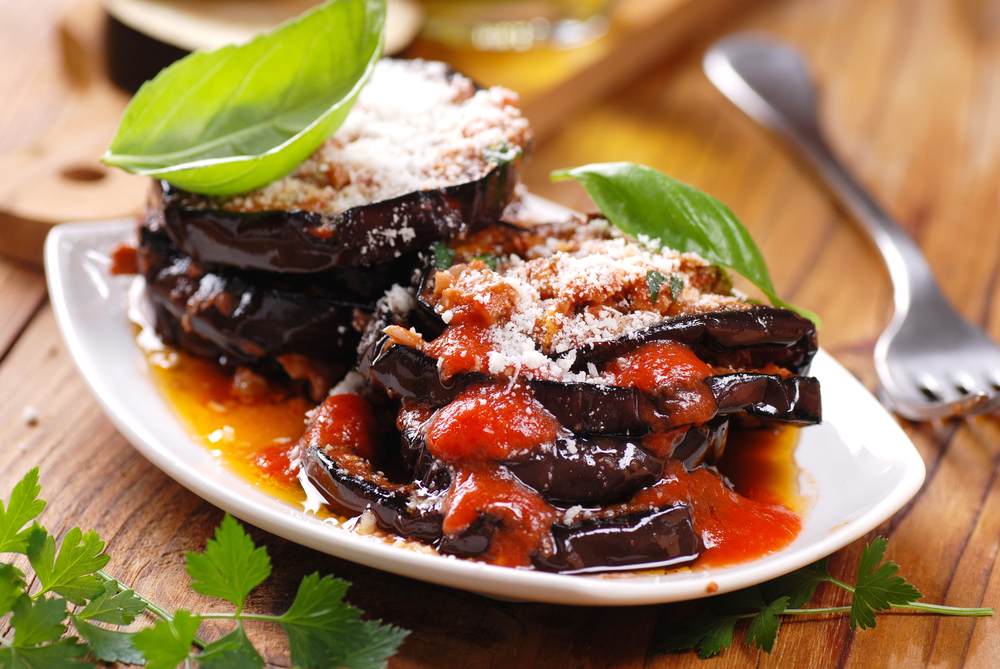 Prep Time: 1 hour
Serves: 10
Calories: 487
Ingredients:
3 eggplant, peeled and thinly sliced
2 eggs, beaten
4 cups Italian seasoned bread crumbs
6 cups spaghetti sauce, divided
1 (16 ounce) package mozzarella cheese, shredded and divided
1/2 cup grated Parmesan cheese, divided
1/2 tsp dried basil
Prep:
Preheat oven to 350 degrees F (175 degrees C).
Dip eggplant slices in egg, then in bread crumbs. Place in a single layer on a baking sheet. Bake in preheated oven for 5 minutes on each side.
In a 9×13 inch baking dish spread spaghetti sauce to cover the bottom. Place a layer of eggplant slices in the sauce. Sprinkle with mozzarella and Parmesan cheeses. Repeat with remaining ingredients, ending with the cheeses. Sprinkle basil on top.
Bake in preheated oven for 35 minutes, or until golden brown.
Voila! Enjoy!
Succulent Fruits
Top off a fresh farm-to-table dinner with a farm-to-table dessert! Fresh and vibrant, fruit is a great way to cleanse the pallet after a lovely meal. These summer fruits will keep you sweet and cool, all season long!
Blueberries
Cherries
Peaches
Plums
Raspberries
Watermelon
Blueberries and Raspberries make for a lovely parfait when paired with graham crackers and Greek yogurt. For a more simple dessert, a fresh slice of watermelon always does the trick. Personally, I'm a huge fan of crumbles!
Low-Calorie Plum Crumble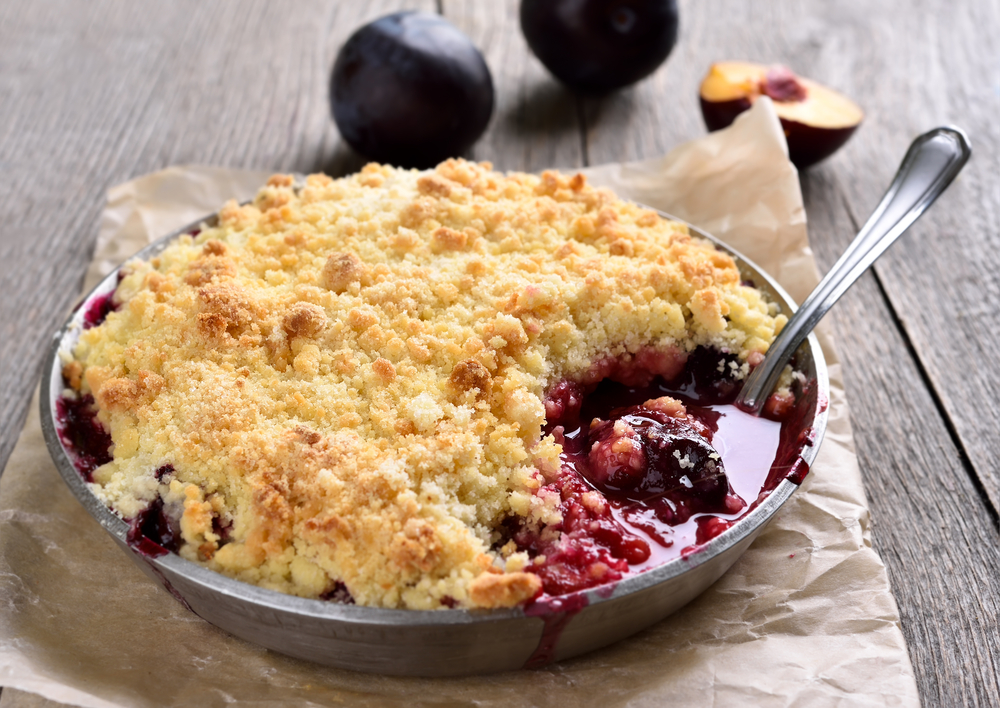 Prep Time: 35 minutes
Serves: 6
Calories: 156
Ingredients:
4 large plums, pitted and sliced
Juice 1/2 lemon
1/2 tsp pure vanilla extract
2 tsp raw honey
1/2 cup spelt flour, divided
1/2 cup old-fashioned rolled oats
3 tbsp organic evaporated cane juice
2 tbsp olive oil or butter spread
1/2 tsp ground cinnamon
6 tsp nonfat plain Greek yogurt, optional
Prep:
Preheat oven to 375°F. Place plums in an 8 x 8-inch baking dish. Drizzle with lemon juice, vanilla, honey and 1 tbsp flour; toss to coat.
In a medium bowl, combine remaining flour, oats, cane juice, buttery spread and cinnamon; blend with a pastry blender or 2 butter knives until crumbly. Spread mixture evenly over plums. Bake on middle rack in oven until golden on top, about 20 to 25 minutes.
Remove from oven and let cool slightly. Divide evenly among 6 serving dishes. Top each with 1 tsp yogurt, if desired.
Make your summer cookouts and soirees a fresh and healthy event by incorporating a few of these fresh summer produce items into your menu, and your family and friends will love you for it! Not to mention, colorful produce makes for a beautiful centerpiece at the dinner table.