By: Tayler Glenn
Dieting for the holidays tends to bring out your inner Grinch at the dinner table, but what there was a happy medium? Between eating yourself off-track with a sugary carb overload and depriving yourself of your holiday favorites, there's a wonderful place where flavor and nutrition come together in a delicious way. Prepare for 2019's resolutions a little early this year with a healthier holiday meal that still allows you to indulge a little!
From savory bites to hearty sides, these recipes create a healthier holiday meal that proves you can indulge without foiling a year's worth of work. If a guilt-free feast is on your wish list this holiday, here are a few recipes with the flavor to make your menu Christmas-worthy!
With a kick from the ginger and the delicate balance of tangy goat cheese + sweet pear, this appetizer is not only quick but delicious as well. Plus, they're light enough that you won't feel stuffed by the time your main course comes around!
Prep Time: 25 minutes
Serves: Makes 3o servings
Ingredients:
1 small, ripe pear
2 teaspoons minced ginger
1 tablespoon honey
Small pinch salt
3-4 Endives
3 ounces goat cheese, room temperature
Method:
Peel and cut the pear into small cubes.
Place the pears with the minced ginger + honey in a saucepan over medium heat, stir until combined and pear is tender (3-4 minutes) then remove from heat
Cut 1/2″ from the bottom of the endive + peel off the leaves.
Smear 2 teaspoons of goat cheese on each + top with a spoonful of pears.
Repeat with remaining leaves, goat cheese, and pears
Serve warm or chilled, and enjoy!

This vegan side is a dreamy combination of cinnamon, orange, maple, and rosemary that's perfect for a healthier holiday meal! As a much healthier (and more flavorful!) alternative to mashed potatoes, this one bowl wonder meal is a fast + easy holiday-saver.
Prep Time: 18 minutes
Serves: Makes 4 servings
Ingredients:
1 1/2 cups butternut squash, cubed
1 cup tempeh, cubed
2 tsp maple syrup
1/2 cup onion, chopped
2 tsp apple cider vinegar
2 cups brown rice, cooked
1/3 cup cranberries
1/4 cup parsley
Pinch of cinnamon
Pinch of fresh orange zest
1 tsp coconut oil
Salt, to taste
1/2 tsp rosemary
Method:
Warm coconut oil over medium-high heat, then add the onion, tempeh, maple syrup, and squash.
Brown for 2 minutes, then add remaining ingredients except for rice and parsley
Stir for another 2-3 minutes, turning heat down to medium if food begins to over-brown
Fold in rice and parsley, then sautè for another 1-2 minutes to lightly toast rice.
Serve warm with some added fresh parsley over top for color.
Enjoy!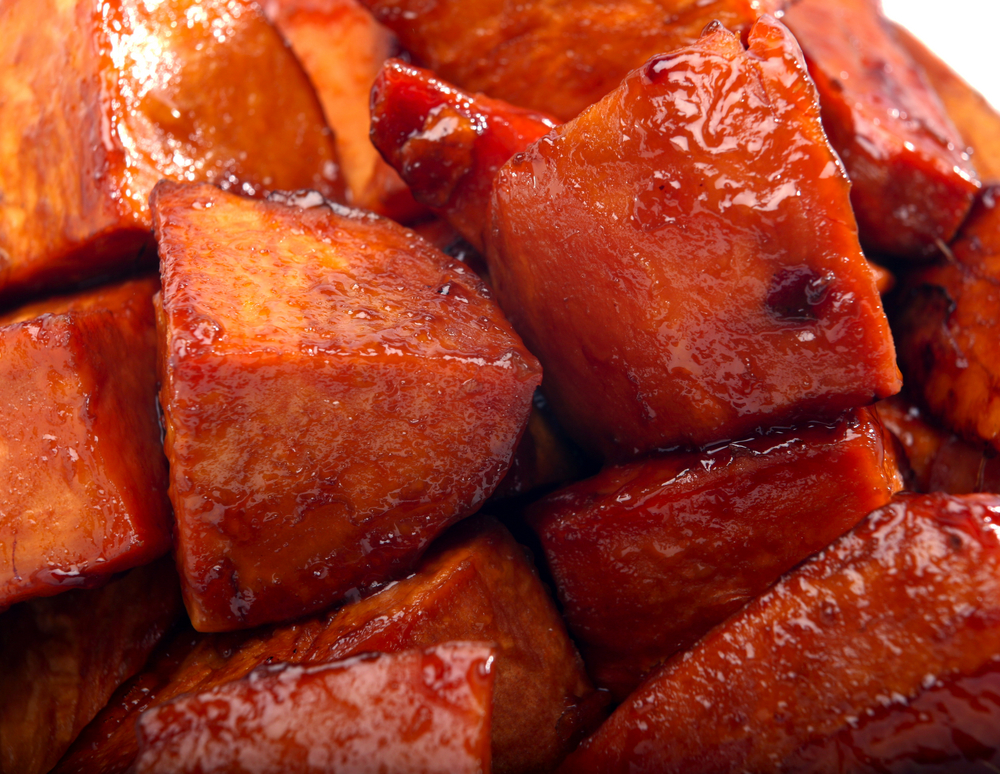 Didn't we just fight the Sweet Potato Casserole battle at Thanksgiving? Change it up for round two with this sweet potato dish that creates a healthier holiday meal is almost every way compared to the typical marshmallow-covered fare. Dig in!
Prep Time: 1 hour 10 minutes
Serves: Makes 8-10 servings
Ingredients:
1 1/4 c. 

fresh apple cider

2 tsp. 

whole-grain Dijon mustard

2 tsp. 

apple cider vinegar
Method:
Heat oven to 350 degrees F, then peel potatoes and cut into 1-inch-thick slices.
Arrange in a single layer in 2 lightly greased 13- x 9-inch baking dishes.
Stir together the next 7 ingredients, then pour evenly over potatoes before covering tightly with aluminum foil.
Bake for 45 minutes or until fork-tender, then uncover and bake 5 more minutes
Arrange potatoes in a shallow serving dish, sprinkle with pecans, and drizzle with sorghum glaze.
Enjoy!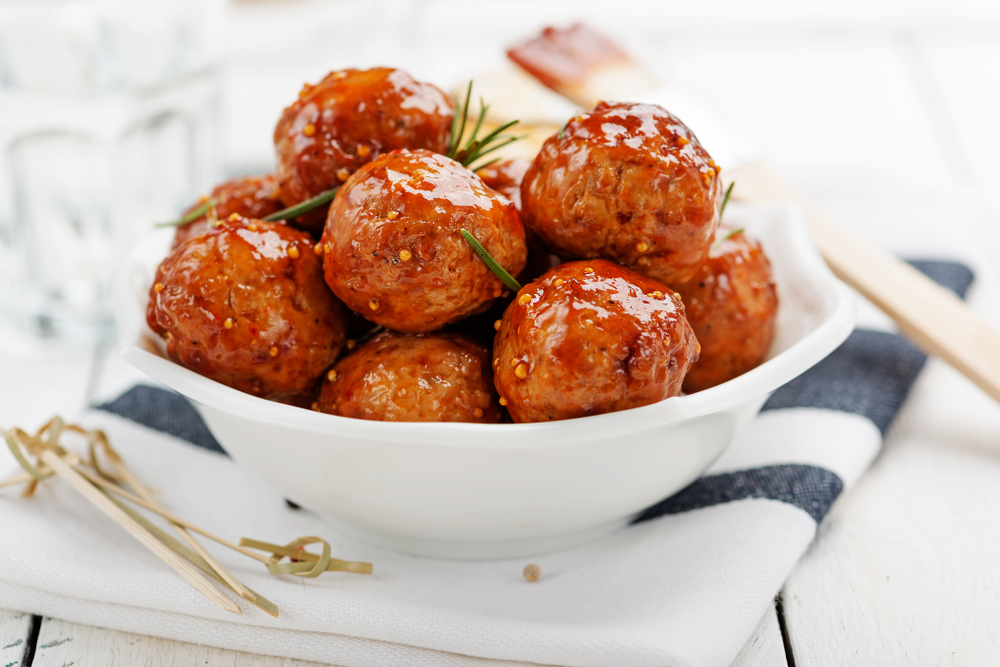 Whether you're serving up appetizers or bringing finger foods to a holiday party, these healthified picadillo meatballs put a spin on the same-old, same-old that's shown up at every potluck since the beginning of potlucks. Toss in some festive toothpicks, and you're set!
Prep Time: 25 minutes
Serves: Makes 20 servings
Ingredients:
1 

medium onion, finely chopped

2 

cloves garlic, finely chopped

1/4 c. 

pimiento-stuffed olives, chopped

1 

14-ounce can tomato sauce
Method:
Heat oil in a large skillet over medium-high heat.
Add the onion and cook, covered, stirring occasionally until tender, then stir in the garlic and cook for 1 minute; remove from heat.
Heat broiler.
Transfer half the onion mixture to a large bowl, then add olives, raisins, cumin and 1/4 teaspoon each salt and pepper and mix to combine, then mix in the turkey.
Form the mixture into 1-inch balls (about 20) and place on a foil-lined broiler-proof baking sheet.
Broil until cooked through, 7 to 8 minutes.
While the meatballs cook, return the skillet with the remaining onion mixture to medium heat.
Add the tomato sauce and cinnamon and simmer until heated through; stir in the vinegar.
Toss the meatballs in the sauce and toss to coat
Sprinkle with cilantro, then serve.
Enjoy!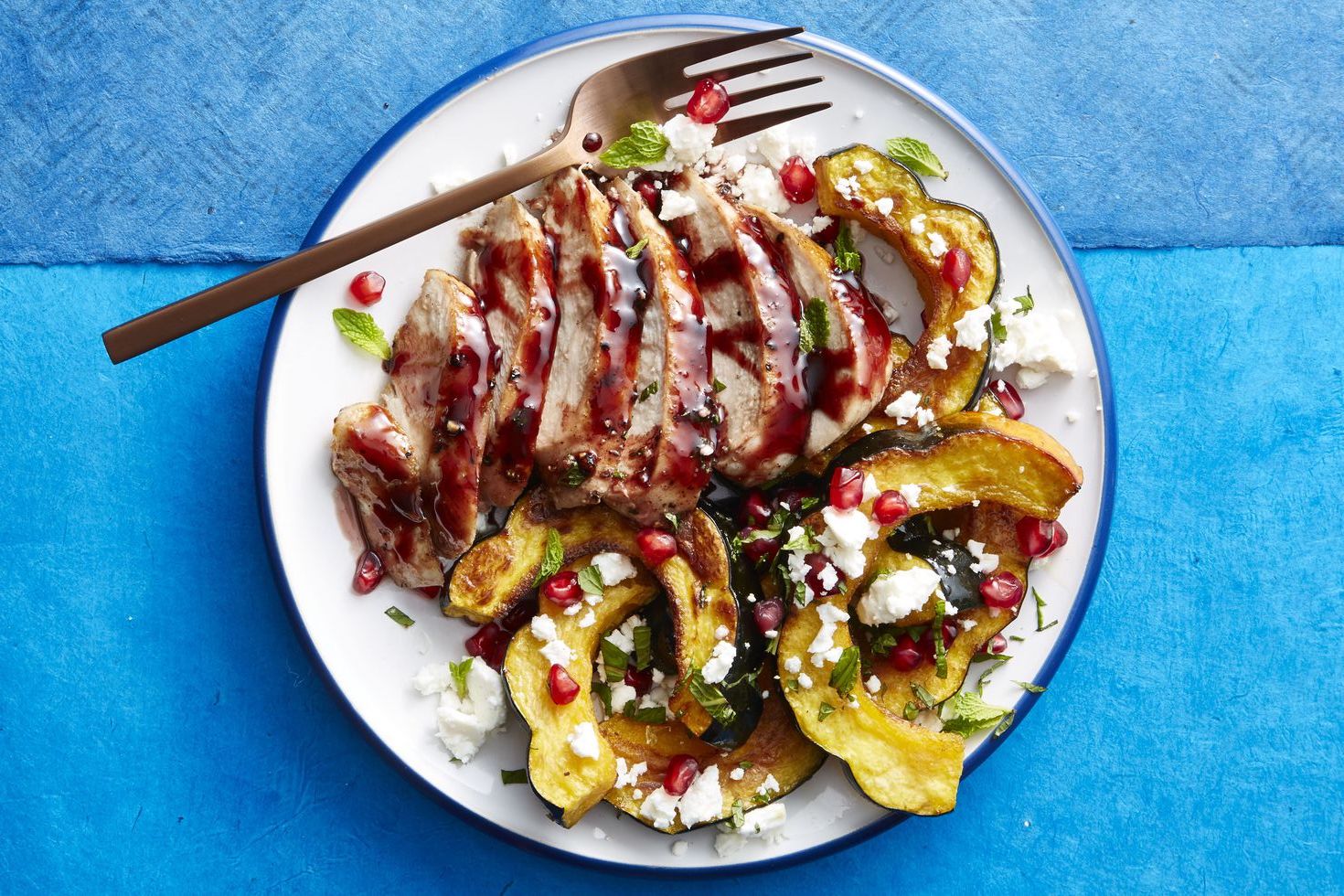 You honestly couldn't fit any more winter flavor into this dish if you tried! The sweetness of the baked, caramelized honey complements the citrus tang of the pomegranate while the warmth of winter squash + chicken balance the dish out.
Prep Time: 35 minutes
Serves: Makes 4 servings
Ingredients:
1 

medium acorn squash, about 1 1/2 pounds

4 

6-ounce boneless, skinless chicken breasts
Method: 
Heat oven to 425°F.
Remove the seeds from one medium acorn squash, then cut into ¾-inch thick slices.
Finely chop 1 bunch mint; set aside.
Toss squash with 1 tablespoon olive oil, ½ teaspoon kosher salt and a pinch cayenne, then roast on large sheet pan for 20 to 25 minutes.
Meanwhile, heat 1 tablespoon olive oil in a large skillet over medium-high heat + season 4 6-ounce boneless, skinless chicken breasts with ½ teaspoon kosher salt and ¼ teaspoon black pepper.
Add to skillet and cook until golden brown (6 to 8 minutes per side) then remove from pan.
Return the skillet to medium heat and add 1/3 cup pomegranate juice and cook for 1 minute as you scrape up any brown bits.
Add ¼ cup honey and 1 tablespoon balsamic vinegar, cook until thick and syrupy.
Brush the chicken with the glaze and sprinkle squash with 1/3 cup pomegranate seeds + chopped mint before serving.
Enjoy!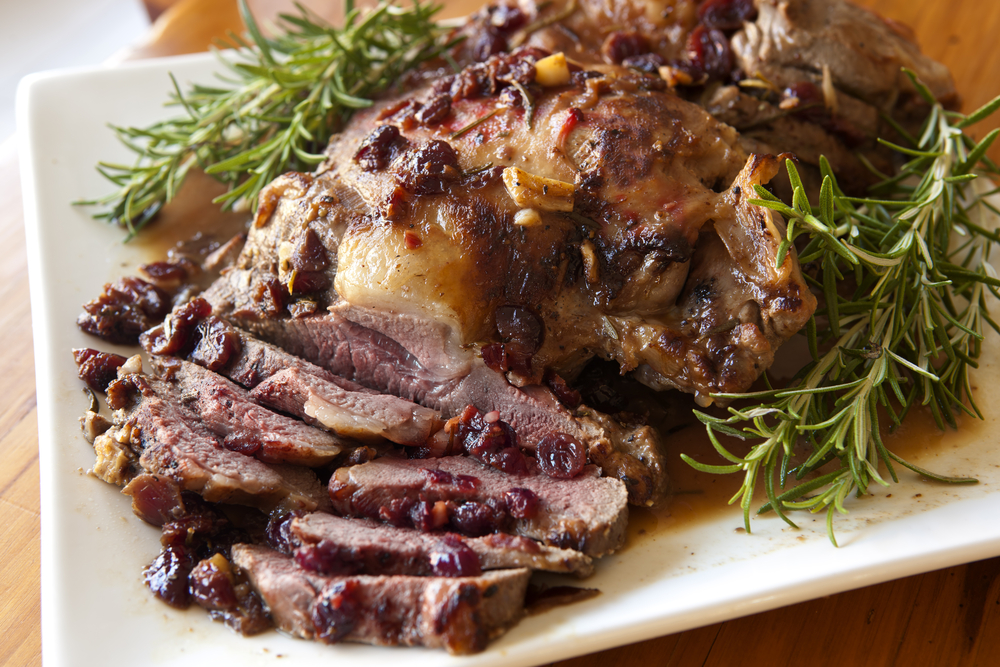 Our favorite part of this recipe? The blackberry chutney hands-down! Its incredible flavor is packed with fresh rosemary and balsamic to give the chutney a signature sweet and tangy flavor that pairs perfectly with the savory roasted lamb.
Prep Time: 1 hour 45 minutes
Serves: Makes 6 servings
Ingredients:
Lamb Roast:
5lb boneless lamb leg
½ cup fresh rosemary stems
8 garlic cloves
2 tsp sea salt, coarse
1 tsp black pepper
1/8 tsp red pepper flakes
1/3 cup olive oil
Blackberry Chutney:
1 lb blackberries
¾ cup yellow onion, diced
½ tsp ginger, freshly grated
¼ tsp ground cinnamon
¼ tsp salt
6 grinds, fresh black pepper
2 Tbsp balsamic vinegar
2 tsp Olive oil
Method:
Roasted Lamb:
Combine the rosemary, garlic, salt, pepper and red pepper flakes in a food processor, then pour into a bowl and mix with the olive oil. Set aside.
Preheat oven to 450, cover a baking sheet with parchment paper, and place a baking sheet on top.
Rub the lamb with rosemary mixture and let sit for 10-15 minutes.
Place the lamb on the baking sheet and roast for 30 minutes at 450 and then drop the temperature to 350 to roast for another 45 minutes.
Temp -check the lamb to see if it is around 145, and continue cooking for another 15-30 minutes if needed.
Pull the lamb out and cover it with foil and let it rest for 10 minutes.
Blackberry Chutney:
Heat olive oil in a saucepan over medium heat.
Add the onions + cook for 3-5 minutes.
Add the balsamic, ginger, cinnamon, salt and pepper and stir.
Add the blackberries and stir.
Let the mixture simmer for 20-30 minutes, stirring frequently and breaking up the blackberries.
Top the sliced lamb with your chutney, then enjoy!
Which recipes are you using to create a healthier holiday meal?