By: Debbie Lui
The importance of maintaining healthy bones is often overlooked, especially for those who haven't reached their golden years quite yet. You may not think of bone health as one of your top concerns, but the truth is that bone health is a key aspect of healthy aging! The good news is that you can help maintain your bone health with the right nutrition and a healthy lifestyle! We've got what you need to know below.
How Can I Promote Bone Health?
Healthy bones need a strong foundation, and laying that foundation begins early in life. But, most of us only begin taking action as we age.
Focus On Nutrients
There are many vitamins, minerals and other nutrients contribute to our overall health. Calcium and vitamin D, in particular, are known as the two crucial nutrients for maintaining bone health over time. In your younger years, they are essential for creating the building blocks for healthy bone cells and using those cells to craft strong and healthy bone tissue.
Calcium:
This is the key nutrient for healthy bones! Adults require 1,000 mg calcium per day, however, the needs of calcium vary between age groups and genders. Consult your health practitioners for advice on your calcium intake if you have any concerns.
This nutrient can be easily obtained from foods such as milk, eggs, and fortified cereals. But, if you are looking for dairy-free foods that are high in calcium, you can check out this post to get an idea of what type of foods you could be incorporating into your diet.  Add a few of your favorites to your shopping list, and whip up one of the two delicious, high-calcium recipes at the end of this post!
Vitamin D:
Calcium alone is not enough to maintain bone health. It needs its sidekick: vitamin D! This nutrient is a fat-soluble vitamin that works together with calcium to support our bone growth. But, where do we get the vitamin D from? Although vitamin D can be obtained from food, most of the time it's the vitamin D our bodies create from direct sunlight that makes the difference. This is one of many reasons why it's commonly recommended to get 30 minutes of sun exposure at least twice per week to meet the recommended vitamin D intake (600 IU for adults)4.
For those looking to increase the vitamin D in their diets, fish is a great option! Choices such as salmon, tuna, and sardines are very popular and offer healthy fats as well! You can also obtain vitamin D from other foods such as fortified milk, eggs, and mushroom.
Regular Exercise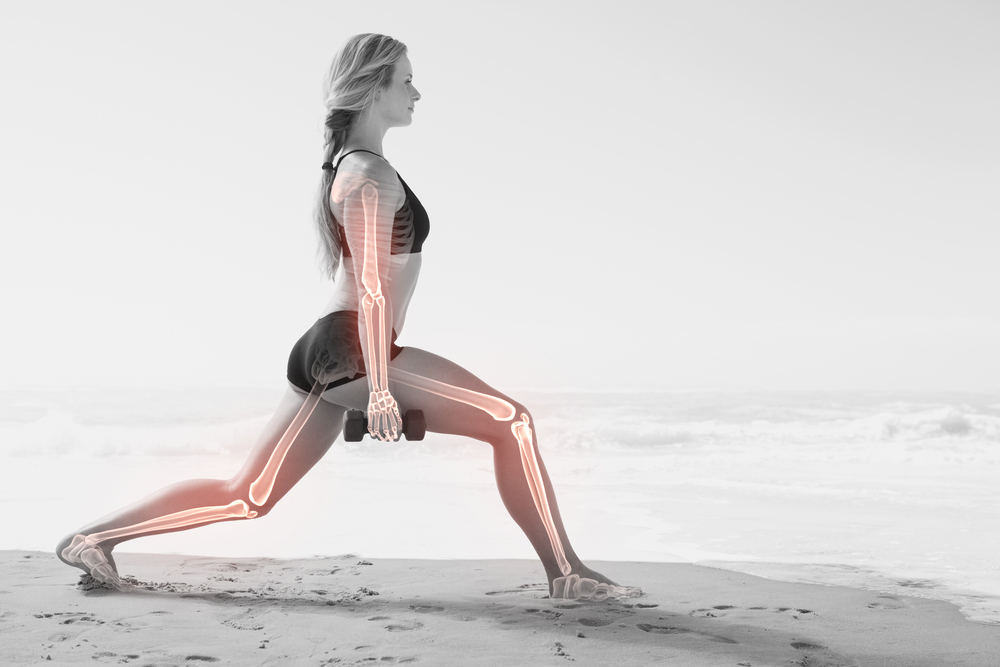 Exercise can help strengthen overall bone health by helping our bone to build themselves up. When you apply force or pressure to the bone, it responds in a similar way as muscle. Activities that stress bone tissue stimulates extra deposits of calcium and push bone-forming cells into act on. The result is stronger, denser bones!
Two types of exercise are important for building and maintaining bone density. They are weight-bearing exercise and muscle-strengthening exercise.
Check out the list below and see which you might be able to incorporate into your day:
High-Impact Weight-Bearing Exercises
Dancing
Hiking
Jogging and running
Jumping rope
Star climbing
Tennis
Low-Impact Weight-Bearing Exercises
Elliptical
Low-impact aerobics
Stair-Step machines
Brisk walking
Muscle Strengthening Exercises
Lifting weights
Exercise bands
Using weight machines
Body weight circuit
Functional strength movements
If you are unsure what type of exercise is suitable for you, you should seek advice from your doctor or physical therapist before starting your exercise routine.
Healthy Lifestyle
Besides nutrition and exercise, other habits and environmental factors can also contribute to your quality of bone health. Smoking and excessive alcohol intake are both known to have negative effects.
Recipes To Help
Yogurt Chia Seeds Chocolate Shake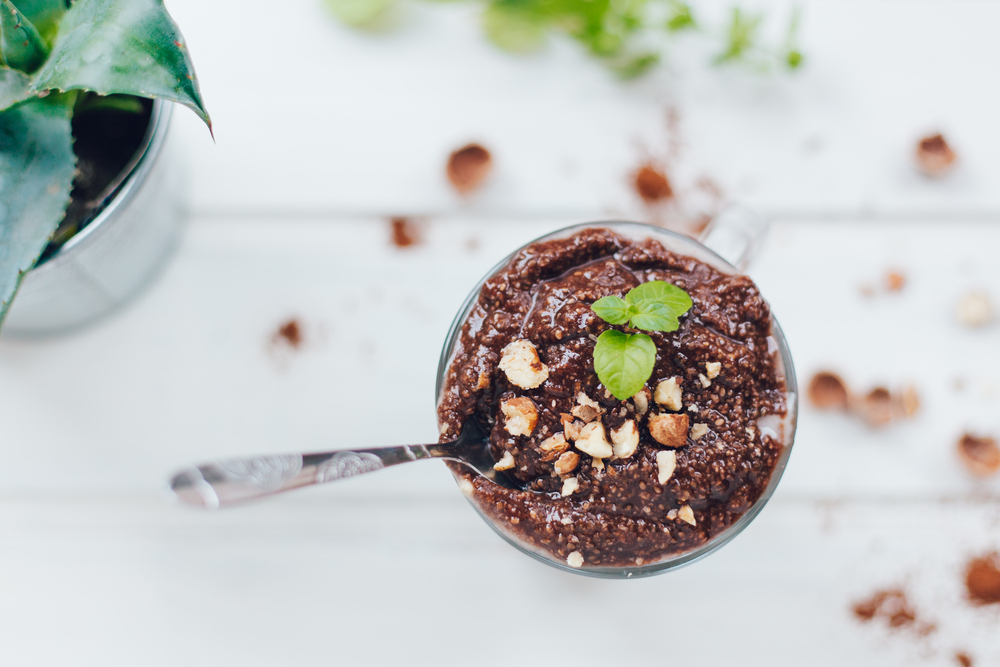 Serving: Makes 1 serving
Prep Time: 5 min
Ingredients:
2 scoops of TLS Nutrition Shake
½ C of low-fat plain Greek Yogurt
½ C of Almond Milk
1 C of Water
½  Tbsp of chia seeds, soaked
 Directions:
In a blender, mix all ingredients until combined.
Pour shake in a cup and add in chia seeds. Serve cold.
Tofu Stir-Fry with Steamed Rice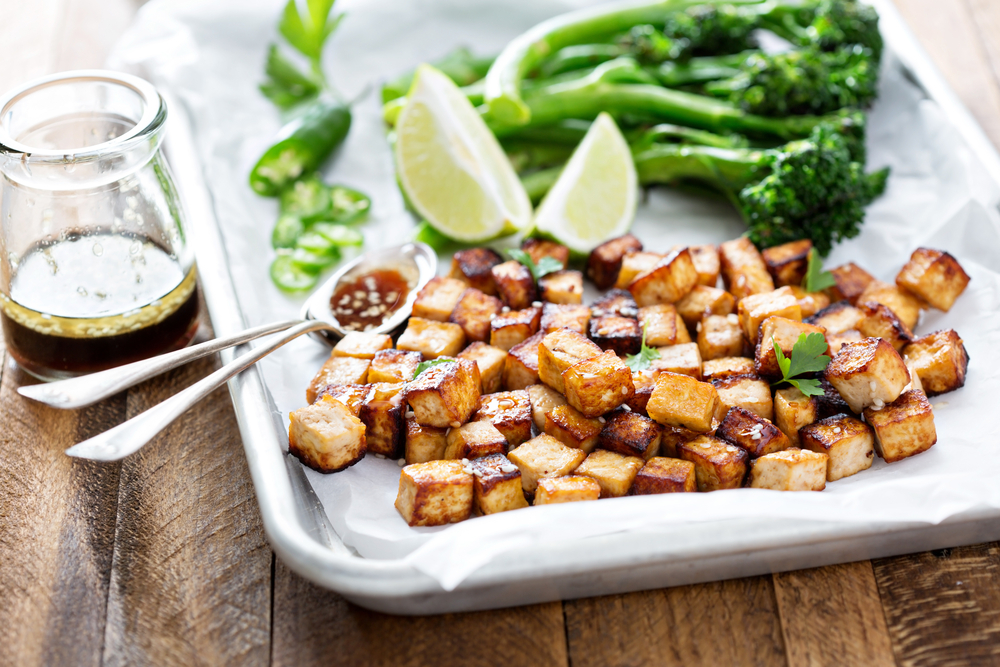 Serving: Makes 4 servings
Prep Time: 50 min
Ingredients:
1 pack of hard tofu, drained and cut into 1 inch wide cube
½ yellow onion, julienned
1 tsp of minced garlic
¼ head of broccoli, small pieces
½ red bell pepper, sliced
½ yellow bell pepper, sliced
½ Tbsp sesame oil
1 Tbsp extra virgin olive oil
2 cups of white rice (uncooked)
1 tsp black pepper
1 Tbsp low sodium soy sauce
White sesame (optional)
Directions:
Rinse white rice. Using a pot or rice cooker, follow instruction on the package to cook rice.
In a wok, add olive oil and heat over low heat. Once hot, add in minced garlic.
Add broccoli, stir-fry for 2 minutes, add 3 Tbsp of water, cover with a lid and cook for 3 minutes or until broccoli becomes tender.
Add in rest of the vegetables, keep stir-fry for 5 minutes over medium heat or until tender, add in tofu, sesame oil, black pepper and soy sauce, quickly mix ingredients in the wok and cook for another 3 minutes. Drain juices if any.
Once rice is done, distribute on plates, and serve with tofu stir-fry on the side. Sparkle white sesame on top. Serve hot.
Tell us what you would do this week to start to take action protecting your bones!
Leave a comment below!
Sources: