By: Debbie Lui              
While some people enjoy exercising without using any gear, some like to incorporate various types of workout equipment to help strengthen their muscles and improve endurance. Lining the wall somewhere in your gym, you may have noticed a string of stability balls which have been popular in the fitness world for years! If you aren't quite sure where to start, we've got 5 ways to use a stability ball to step up your workouts below!
A stability ball can be a very effective tool for muscle training. Plus, it helps improve spinal stability and increase the number of muscles used during that specific move.¹ Just be sure to pick the correct size!
1. Stability Ball Push-Up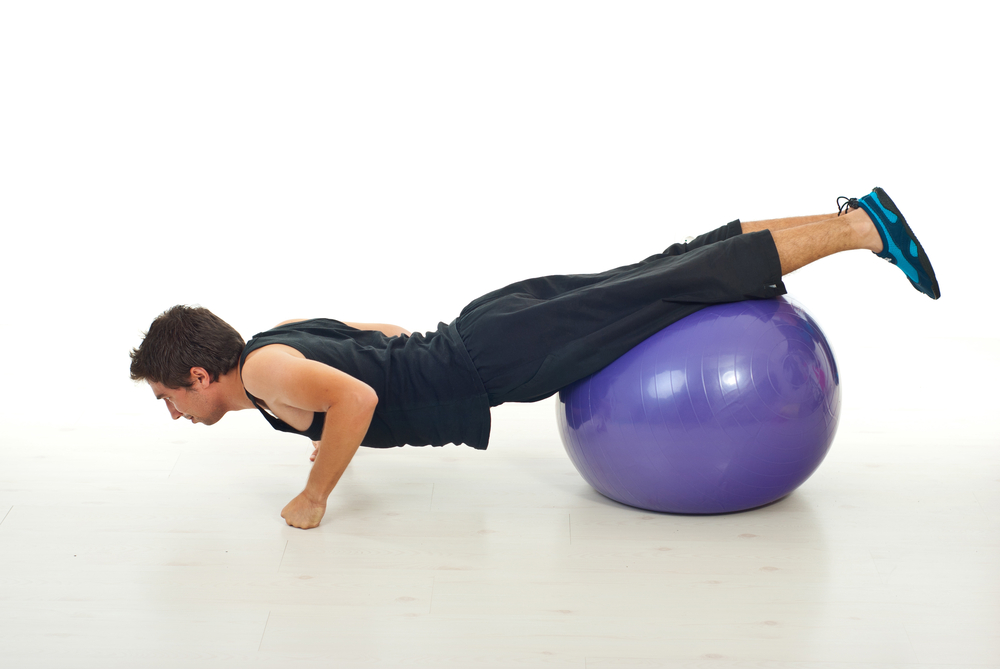 Lie facing down with your tummy on top of the ball and your hands + feet on the ground.  Slowly, walk your hands forward, pulling your body across the ball until your shins (or your knees) rest on top. With your hands in-line with your shoulders, slowly lower your chest toward the ground. Making sure your back remains straight and that you're keeping your elbows close to your body, slowly push yourself back up!
2. Front Walkout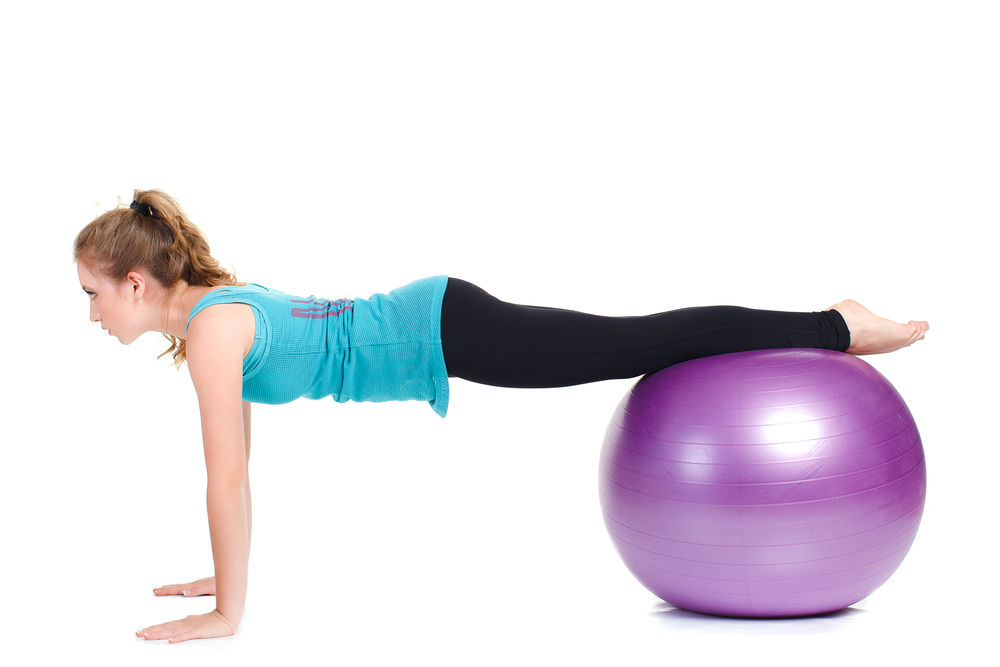 Place your chest on top of the stability ball. Slowly walk your hands forward, rolling the ball from your chest towards your feet. Make sure you're engaging your abs to keep your lower back flat and injury-free, then walk your hands back to starting position.
3. Side Squat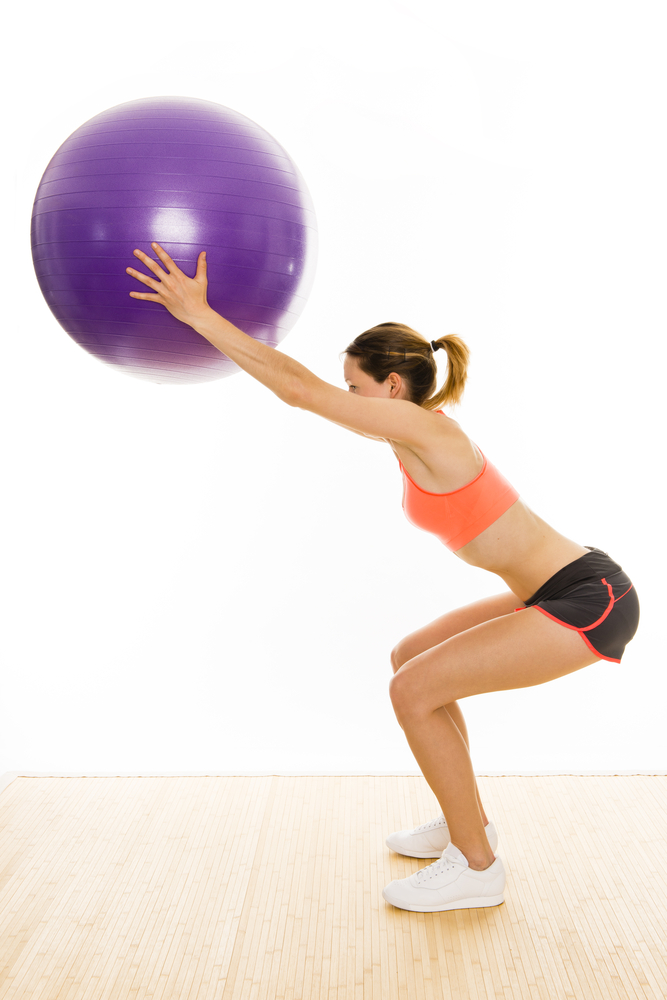 Stand with legs shoulder width apart, grasping the ball overhead with both hands. Keeping your back straight and stomach muscle tight, slowly bend down and bring the ball to the left side of your foot. Return to standing position and repeat on the right side. Repeat 10 times.
4. Bridge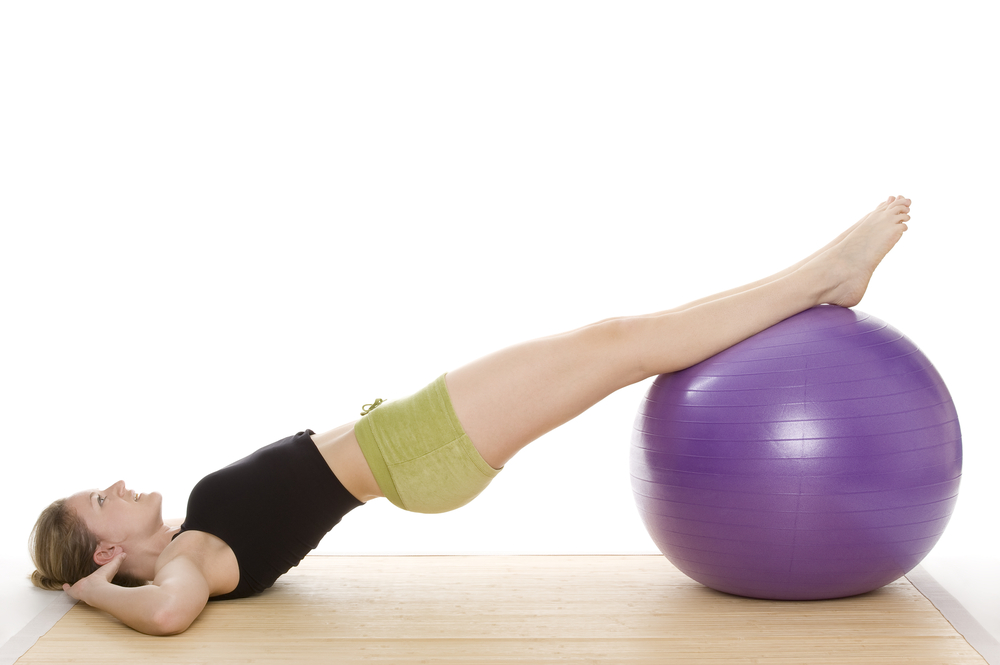 Lay flat on the ground with your legs straight. With both legs together, place the stability ball under the calf area and your hands flat on the floor. Inhale while tightening your core and lift your hips up off the floor to straighten your back. Hold the position for 5 seconds while keeping abdominal muscles tight, then exhale to start position.
5. Full Crunch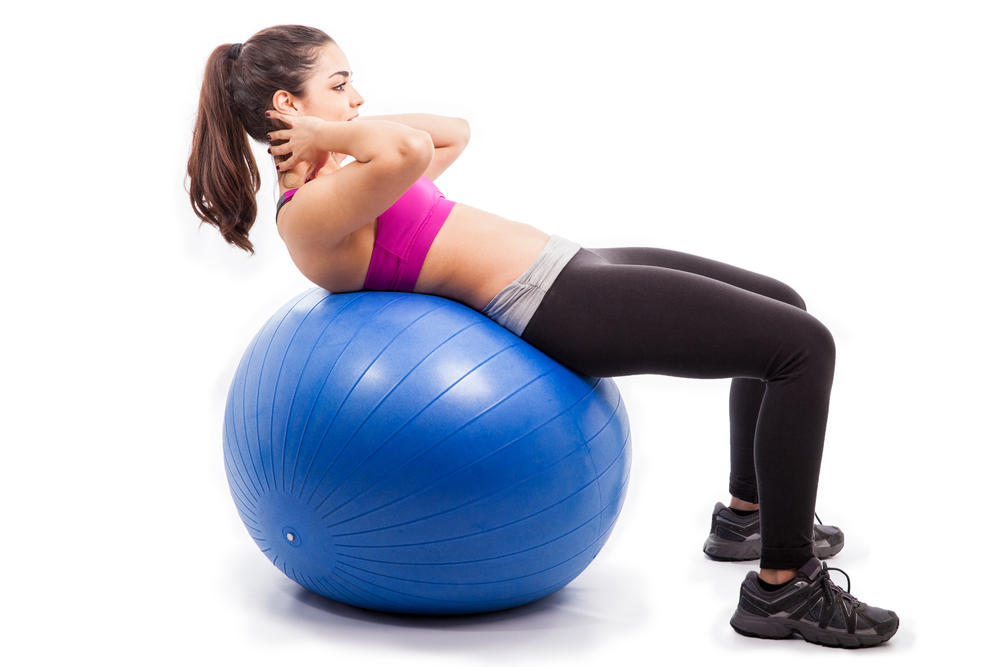 Sit on the stability ball with your arms at your side and your feet flat on the floor. Sitting slightly forward, inhale as you slowly lean back and roll the ball to your lower back. Keeping your feet flat on the floor, use abdominal muscles to sit up.
Comment below and let us know which stability ball move is your favorite!
Resources:
---
5種使用健身球的用法
By: Debbie Lui
有些人喜歡不使用健身工具做運動,而有些有則喜愛利用一些工具來訓練肌肉及耐力。除了用啞鈴及健身帶外,你有曾想過怎樣可用健身球來鍛煉身體嗎?
事實上,健身球可以成為肌肉訓練的有效工具,用健身球來鍛煉可有助於改善脊柱穩定性並增加肌肉使用量¹。
如果你想嘗試一些新運動種類,你可以參考一下以下五種使用健身球的用法。無論你是第一次用健身球,還是已經對使用健身球非常熟識,都要謹記要選擇正確大小的運動球。
1)平衡俯臥撑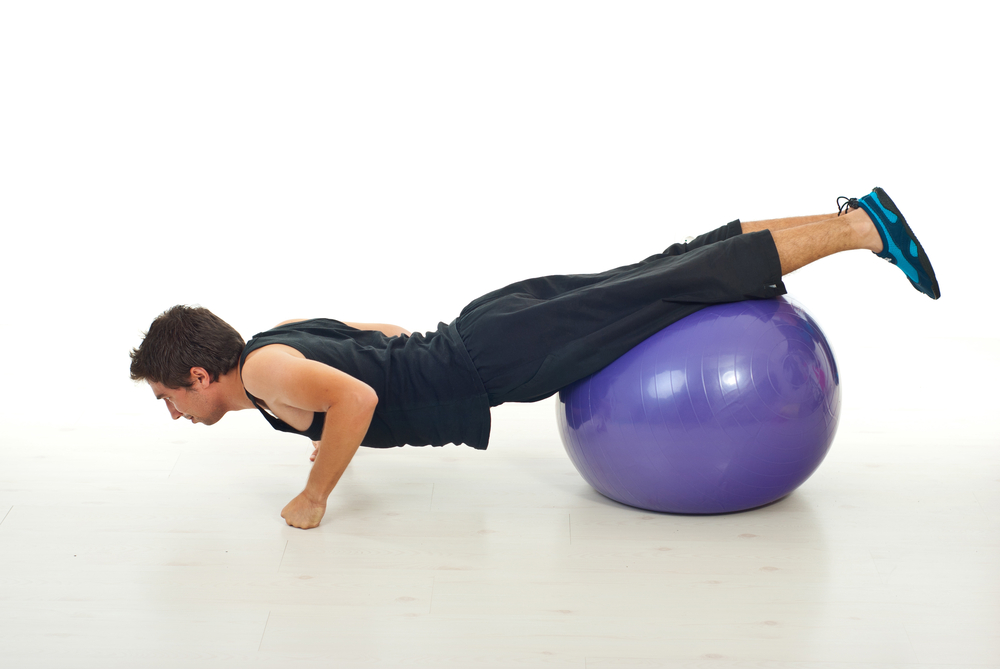 面朝下,身躺在健身球上,雙手和腳在地上。用手慢慢向前走,直到小腿停在球上。保持姿勢重複俯臥撑動作10次。
2)向前行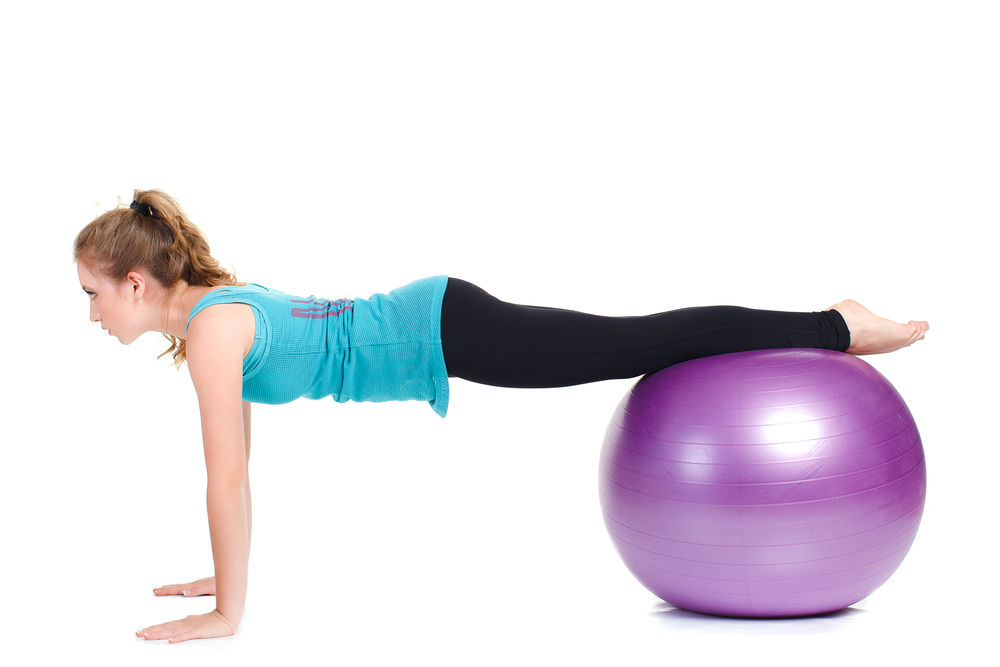 胸口正躺在運動球上,用手向前方行,健身球從上身滾向腳部,保持腹部肌肉收緊,保持腰部平坦。回到原本位置,重複動作3到5次。
3)側蹲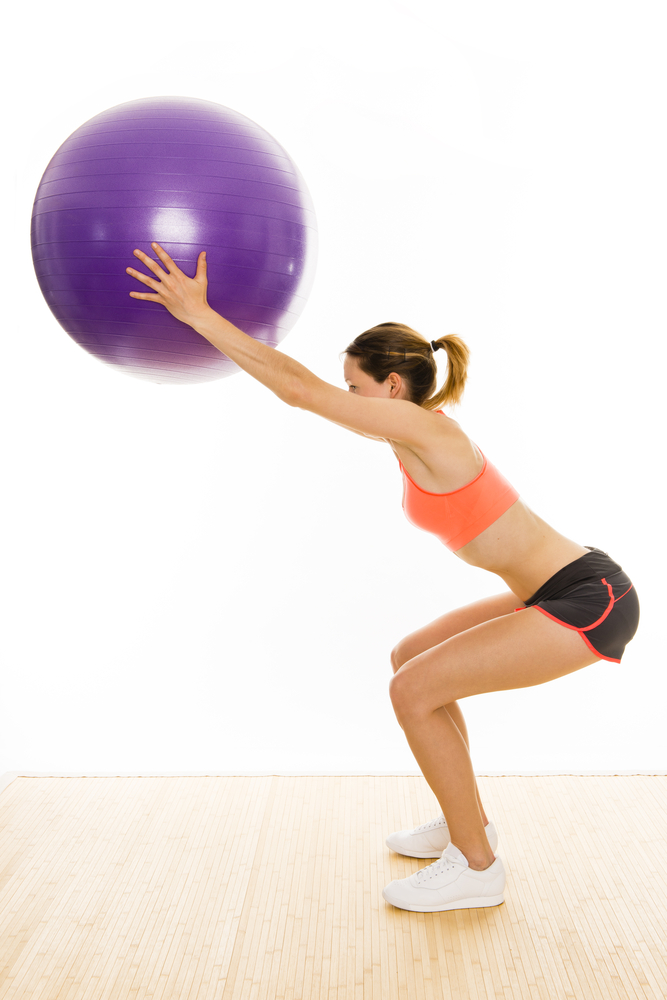 雙腿分開站立,用雙手抓住健身球。保持背部筆直,慢慢向下彎將球帶到左腳外側。再次提起健身球並向右側重複。重複動作10至15次。
4)拱橋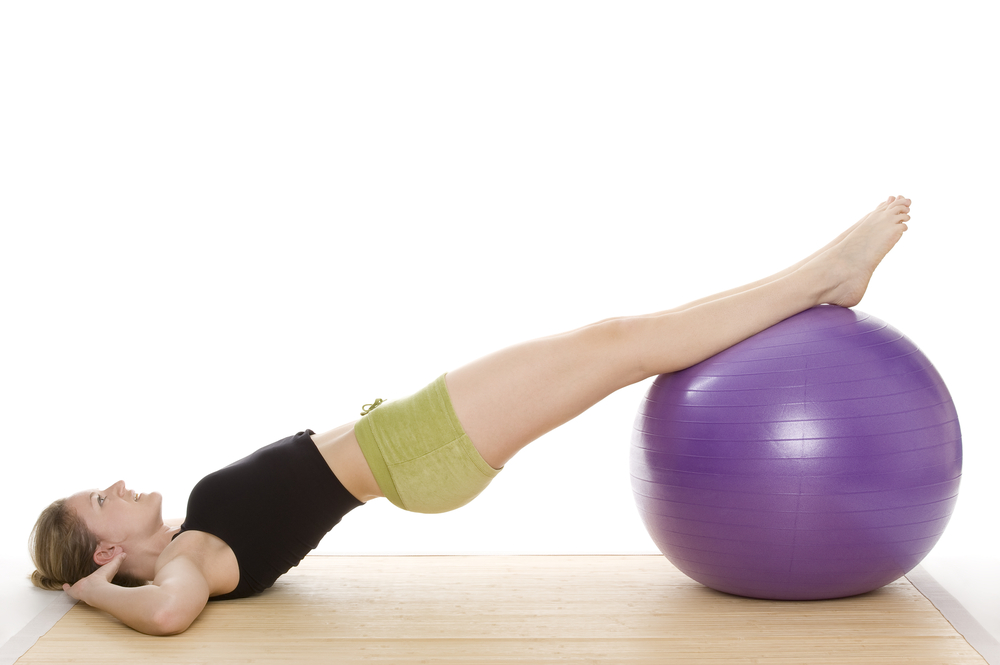 腿部申直,身體平直躺在地上。將雙腿放在一起,並將健身球放在腿部小腿之下。雙手平放在地板上。一邊收緊小腹一邊吸氣,並將臀部從地板上提起,拉直背部。保持姿勢5秒,同時保持腹部肌肉緊張。呼氣,回到開始位置。重複3到5次。
5)完全緊縮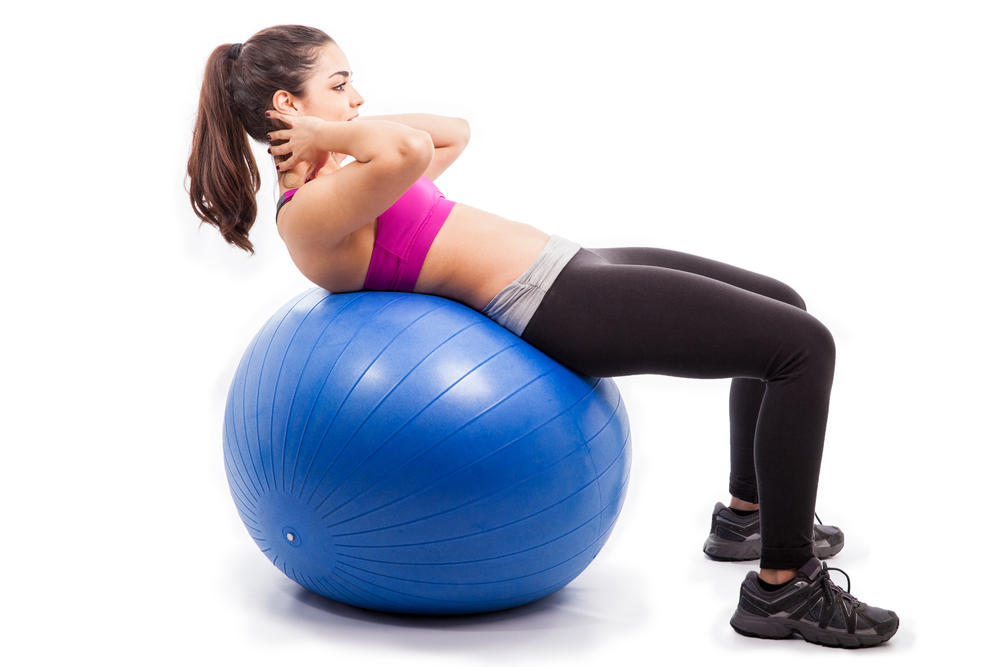 坐在健身球上,雙臂垂直,腳平放在地上,稍微坐在健身球較前位置;一路向後仰,將球傳回背部較低位置,然後到背部中間位置;保持雙腳平放在地板上,收緊腹肌用力坐起來。重複5次。
留言跟我們分享哪一個是你最喜歡的姿勢吧。
資料來源: