For avid runners, just because it heats up outside doesn't mean that your runs need to cool down. However, you need to do it safely.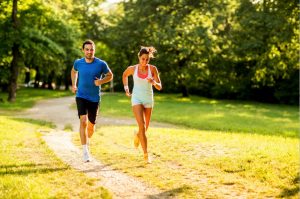 Tips for Running in the Heat
Acclimate Your Body – You need to give your body time to adjust to the higher temperatures. It takes about two weeks for your body to acclimate to running efficiently in warmer weather so start your summer workouts slowly.
Avoid Mid-Day Heat – Yes, humidity can be higher in the mornings, but the temperatures are lower. Yes, please! Running in the morning or evening is the way to go.
Pick the Right Route – The hottest time of the day is a great opportunity to hit the trails in the woods. Running or hiking in the woods is a lot of fun. Not only does it switch up your routine, but you get to enjoy nature and get some shade.
STAY HYDRATED – If you don't hydrate enough, you run the risk of dehydration and heat cramps. When running or jogging, you lose fluids as we sweat more so it's important to drink water throughout the day.
Dress Loose – Light-colored, loose-fitting clothing will be your best friends during your run. You can find clothing that reflect the sun's rays and synthetics stay drier than cotton clothes.
Don't Forget the Sunscreen – Not only does sunscreen protect your skin from getting burnt, but it also can prevent skin cancer. Don't skimp on lathering up your sunscreen! Don't forget that you CAN get sun through the clouds.
Don't Overdo It – Take it easy as you begin to run in the summer heat. Confidence can sometimes be your worst enemy. If you feel dizzy, faint, or extreme thirst, you should sit down and stop immediately.
Listen to your body, it will tell you what you can handle and when it's time to take a break – and still have fun!