By: Kayla Adams
White rice is a cheap, easily-accessible staple in many kitchens but, considering 1 cup has about 45g of carbs, it just isn't an everyday option. Thankfully, there are plenty of delicious alternatives to white rice!
I've loved rice just as long as I've been a self-proclaimed foodie (since forever), but my obsession reached an all-time high when I was around 10 years old. My favorite uncle married a woman from South Carolina, and I wound up spending time with them on weekends and summer vacations. My new aunt cooked white rice with EVERYTHING, every dish you could imagine. I was hooked! Your rice story, whatever it is, has probably led you to eat way more rice than what's nutritionally beneficial to your body.
Fiber and protein are stripped from white rice during milling, and these nutrients are extremely important for health and wellness because they help you feel fuller with fewer calories. I've found a couple of great alternatives to white rice when I'm in need of something with more vitamins, minerals, and protein.

Quinoa

Quinoa is rich in fiber and protein, which makes it one of the best alternatives to white rice. It contains all the essential amino acids and is vegan-friendly—a major plus! One cup of cooked quinoa provides about 222 calories, 8.14 grams of protein, and 5.2 grams of fiber in comparison to white rice's 242 calories, 4.4 grams of protein, and .6 grams of fiber. The higher amounts of fiber seen in quinoa can help in reducing constipation, heart disease, and may even help to improve blood sugar.
Quinoa has a subtle nutty taste that allows it to be used interchangeably in many dishes and it cooks tender in only about 15 minutes. Super quick and convenient! Try this delicious recipe the next time you grab some quinoa to incorporate into your diet as one of your alternatives to white rice.
Simple Vegan Quinoa Fried Rice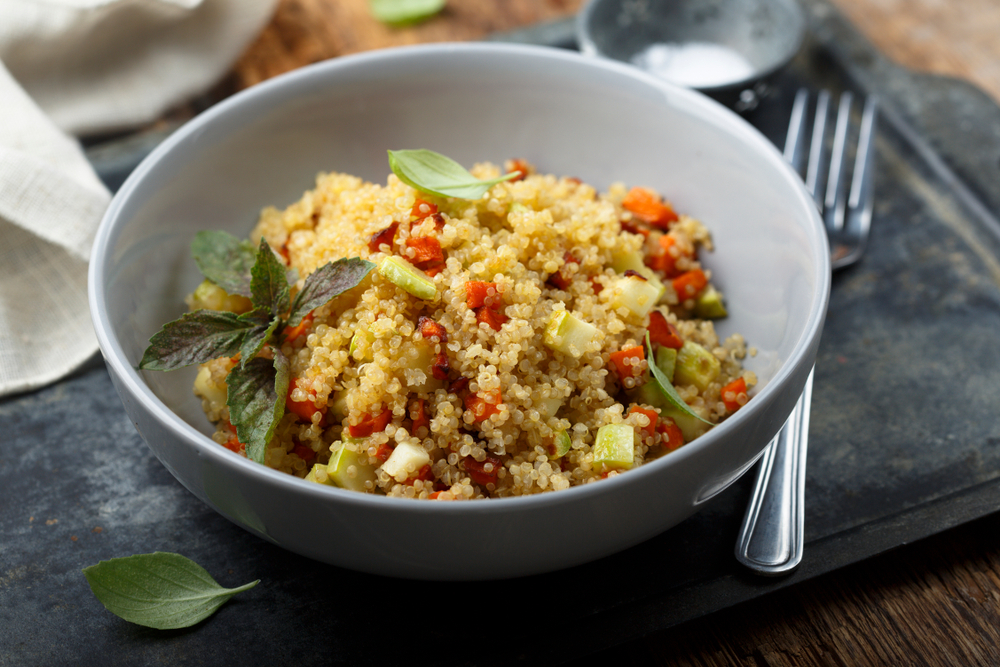 Ingredients:
1/2 cup quinoa (makes 2 cups cooked)
1 T olive oil
2 large carrots
1 small head broccoli
1 clove garlic
1 teaspoon red pepper flakes
1 1/2 T soy sauce
2 teaspoons rice wine vinegar
2 teaspoons sesame oil
chopped green onion and/or basil to garnish, optional
your favorite hot sauce to serve
Prep:
Start with cooking your quinoa, following the instructions on the bag.
Prep your carrots, broccoli, and garlic while the quinoa is cooking.
Cut the carrots into thin medallions so that they cook quickly and evenly (about 1 cm each), chop your broccoli into bite-sized florets, then finely chop your garlic.
When your ingredients are prepped and your quinoa is almost done (5 minutes left), add your olive oil over medium-high heat to a large wok (or pan).
Add the carrots first and cook for 2-3 minutes, then add your broccoli and garlic and cook for another 2-3 minutes.
Strain your quinoa and add it to the wok along with the red pepper flake, soy sauce, and rice wine vinegar.
Sauté everything for another couple of minutes.
Add your sesame oil to create that rich, nutty flavor and cook for another minute.
Enjoy!

Lentils

Lentils are edible seeds derived from the legume family, and they are especially common in Asian and North African cuisines. They're packed with B-vitamins, magnesium, zinc, and are made up of over 25% protein! 1 cup of cooked lentils generally provide about 230 calories, 39.9 grams of carbs, and 15.26 grams of fiber in comparison to white rice's 242 calories, 53.2 grams of carbs, and .6 grams of fiber. Lentils are commonly used in soups but they're extremely versatile and can be used as a food substitute for many things, particularly rice. Try this recipe whenever you're looking for a healthy, fiber-filled alternative to white rice.
Crispy Lentils with Walnuts and Za'atar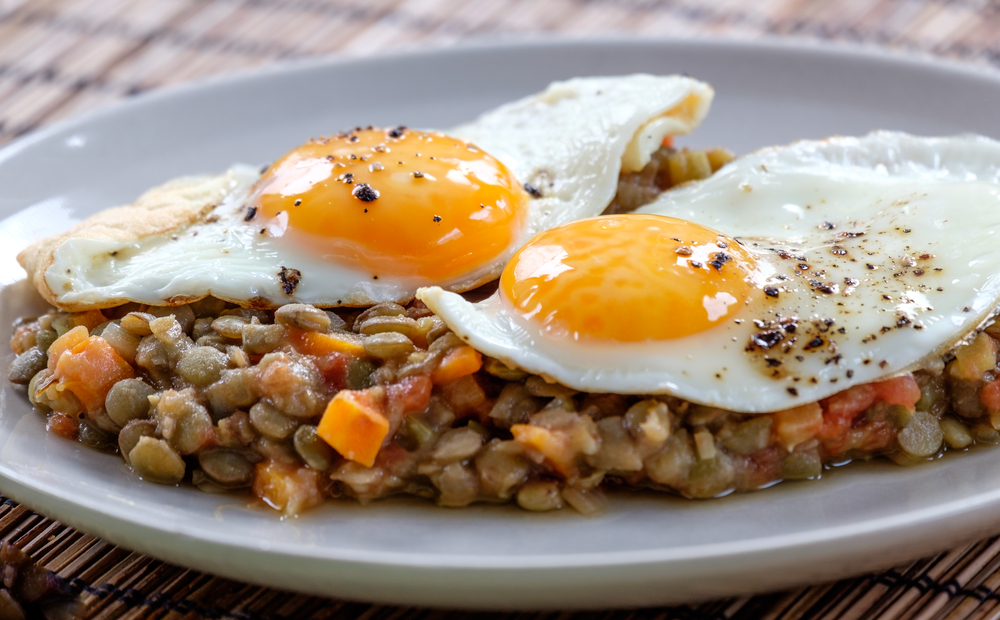 Ingredients

2 T finely chopped onion
1 cup julienned kale
1 cup cooked lentils cooled and patted dry*
1/2 cup roughly chopped walnuts
1 tsp za'atar
2 tsp lemon zest
2 eggs
olive oil
salt
Prep:

Add a splash of olive oil to a heavy-bottomed skillet over medium-high heat.
Once the oil is hot, add the onion and sauté until translucent then ddd the kale and sauté until bright green.
Stir in the lentils, walnuts, za'atar, and two big pinches of salt and continue to sauté until the lentils are crispy and walnuts are fragrant. This whole process takes 7-10 minutes.
Stir in the lemon zest.
At this point, if your skillet is large enough, you can move the lentil mixture to the side.  Otherwise, divide it among two plates before frying the eggs.
Add another splash of oil to the pan (if needed), crack in the eggs, and sprinkle each with a little salt.
Cover and cook until the edges are crispy, whites are just set, and yolks still runny. Plate the eggs over the lentils and serve warm.
Enjoy!


Continue to seek healthier and more nutrient-packed alternatives to white rice & your other old-time favorite foods as you navigate through your health and wellness journey. When you're grocery shopping, head to your local farmers market or international market and seek things outside of your comfort zone—and don't forget to grab some quinoa and lentils!