By: Kayla Adams
Warm weather, good music, barbecues, and delicious cocktails—all synonymous with summertime fun! Hosting a get together with your closest friends and relatives is hardly complete without good food and drink, but consuming alcohol in excess can be detrimental to your weight loss goals. Don't feel like you have to stick with water just because you're cutting back. Opt for one of these healthy mocktails instead!
There's no harm in having an occasional alcoholic beverage, but the benefits of reducing alcohol consumption are substantial in achieving your summer body aspirations for more than a few reasons. It's very easy to down a ton of liquid calories that you never accounted for, and before you know it you've had two margaritas with hundreds of empty calories.
According to a study done by Appetite journal, those who moderately consumed alcohol ate 11% more and experienced more cravings for high-fat foods than those who abstained. It's also no secret that you make more frequent poor food choices and go for the greasy, processed foods when you're under the influence, and those two factors are not a great combination.
Choosing Healthier Alternatives
Virgin drinks (a.k.a mocktails) are great tasting, easy to make alternatives to traditional cocktails. They provide the spice you need to let your hair down, without the weight management regrets of alcoholic cocktails!
You may have some reservations about whether you can create a mocktail that rivals your go-to alcoholic beverage but it's not mission impossible. No worries! I've provided you with a couple of mocktail recipes that are delicious and sure to impress your family and friends.
Strawberry Fields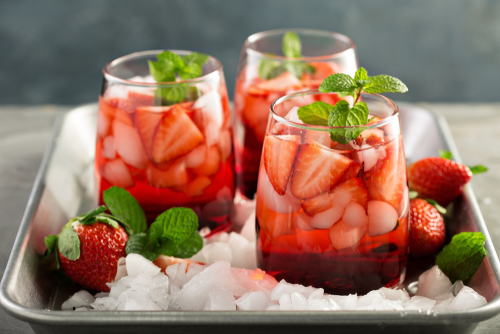 Ingredients:
1.5 oz hibiscus syrup*
1 oz strawberry syrup**
Soda to top
3 ice cubes
Instructions:
Combine all ingredients except soda. Shake quickly with three ice cubes. Serve in a Collins glass, topped with soda. Garnish with half a strawberry.
*Instructions for hibiscus syrup: 
Infuse 4 oz of dried hibiscus flowers into 25 oz room temperature water for at least 6 hours. Strain, compressing all ingredients in the chinois so that almost all of the infusion is reclaimed. Weigh the strained infusion and add 1/4th the weight in 1-1 cup Stevia to the infusion. Dissolve thoroughly.
**Instructions for strawberry syrup:
De-stem 2 pounds of strawberries and pulse them in a food processor until they are broken up well. Do not puree them. Add Stevia to taste.
Drink up!
Blackberry Shrub

Ingredients
1-1/2 cups fresh or frozen blackberries crushed
1 cinnamon stick (about 3 inches)
1 cup cider vinegar
1 cup honey
1/2 cup water
Directions
Place fruit and cinnamon stick in a sterilized pint jar. Bring vinegar just to a boil; pour over fruit, leaving ¼-in. headspace. Center lid on jar; screw on band until fingertip tight. Refrigerate for 1 week.
Strain vinegar mixture through a fine-mesh strainer into another sterilized pint jar. Press solids to extract juice; discard remaining fruit.
Bring honey and water to a boil. Reduce heat; simmer until mixed. Cool slightly. Stir into vinegar mixture; shake well. Store in the refrigerator up to 2 weeks.
To serve, drink 1-2 tablespoons or add to a glass of ice, top with sparkling water and garnish with fresh blackberries.
Cherry-Lime Shrub: Substitute fresh pitted dark cherries for blackberries and 1 strip lime peel for cinnamon stick.
Peach-Rosemary Shrub: Substitute chopped peeled fresh peaches for blackberries and a 2-in. sprig of rosemary for the cinnamon stick.
Blueberry-Lemon Shrub: Substitute fresh blueberries for blackberries and a 1 strip lemon peel for the cinnamon stick.
Strawberry-Basil: Substitute chopped fresh strawberries for blackberries and 4 large basil leaves for the cinnamon stick.
Drink up!
Avoid the hangover, bloating, and impulse eating with these delicious tips and recipes. Put your cocktail shaker to good use this summer as you continue grounding the pavement on your journey to becoming the healthiest and happiest version of yourself.