By: Tayler Glenn
Parades, cookouts, fireworks, and sparklers make the Fourth one of the most special nights of summer. Make sure you've got a menu to match! These Fourth of July recipes are a tasty way to enjoy the healthier side of your red, white, and blue celebrations whether they're by the pool or by the grill – or both!
Watermelon Caprese Bites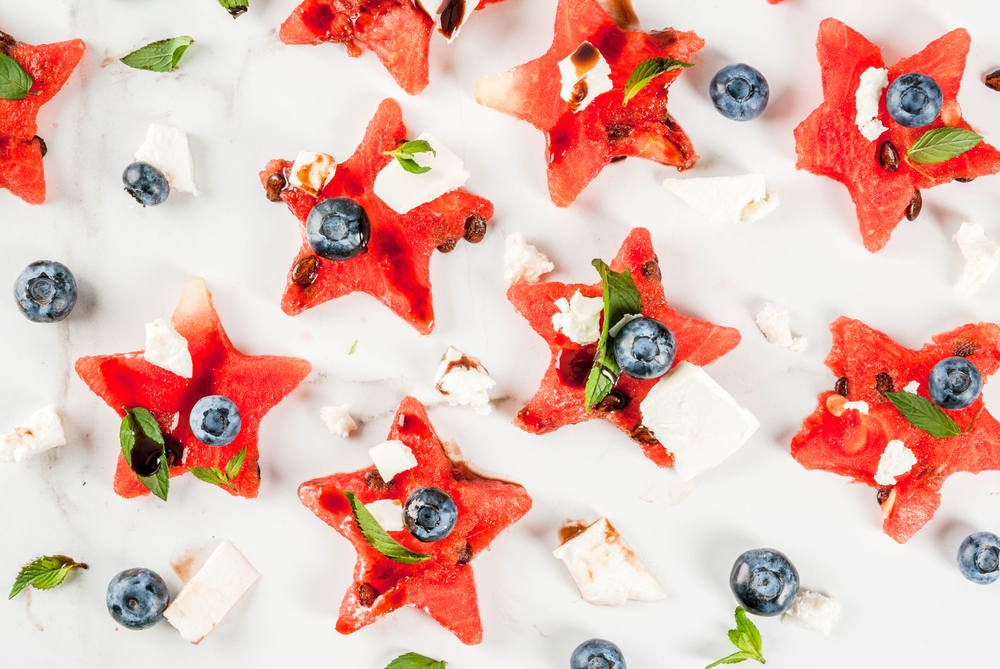 Who says a Caprese salad has to be made with tomatoes? The sweet crunch of watermelon pairs perfectly with the creamy mozzarella & tangy balsamic for a delicious and refreshing Fourth of July snack!
Prep: 25 minutes
Serves:  Makes 8 servings
Ingredients:
1/2

 

red seedless watermelon

, 

1/2 inch thick slices

8

 

thin slices fresh mozzarella

1

 cup baby arugula

2

 

tsp

 

extra virgin olive oil

salt

2

 

tbsp

 

balsamic glaze

8 blueberries
Prep:
Use a small star-shaped cookie cutter to cut 16 stars out of the watermelon.

Arrange stars on a platter, then layer with cheese, arugula, 1/4 tsp olive oil and a pinch of salt on each.

Top with a final star and a blueberry, drizzle each with balsamic glaze and skewer with toothpick.
Enjoy!

Berry-Lemon Tartlets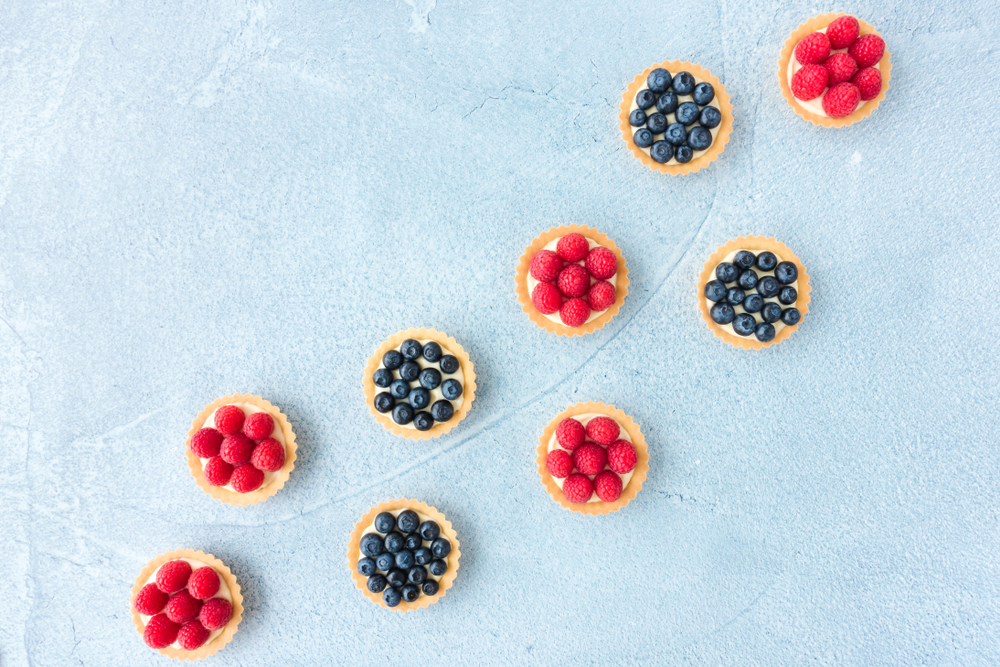 Almost too cute to eat, these mini tarts are a wonderful alternative to cakes & heavy, starchy desserts that typically make up the bulk of people's Fourth of July recipes.  With a little tang and a little sweet, these are the perfect way to top off that grilled chicken plate.
Prep: 1 hour 25 minutes
Serves:  Makes 30 servings
Ingredients:
2/3 cups granulated sweetener (e.g. Truvia® Baking Blend)
1 Tbsp lemon zest
2 eggs, whisked
1/2 cup lemon juice
2 Tbsp. salted butter
1 cup light whipped topping
30 mini phyllo shells
3/4 cup fresh blueberries
Prep:
Place sweetener, lemon zest, and eggs in sauce pan over medium heat.
Whisk until mixture is combined and warmed through, 3-4 minutes.
Add lemon juice and butter; cook, whisking until slightly thickened and bubbly, 4-5 minutes.
Cool to room temperature, then refrigerate until thoroughly chilled and thickened
Once chilled, fold in whipped topping until just combined.
Preheat oven to 350°F.
Place phyllo shells on a cookie sheet; bake about 5 minutes.
Let cool and then spoon about 2 tsp lemon mixture into each shell.
When ready to serve, garnish each with a blueberry or raspberry
Enjoy!

Sparkling Spritzers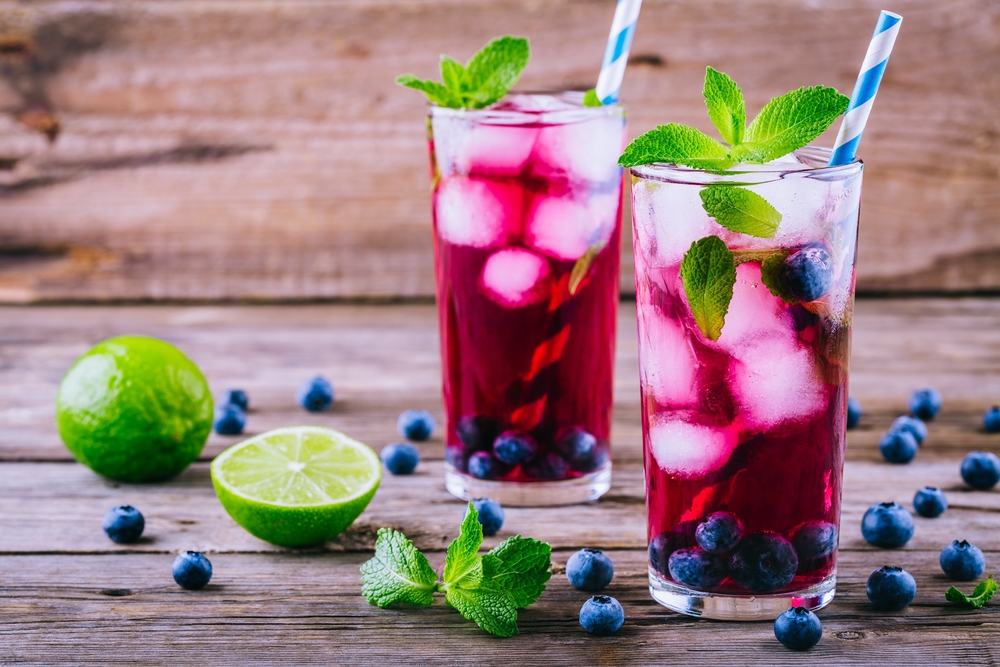 With more and more Americans taking a second look at what they put into their bodies, mocktails are making a comeback! This kombucha-based mocktail is great on its own, and the probiotics are great for your stomach, too, after all of those other delicious Fourth of July recipes.
Prep: 15 minutes
Serves:  Makes 2 servings
Ingredients:
½ c fresh blackberries
16 oz. kombucha (unflavored or berry-flavored)
4-6 fresh basil leaves
2-4 oz. sparkling water
crushed ice
optional: extra berries and basil, for garnish
Prep:
In a small bowl, muddle blackberries and basil leaves to form a blackberry basil puree.
Place crushed ice in two glasses.
Divide the blackberry puree evenly amongst the two glasses.
Add 8 oz. of kombucha per glass, then top off with sparkling water
Stir & allow to sit for 15 minutes
Add garnish of blackberries and basil leaves
Enjoy!

Grilled Chicken with Strawberry Chili Salsa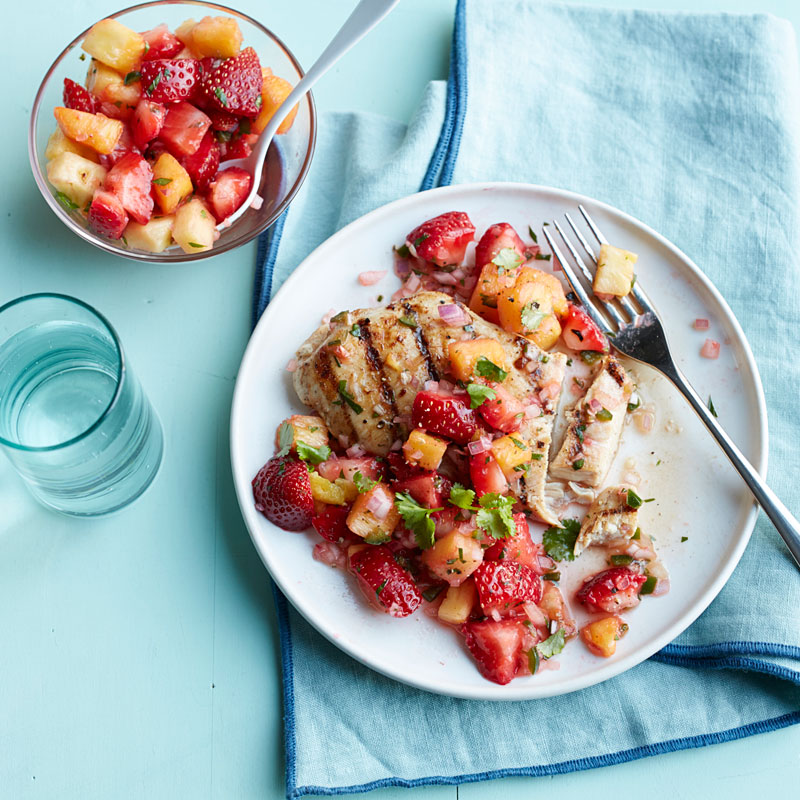 The salsa is a classic veggie-filled way to add flavor to chicken dishes, but we think this spicy salsa made with strawberries is one of the best Fourth of July recipes!  We absolutely recommend doubling this recipe to serve as an alternative to heavy dips & sauces.
Prep: 45 minutes
Serves:  Makes 4 servings
Ingredients:
1 lime
2 tsp. garlic, minced
2 tsp olive oil, divided
1/2 tsp. salt
1/4 tsp. pepper
4 four-ounce boneless, skinless chicken breasts
2 cups strawberries, diced
1 cup pineapple, diced
1/4 cups red onion, minced
2 Tbsp. basil, minced
Prep:
Zest lime; set aside.
Juice lime; set aside.
In a medium bowl, combine 1 Tbsp lime juice, garlic, 1/2 tsp oil, salt and pepper.
Add chicken to bowl, coat both sides in mixture, and set aside.
In another medium bowl combine strawberries, pineapple, onion, cilantro, jalapeno, remaining lime juice, remaining oil and lime zest; set aside.
Lightly coat a grill rack with cooking spray, then heat grill to medium-high.
Grill chicken, flipping once, until internal temp is 165°F, 3 to 4 minutes per side.
Serve chicken with 2/3 cup salsa over top
Enjoy!