By: Tayler Glenn
Navigating weekends with healthy eating in mind is hard enough but on Super Bowl Sunday? Well, that just seems cruel…or is it? These healthier dips, apps, and Super Bowl snacks are crowding out those stale recipes with a fresh kick of whole food goodness!
Red Pepper Tapenade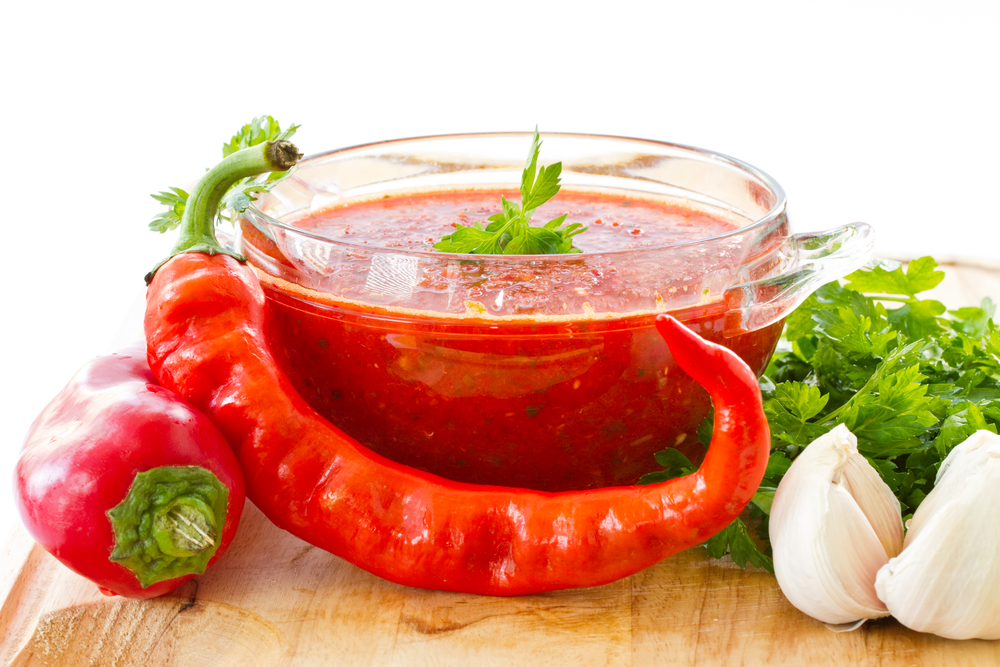 Prep Time: 4 hours
Serves:  Makes 2 cups
Ingredients:
3 garlic cloves, peeled
2 cups roasted sweet red peppers, drained
1/2 cup blanched almonds
1/3 cup tomato paste
2 tablespoons olive oil
1/4 teaspoon salt
1/4 teaspoon pepper
Minced fresh basil
Method:
In a small saucepan, bring 2 cups water to a boil.
Add garlic then cook, uncovered, until tender (~6-8 minutes).
Drain and pat dry.
Place red peppers, almonds, tomato paste, oil, garlic, salt and pepper in a small food processor; process until blended.
Transfer to a small bowl, and refrigerate at least 4 hours to allow flavors to blend.
Sprinkle with basil.
Serve with your favorite dipping foods and enjoy!

Herbed Chicken Skewers with Harissa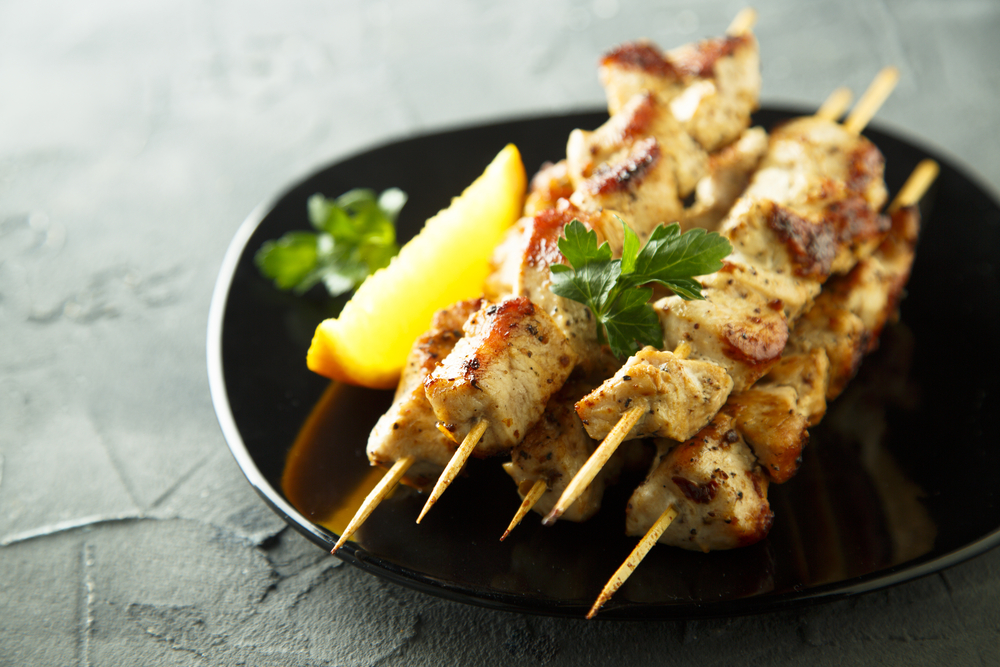 Buffalo dip was only going to be exciting for so long, right? This protein-packed chicken appetizer is a great way to add a little lean protein into your Super Bowl snacks, and this harissa is a knockout!
Prep Time: 45 minutes
Serves: Makes 4 servings
Ingredients: 
Chicken:
1/4 cup extra-virgin olive oil
1 tablespoon rosemary leaves
1 teaspoon chopped thyme
1 teaspoon chopped oregano
1 teaspoon ground cumin
1 1/2 pounds skinless, boneless chicken breast halves, cut into 1 1/2-inch cubes
Salt
Harissa:
1 teaspoon cumin seeds
1 teaspoon coriander seeds
1 teaspoon caraway seeds
2 roasted red peppers from a jar, coarsely chopped
1 red Thai chile, with seeds, chopped
1 garlic clove, chopped
3 tablespoons extra-virgin olive oil
1 tablespoon freshly squeezed lemon juice
Salt
Method:
In a large bowl, mix the olive oil with the rosemary, thyme, oregano and ground cumin, then add the chicken and toss well. Cover and refrigerate.
In a small skillet, toast the cumin, coriander and caraway seeds over moderately high heat, shaking the skillet a few times for about 2 minutes.
Transfer to a spice grinder and let cool completely, then grind to a powder.
In a blender, combine the roasted peppers with the chile, garlic, olive oil, lemon juice and ground spices and puree. Season the harissa with salt.
Thread the chicken pieces onto 8 metal skewers, season with salt, and cook in an oven or on a stovetop over medium-high heat until fully cooked. (Optional: turn oven to broil and bake for an additional 1-2 minutes)
Serve the skewers with the harissa and enjoy!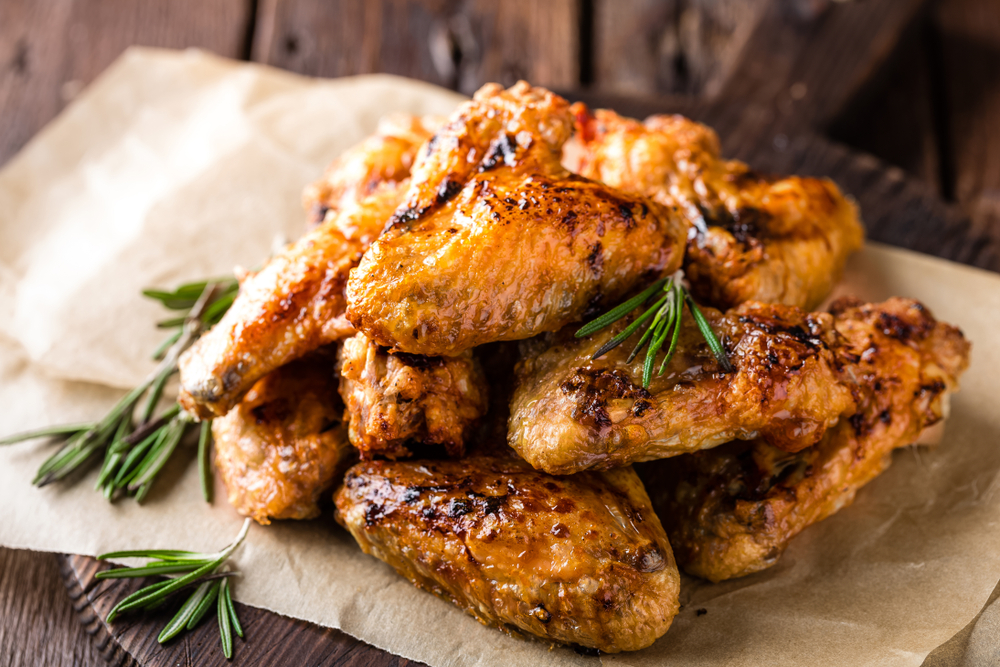 Tired of wings drenched in oily sauces and carb-loaded breading? This Super Bowl recipe for dry rub hot wings uses dry spices for a high-protein, lower calorie alternative to a football Sunday staple!
Prep Time: 45 minutes
Serves: Makes 7 servings
Ingredients:
2

 

pounds

 

chicken wings

 

(~20 wings + drumsticks)

1

 

Tbsp

 

coconut oil

1

 

Tbsp

 

chili powder

1

 

Tbsp

 

sweet smoked paprika

1 1/2

 

tsp

 

ground cumin

1

 

tsp

 

ground cayenne pepper (increase for added spice)

1 1/2

 

tsp

 

garlic powder

1 1/2

 

tsp

 

onion powder

1 1/2

 

tsp

 

kosher salt

1 1/2

 

tsp

 

black pepper
Method:
Dry wing pieces with paper towels to remove excess liquid, then place in a large bowl to rub oil evenly into each piece

Combine all seasonings in a bowl, sprinkle half of the seasoning mix onto the chicken wings and rub in, then flip wings and repeat with rest of seasoning mix.

Place rack over a shallow baking pan with sides, and place seasoned wings on rack.

Bake at 350°F for 20 minutes, flip, then bake for an additional 10 minutes.

Turn oven broiler on low and broil for another 10 minutes, then remove from oven.
Serve with celery and carrot sticks, then enjoy!

Crunchy Red Pepper Walnut Spread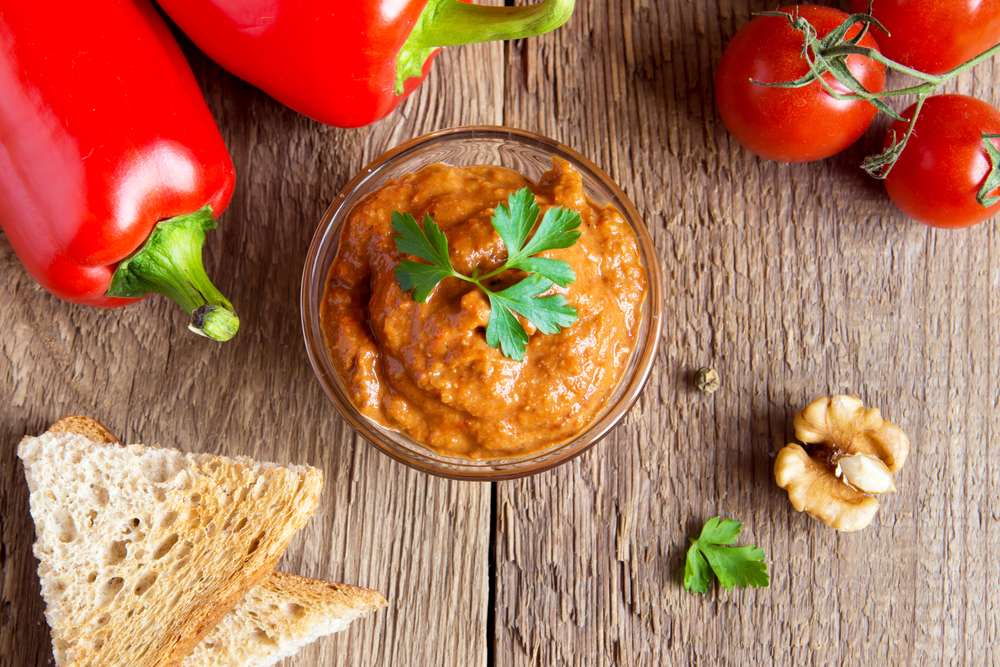 Harissa brings this spread's unique ingredients together with a taste so delicious that nobody will ever figure out that it's packed with our favorite leafy green: kale!
Prep Time: 20 minutes
Serves: Makes 2 cups
Ingredients:
1 1/3 cup walnut pieces
8 oz chopped kale
16 oz roasted red pepper
1 tsp harissa, or more to taste
2 tsp kosher salt
4 Tbsp fresh lemon juice
Method:
In a small nonstick frying pan, toast the walnuts dry over low heat until fragrant and slightly browned.
Place the walnuts along with the remaining ingredients in a food processor, and pulse until the mixture is a smooth purée.
Store in the refrigerator until ready to use or serve with vegetables or whole grain pita
Enjoy!

Greek Couscous Salad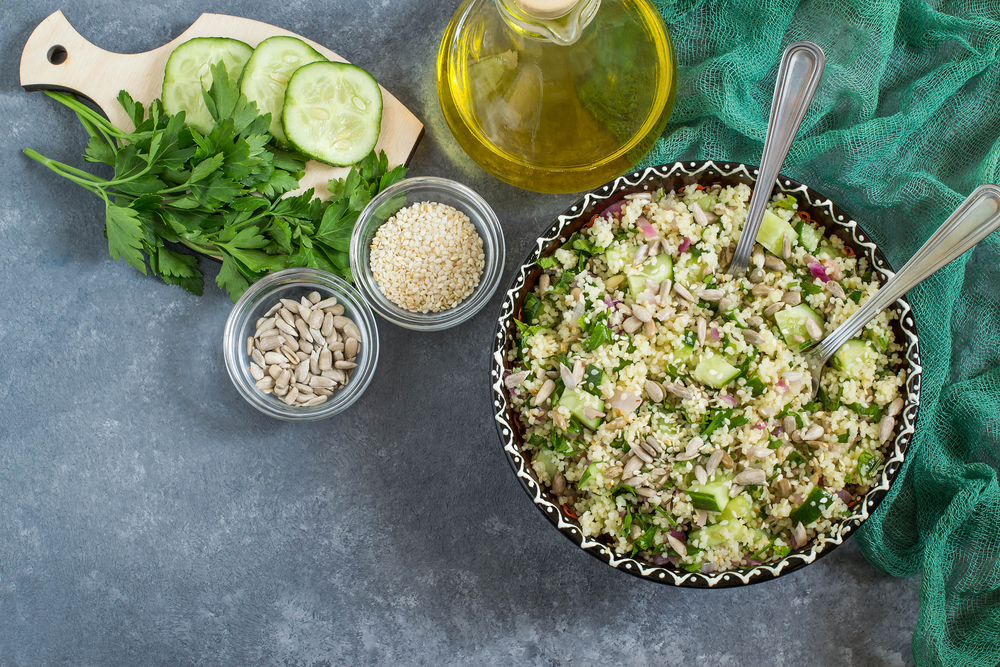 Bright flavors and crisp veggies make a satisfying salad that's perfect for a healthy Super Bowl option! It's light enough for an appetizer and you can add lean protein to make the leftovers a full meal.
Prep Time:  30 minutes
Serves: Makes 12 servings
Ingredients:
1 can (14-1/2 ounces) reduced-sodium chicken broth
1-3/4 cups uncooked whole wheat couscous (about 11 ounces)
Dressing:
1/2 cup olive oil
1-1/2 teaspoons grated lemon zest
1/4 cup lemon juice
1 teaspoon adobo seasoning
1/4 teaspoon salt
Salad:
1 English cucumber, halved lengthwise and sliced
2 cups grape tomatoes, halved
1 cup coarsely chopped fresh parsley
1 can sliced ripe olives, drained
4 green onions, chopped
1/2 cup crumbled feta cheese (optional)
Method:
In a large saucepan, bring broth to a boil, then stir in couscous.
Remove from heat and let stand, covered, until broth is absorbed.
Transfer to a large bowl; cool completely.
Whisk together dressing ingredients.
Add cucumber, tomatoes, parsley, olives and green onions to couscous; stir in dressing.
Gently stir in cheese, if using, then serve cold
Enjoy!