By: Tayler Glenn
With Halloween candy at every turn, finding treats that aren't entirely bad for you seems impossible! But these healthy recipes are here to help a healthy gal (or guy!) out. From creatively arranged vegetables to homemade, lightened up favorites, these healthier Halloween treats pack all of the fun without the extra added sugar!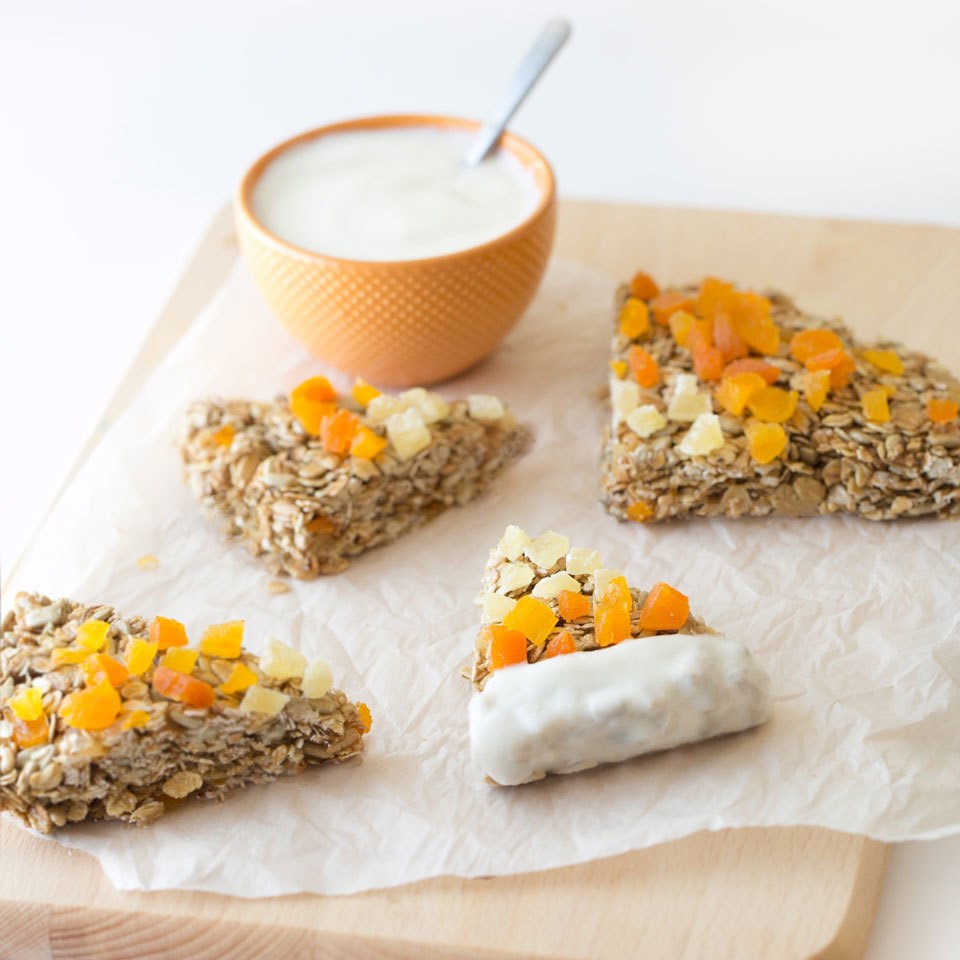 Prep Time: 1 hour 10 minutes
Serves:  Makes 8 servings
Ingredients:
2 cups rolled oats

1 cup sunflower seeds

⅓ cup honey or other sticky sweetener

Pinch of salt

¼ cup unsweetened dried pineapple, chopped

¼ cup unsweetened dried apricots, chopped

½ cup Greek yogurt
 Method:
Preheat oven to 400°F.

Spread oats and sunflower seeds on a rimmed baking sheet + bake for 5-8 minutes.

Coat a 9-inch pie pan with cooking spray

Cook honey in a medium saucepan over medium-high heat without stirring until large foamy bubbles form, 2 to 4 minutes.

Immediately pour the toasted oat mixture and salt into the honey; stir until completely coated.

Press the granola into the prepared pan using a heat-resistant spatula coated with cooking spray + top with a circle of pineapple pieces in the center of the pan, then create a ring of apricot pieces around it. Stop about 2 inches from the edge.

Gently press the dried fruit into the granola + let cool for 30 minutes.

Cut into 8 wedges and transfer to a wire rack to cool completely.

Line a baking sheet with parchment paper, place the wedges on the pan, and spoon 1 tablespoon yogurt onto the bottom third of each wedge.

Place in the freezer until the yogurt hardens, about 15 minutes. Serve immediately.
Enjoy!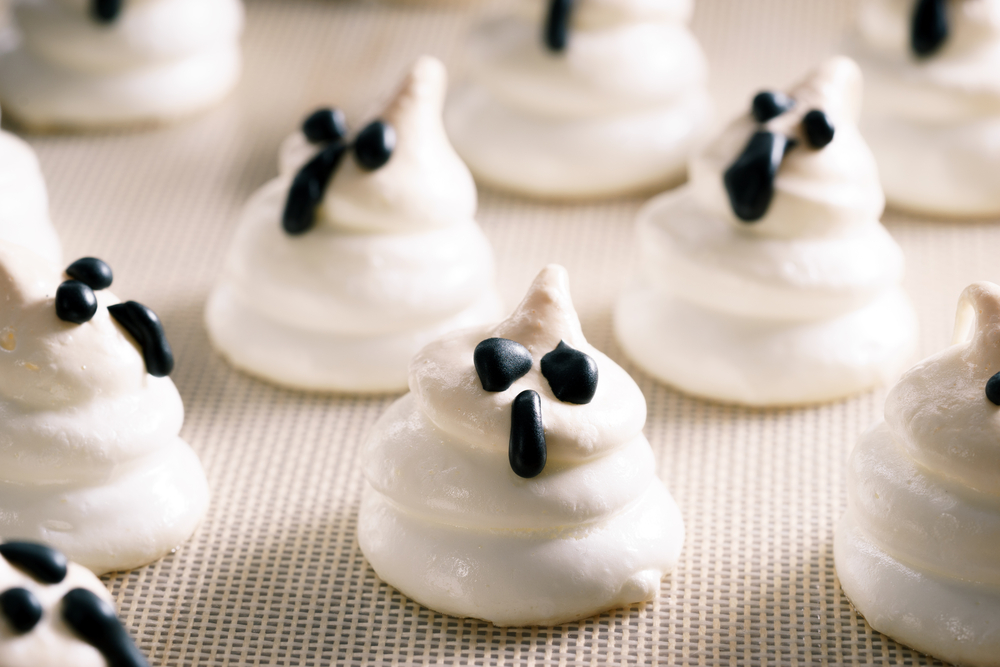 Prep Time: 2 hours 30 minutes
Serves:  Makes 50 servings
Ingredients:
3 large egg whites, at room temperature

¼ teaspoon cream of tartar

¾ cup sugar or other sweetener that bakes like sugar

½ teaspoon vanilla extract

¼ cup semi-sweet chocolate chips
Method:
Place egg whites in a mixing bowl, add cream of tartar, and beat with an electric mixer on medium-high speed until soft peaks form.

Continue beating while slowly adding sugar or sweetener 1 tablespoon at a time until the whites are stiff and glossy, then a

dd vanilla and beat for 30 seconds more.

Position racks in the upper and lower thirds of the oven; preheat to 200°F. + l

ine 2 large baking sheets with parchment paper or silicone mats.

Fill a 1-quart sealable plastic bag with the meringue + seal the bag almost completely, leaving a small opening for air to escape from the top as you squeeze. Snip off one corner of the bag with scissors, making a ¾-inch-wide opening then gently push the meringue down to the snipped corner.

Pipe the meringue into 1½-inch-diameter cookies, then pipe half as much on top to resemble a snowman.

Bake the cookies, switching pans from top to bottom and back to front halfway through, until dry and crisp throughout, 1½ to 2½ hours.

Transfer the pans to wire racks and let the cookies cool to room temperature, about 15 minutes.

Place the chocolate chips in a small microwave-safe bowl and microwave for 30 seconds.

Stir and continue microwaving in 20-second intervals until melted and smooth.

Place the melted chocolate into a sealable plastic bag, then push the chocolate down to one corner and snip off the tip of that corner to create a piping bag.

Pipe dots for eyes and a larger oval for the ghostly mouth. Allow chocolate to harden before serving.
Enjoy!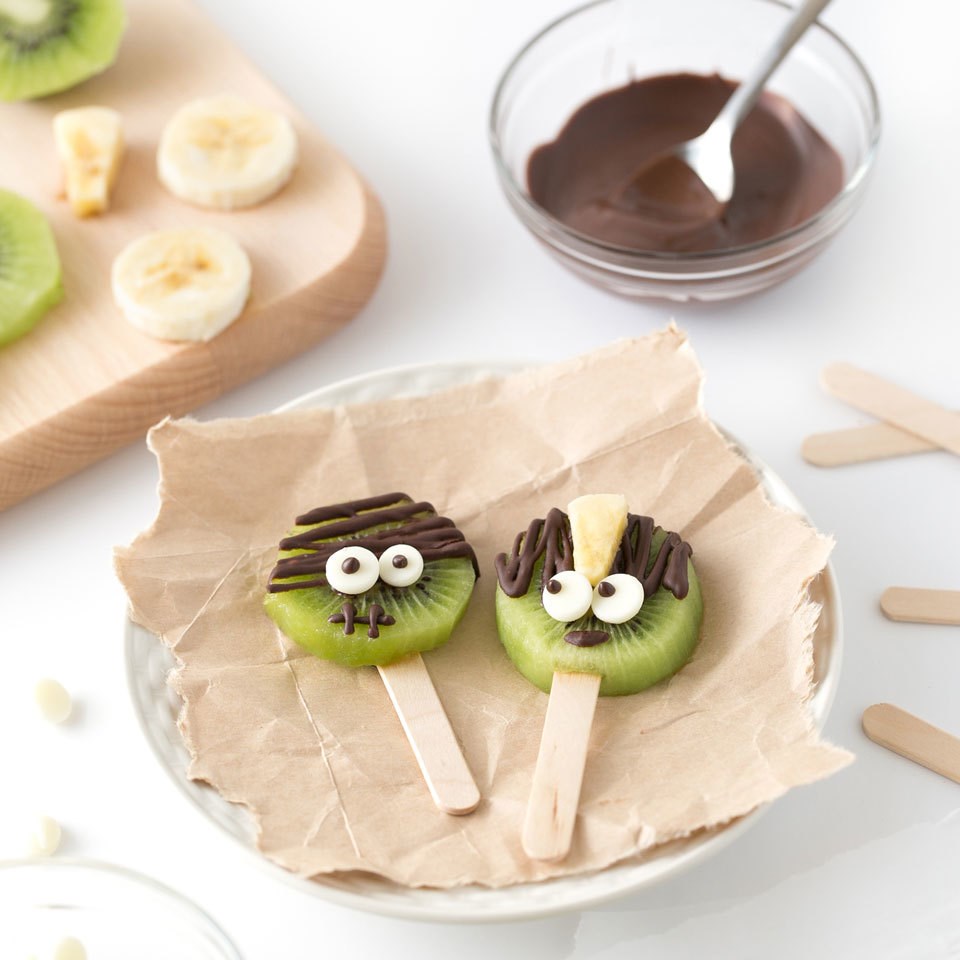 Prep Time: 50 minutes
Serves:  Makes 12 servings
Ingredients:
4 kiwis, peeled and sliced crosswise into thirds

¼ cup vanilla yogurt

2 Tbsp. cocoa powder
24 chocolate chips

2 banana slices ( ¼ inch thick), quartered

12 wooden popsicle sticks
Method:
Line a baking sheet with parchment or wax paper.

Cut a small slit into the side of each kiwi slice. Slide in a popsicle stick. Place on the baking sheet.

In small bowl combine yogurt and cocoa powder, then spoon into a small plastic bag + snip off a tiny tip of one corner.

Decoratively pipe hair on the upper third of each slice, then press two chocolate chips (flat-side up) into the kiwi to create eyes.

For the bride of Frankenstein's hair, press a banana slice into the yogurt, then pipe Frankenstein's stitched mouth, + the bride's lips. Refrigerate until set.
Enjoy!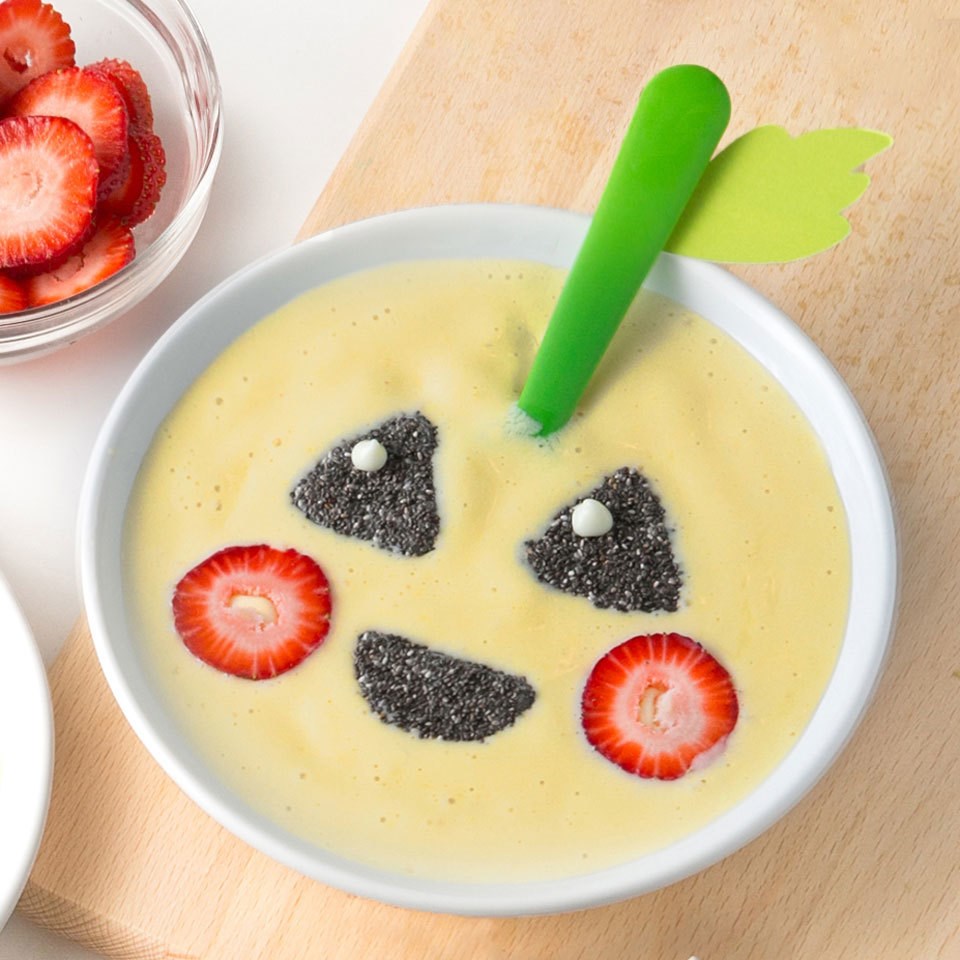 Prep Time: 10 minutes
Serves:  Makes 1 serving
Ingredients:
1 cup frozen mango chunks

¾ cup reduced-fat plain Greek yogurt

¼ cup unsweetened almond milk

1 teaspoon vanilla extract

1 strawberry, hulled and halved

1 teaspoon chia seeds

1 svg. TLS® Shake – Vanilla (optional, and may call for more liquid)
Method:
Combine mango, yogurt, milk, TLS® Shake (optional) and vanilla in a blender and puree until smooth.

Pour the smoothie into a bowl and decorate to look like a jack-o'-lantern, using strawberry halves for the cheeks and creating eyes and a nose with chia seeds.

Serve with a green spoon to look like the pumpkin stem and attach a paper leaf 
Enjoy!
Which Halloween recipes are you enjoying this year?
Tell us in the comments below!