By: Amanda Belo
It's that time of year again; outdoor stadiums fill to the brim with fans eagerly awaiting kick off as football teams return to battle for pigskin glory, but not before they make it to the tailgate! While tailgate foods fall outside the realm of "healthy", you shouldn't spend your day stressing over what to bring to the tailgate! We've got you covered with these recipes that cut calories without skimping on taste.
Buffalo Cauliflower Bites 
These football day staples are delicious but become less thrilling when you consider the chemicals, saturated fat, and sugar that is found in the typical serving.  Instead of skipping out entirely, opt for a healthier version! This vegetarian spin on buffalo chicken bites is high in fiber which is great for your digestive system. It is also rich in many essential vitamins, minerals, and antioxidants all with a great, savory taste!
Serves: Makes 10 servings
Prep Time: 1 hour
Ingredients:
1 large head of cauliflower
½ cup unsweetened non-dairy milk
½-1 cup water
¾-1 cup red hot sauce
¾ cup gluten-free all purpose flour
1 tablespoon butter
2 teaspoon garlic powder
2 teaspoon onion powder
1 teaspoon cumin powder
dash of cayenne pepper
ground black pepper and sea salt
Method:
Prep

Preheat oven to 450 degrees F
Line a baking sheet with parchment paper.
(No parchment paper? Take a cookie cooling rack" & put on top of the baking sheet.)
Cut cauliflower head into small bite sized pieces.

Coating

Mix flour, milk, water, and spices into a small bowl.
Dip each cauliflower floret into mixture
Lay on a baking sheet in an even layer to ensure baking all around.
Bake for 25 minutes or until golden brown.

Sauce

In a saucepan, melt the butter and hot sauce, bring to a simmer and remove from heat.
After the cauliflower bites have baked, pour the buffalo sauce mixture onto the bites.
Stir until each cauliflower bite has been coated in the sauce.
Bake for another 10-15 minutes.

Enjoy!
Bison Burger
Bison is gaining in popularity as a healthy red meat that is rich in flavor. Compared to raw grass-fed ground beef, raw grass-fed bison contains 20 g of protein, 55 g of cholesterol and less that 3 g of saturated fat1, as opposed to 19 g of protein, 62 g of cholesterol and 5 g of saturated fat2 in the ground beef. Bison contains several essential nutrients, such as niacin, zinc and selenium. It is also one of the leanest proteins and is lower in saturated fat than cow beef.3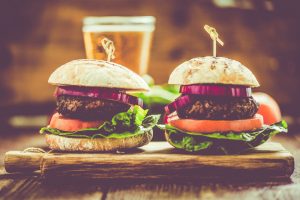 Serves: Makes 4 servings
Prep Time: 30 minutes
Ingredients:
3 tablespoons olive oil
3 cups sliced onions (about 2)
1 pound ground bison
2 tablespoons chopped shallots
1/4 teaspoon coarse kosher salt
1/4 teaspoon dried thyme
4 whole wheat buns
Dijon mustard
Arugula
Method:
Prep

Heat 1 tablespoon oil in heavy medium skillet over medium – high heat.
Add onions, sprinkle with salt, and sauté until tender and golden brown, stirring often, about 10 minutes.
Reduce heat to medium and continue to sauté until very tender and well browned, about 15 minutes longer.
Preheat broiler.

Patties

Gently mix meat, 1 T. olive oil and the next 3 ingredients in large bowl.
Shape into four 1/2-inch-thick patties.
Heat remaining 1 tablespoon oil in a large skillet over high heat.
Sprinkle burgers with salt and pepper; add to skillet.
Cook until well browned, about 2-3 minutes per side for medium-rare.

Buns

Open buns on rimmed baking sheet.
Broil until halves are lightly toasted, about 1 minute.
Spread bottom halves with mustard.
Top each with a few escarole leaves, then burger.
Spoon onions atop burgers, dividing equally.
Cover with bun tops; press lightly.
TLS-Approved Nachos 
These vegetarian nachos will save you the "beating yourself up in the gym trying to burn calories" phase the next day.  It's a party on your plate featuring 18 grams of energizing protein and 9 grams of fiber!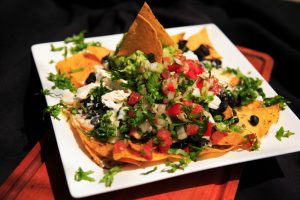 Serves: Makes 4 servings
Prep Time: 30 minutes
Ingredients: 
1 teaspoon olive oil
1 (15.5-oz) can cannellini beans, rinsed and drained, divided
1 tablespoon cilantro leaves, finely chopped, plus leaves for garnish
3 tablespoons fresh lime juice, divided
1 rib celery, thinly sliced
1/4 red onion, thinly sliced
4 ounces multigrain tortilla chips
4 ounces reduced-fat cheddar cheese, grated
1/2 avocado, diced
Salsa (for serving)
Method:
Preheat oven to 400°F.
In a medium bowl, mash the oil, 1 cup beans, chopped cilantro, and 2 TBSP lime juice.
In another bowl, toss the celery, onion, 3/4 cup beans, and 1 TBSP lime juice.
Spread chips on a baking sheet; cover with the cheese.
Bake until cheese melts.
Top the hot nachos with the bean mixtures, avocado, and salsa
Garnish with cilantro leaves.
Do you have any healthy tailgate recipes to share? Tell us in the comments!
Resources: