By: Sosan Hua, RD, CDE | TLS Director of Training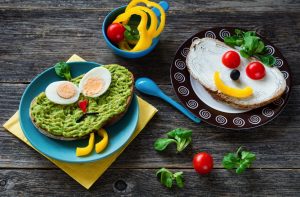 With a full-time career and two young daughters, preparing healthy lunches is a part of my daily routine. As a dietitian of 17 years, I have always preached the importance of healthy eating as the foundation of health and wellbeing. After all, you are what you eat.  However, children often have their own ideas on what they would prefer to eat which may leave us parents, at times, stressed out not knowing how to balance taste with nutrition.   To start, instead of sharing WHAT to make, let's start with HOW & WHY.
HOW & WHY:
Eating low glycemic impact eating will benefit all age groups because healthy habits start at a young age and support health, growth and development.  A young, healthy eater will likely become a healthy eater for life.
A balanced meal should include wholesome food, rich in protein, high in fiber, with low glycemic starches and grains and healthy fats.  I always place an emphasis on colourful fruits and vegetables because something that looks pleasing to the eyes will often encourage children to at least give it a try.
It is also important to remember that as parents, we are their role models. If you want your kids to eat healthy, you need to do so yourself.  A mom or dad who eats pizza for dinner cannot serve salads to their kids and tell them they must eat it, when they themselves aren't actively choosing to eat more nutritious meals.  TLS is a great solution for those who are seeking to maintain healthy eating habits for themselves.  Even if you are at a healthy weight, always refer to our TLS continued commitment program/menu plan to make sure your meals are nutritious and balanced in all key nutrients, vitamins and minerals.  Check out www.tlsslim.com to learn about our different programs.
WHEN:
Consistency is key to building healthy habits at a young age and this means meals are eaten at regular time intervals.  It is important that children don't skip meals and make up for it by eating too many snacks later on.
WHAT:
Here are some examples of my kids' favourite dishes that don't take a lot of time to prepare.  Best of all, it provides variety to keep them interested.
Meal Ideas

Carbohydrates/starches/grains

Vegetables/Fiber

Protein

Healthy Fats

Egg and Avocado Wrap
Sprouted grain tortilla wrap
Shredded carrots

Sliced cucumber

Baby spinach

Egg
Avocado slice
Chicken Pizza
Whole grain English muffin
Baby spinach

Chopped sweet pepper

Diced red onion

Diced zucchini

Shredded chicken
Grass-fed mozzarella cheese (small amount)
Soba Noodle and Tofu Salad
Soba noodles
Shredded carrots

Julienne Cucumbers

Chopped romaine lettuce

Sprouted organic firm tofu (diced and pan seared)
Almond slices toasted
Chicken Macaroni Soup
Quinoa pasta (macaroni)
Diced carrots

Diced celery

Diced zucchini

Mushroom

Shredded chicken
Avocado oil to pan fried chicken to add flavour

Homemade or store-bought chicken broth

Minced Beef with Macaroni in Cauliflower Cream Sauce
Brown rice macaroni
Cauliflower

Zucchini

Carrot

(all pureed together with cashew)

Minced beef
Cashew (pureed to imitate cream sauce)
Salmon on Sweet Potato Hash
Sweet potato (diced and roasted in oven)
Diced zucchini

Baby spinach

Diced carrots

Salmon – baked in oven
Diced avocado