By: Amanda Belo
The holidays are hardly a time to focus on weight loss, but that doesn't mean you should throw in the towel! With a few tweaks and some helpful guidelines, you can enjoy the foods that make the holidays special and hop right back on track with the TLS® Flex Program!
What is the TLS® Flex Program?
The Flex Program is a slightly less structured meal program that's perfect for special occasions, vacations, and especially the holiday season! It allows you to moderately indulge while still living a balanced and healthy TLS® lifestyle. With the Flex Program, you can enjoy that date night out or a slice of cake at your niece's birthday party while continuing on your journey towards your weight loss goals!
First Things First:
Before you dive right in, it's important to decide if the TLS® Flex Program is right for YOU! Not everyone is in the same place on his or her road to healthier living and, like all effective methods of weight management, the Flex Program isn't "one size fits all".
If you're just getting started and are still struggling to say 'no' to unhealthy cravings and habits, this may not be the right thing for you at this time – and that's okay! This is all about working towards personal goals for looking and feeling healthy. We've got plenty of more structured plans that will help keep you on track until you know you can take a step back without falling off-track.
If you're feeling more comfortable in your ability to manage cravings, then the Flex Program may be just the thing you need to add a little more flexibility! Does this sound like you?
You can easily follow the guidelines of your TLS® plan
You feel that an occasional "off-plan" meal won't throw you back into unhealthy eating habits
You are more likely to stick to your TLS® plan if you have a little extra freedom now and then
You've reached your goals and want to continue to live the TLS® Lifestyle
The majority of your meals are TLS®-friendly, but you want options that won't impede progress
Yes? Great – it sound like you've found a perfect fit!
Tips for TLS® Flex Program Success:
Keep in mind that this is a Flex meal and not a Flex day.
Plan, plan, plan those indulgences! Instead of a spur of the moment treat, try to plan your Flex meals in advance so you don't end up going overboard on accident.
Balance your Flex meals with vegetables and fruits whenever possible. Think pizza with a salad instead of pizza with cheesy breadsticks.
Eat slowly, mindfully, without distraction (e.g. television), and save those Flex meals for when you don't feel extremely hungry. It's a great technique to avoid overdoing it!
If that neon fast food sign is calling your name, try the smaller portioned kid's meal. It's closer to the actual recommended serving size and usually much cheaper as well!
Choosing alcohol as a treat? Opt for dry wines or spirits + make sure to hydrate in between each drink with water!
Buy sweets in single servings, instead of a box or a bag. It's harder to avoid cravings when you have half of an open bag of sweets calling your name from the cupboard!
Save your Flex Day for something special. Special occasions or eating out with friends and family may give you more satisfaction than sitting at home with Netflix + pizza (but hey – sometimes that's just what the soul needs)
If possible, choose one indulgence that you really want instead of multiple just because you can.
Exercise on the day of your flex meal so you can help offset the increase in carbs, fat, and sodium while helping your body store less and burn more.
Forget the C.R.A.P.
Have your cake and eat it too! Well… sort of. The idea behind the TLS® Flex Program is that you can moderately indulge while still staying on track to meet your goals (read: eat what you want, but this isn't a binge).
Whenever possible, enjoy indulgences without the C.R.A.P. (Chemicals, Refined sugar & flour, Artificial stuff, Preservatives). A simple switch like making a pizza with cauliflower crust or baking instead of frying your food can help satisfy those cravings in a healthier way and you can experiment with new recipes!  Here are some of our favorite TLS® recipes to get you thinking: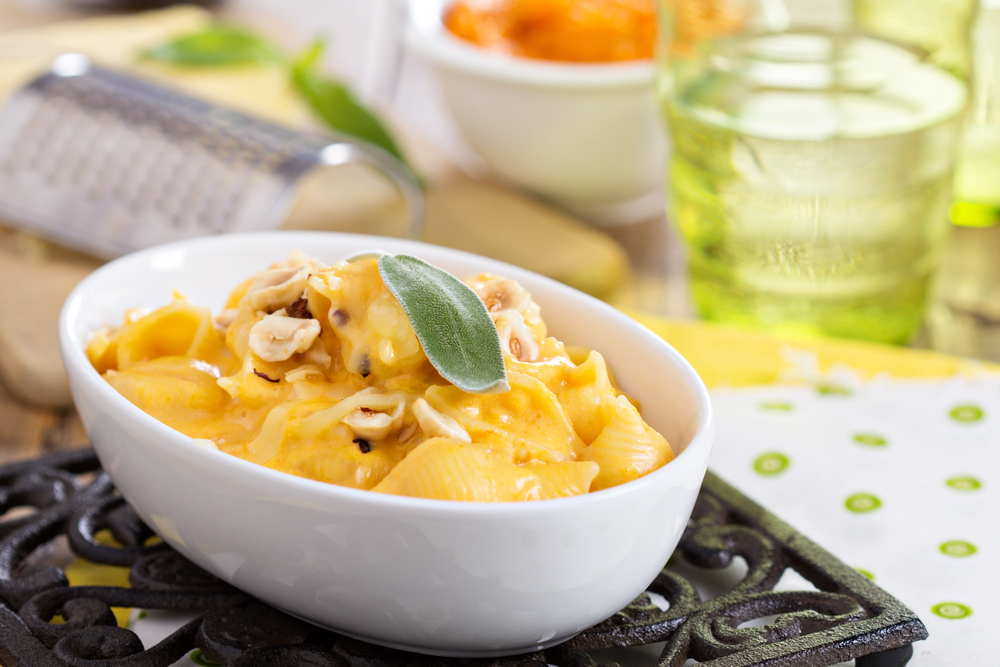 Prep Time: 35 minutes
Serves: Makes 6 servings
Ingredients:
8 ounces medium pasta shells
6 slices bacon, diced
2 tablespoons unsalted butter
3 cloves garlic, minced
1 shallot, minced
2 tablespoons all-purpose flour
1 1/2 tablespoons finely chopped sage
1 1/4 cups half and half
1 cup whole milk
1 (15-ounce) can butternut squash puree* (may be substituted with sweet potato or pumpkin puree)
1 teaspoon Dijon mustard
10 ounces shredded extra-sharp cheddar cheese, about 2 1/2 cups
Kosher salt and freshly ground black pepper, to taste
2 tablespoons chopped fresh chives
Method:
In a large pot of boiling salted water, cook pasta according to package instructions; drain well.
Heat a large skillet over medium-high heat, then add bacon and cook until brown and crispy, about 6-8 minutes.
Drain excess fat; transfer bacon to a paper towel-lined plate.
Melt butter in the skillet, the add garlic and shallot.
Cook, stirring frequently, until fragrant, about 2-3 minutes.
Whisk in flour and sage until lightly browned, about 1 minute.
Gradually whisk in half and half, milk, butternut squash and Dijon.
Bring to a boil; reduce heat and simmer, stirring occasionally, until reduced and slightly thickened, about 3-4 minutes.
Stir in pasta and cheese until melted, about 2 minutes; season with salt and pepper, to taste.
Serve immediately, garnished with bacon and chives, if desired.
Enjoy!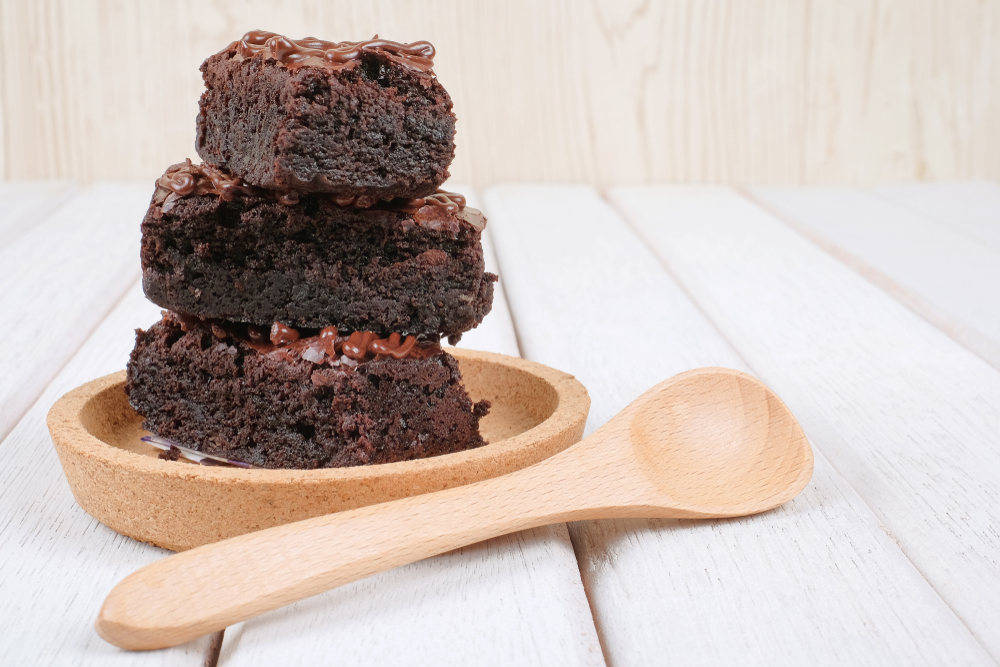 Prep Time: 30 minutes
Serves: Makes 9-12 servings
Ingredients:
1 1/2 cups black beans (1 15-oz can, drained and rinsed very well) (250g after draining)
2 tbsp cocoa powder (10g)
1/2 cup quick oats (40g) (See nutrition link below for substitutions)
1/4 tsp salt
1/3 cup pure maple syrup, honey, or agave (75g)
pinch uncut stevia OR 2 tbsp sugar (or omit and increase maple syrup to 1/2 cup)
1/4 cup coconut or vegetable oil (40g) (See nutrition link for substitution notes)
2 tsp pure vanilla extract
1/2 tsp baking powder
1/2 cup to 2/3 cup chocolate chips (115-140g) (Not optional. Omit at your own risk.)
optional: more chips, for presentation
Method:
Preheat oven to 350 F.
Combine all ingredients except chips in blender until completely smooth.
Stir in the chips, then pour into a greased 8×8 pan.
Optional: sprinkle extra chocolate chips over the top.
Cook for 15-18 minutes, then let cool at least 10 minutes before cutting. If they still look a bit undercooked, you can place them in the refrigerator overnight to firm up.
Enjoy!
Sources:
TLS®. (2018). What is the TLS Flex Program and what is a Flex meal? [PDF]. Retrieved from https://images.marketamerica.com/lib/downloads/ENG/0126D6A6-BC94-3E9B-854697069A9AC9B1.pdf
Cassetty, S. (2018, January 5). The do's and don'ts of cheat meals, according to nutrition experts: Indulging in that bacon cheeseburger can be healthy — if you do it right. Retrieved from https://www.nbcnews.com/better/health/do-s-don-ts-cheat-meals-according-nutrition-experts-ncna786516
Damn Delicious. (2018, October 17). Butternut Squash Mac and Cheese. Retrieved from https://damndelicious.net/2018/10/17/butternut-squash-mac-and-cheese/
Chocolate Covered Katie. (2012, September 9). Black Bean Brownies. Retrieved from https://chocolatecoveredkatie.com/2012/09/06/no-flour-black-bean-brownies/