By: Amanda Belo
Never ending fields of purple dreams are what come to mind when thoughts of lavender arise. Many people know how beneficial this herb may be for aromatherapy and medicinally, but if you've never considered adding it to flavor your food then TLS® is here to tell you to start! Read on to learn a few facts and find out how you can liven up your meal with this historically rich herb.
Fast Facts + History
Scientific Name: Lavandula1
Common Name: Lavender
Origin: Mediterranean region
This herb is a member of the mint (Lamiaceae) family, which also includes many other herbs like rosemary, sage, and basil.1
There are about 25 different species2
This herb is known biblically as spikenard
The plant can survive dry and hot conditions3
Historically, it has been all the rage since the Ancient Egyptians!

Ancient Greeks and Romans drew their baths with lavender scented water.1
Royals like Queens Victoria and Marie Antoinette made lavender fashionable and as floral decorations and air fragrances3
During the Elizabethan era, lavender was used as a fabric freshener to compensate for the rarity of bathing3
Lavender oil was used for ancient Roman soldiers and WWI soldiers as an antiseptic for wounds.2
Some ancient cultures believed that lavender was a purifier of the body and mind.

Commercially, lavender is primarily used to create essential oils.3

Wellness + Therapeutic Benefits
We just gave you a little background on this wonderful, floral herb and a taste of how generations before us used it to benefit their lives. Today, it is still considered a popular fragrant herb and even a potential healer. Although scientific studies are not solid on its healing actions, it is well worth a try to explore!
Mood + Sleep
Lavender oil is widely known to promote soothing, calming and relaxing effects – either as a fragrance or consumed. Studies have shown its effects to ease tension and stress4,5, and may help sleep quality*.4,5,6,7

Digestion
Consuming lavender may help balance out the bacteria in your gastrointestinal tract because it contains antioxidants called polyphenols. Polyphenols may also provide anti-inflammatory properties.*8
Nutrients
Lavender contains amounts of vitamin A, calcium and iron, all of which are necessary for a healthy body function.* A serving of lavender contains 287 IU of vitamin A (daily value = 5,000 IU9) and 2 mg iron (daily value 18 mg9), while 100 g of lavender contains 215 mg of calcium (daily value = 1,000 mg9).10 Vitamin A functions include promoting healthy vision, immune health, and normal growth and development.* Iron's functions include supporting energy production, immune function, normal growth and development, red blood cell formation and wound healing.* As for calcium, this mineral supports healthy bones and teeth, muscle contraction, blood clotting and a healthy nervous system.*
Cooking with Lavender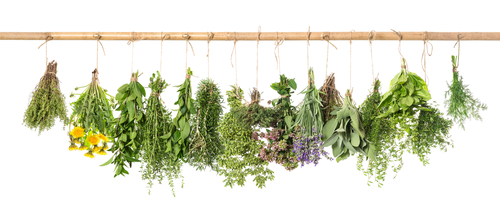 Top Tips:
Now comes the good stuff! Lavender is an excellent herb to add to your culinary palette for everything from marinades to teas to sweet treats. Here are eight great tips you'll want to keep in mind when cooking with lavender.
Recipes: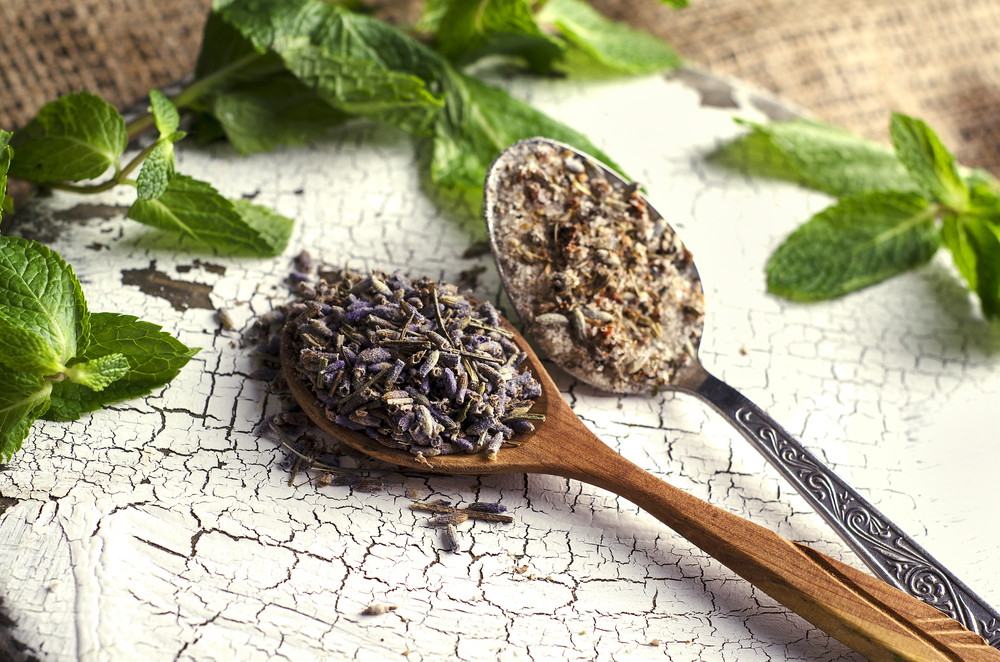 Ingredients:
3 tbsp. dried tarragon leaves
1 1⁄2 tbsp. dried savory leaves
1 tbsp. dried sage leaves
1 tbsp. dried thyme leaves
1 tbsp. dried lavender buds
1 tbsp. dried marjoram leaves
Method:
Combine herbs, rubbing any whole leaves between fingers to crush them.

Herb blend will keep, in an airtight container, for up to 6 months.
Spice up your meats and vegetables with this French herb blend!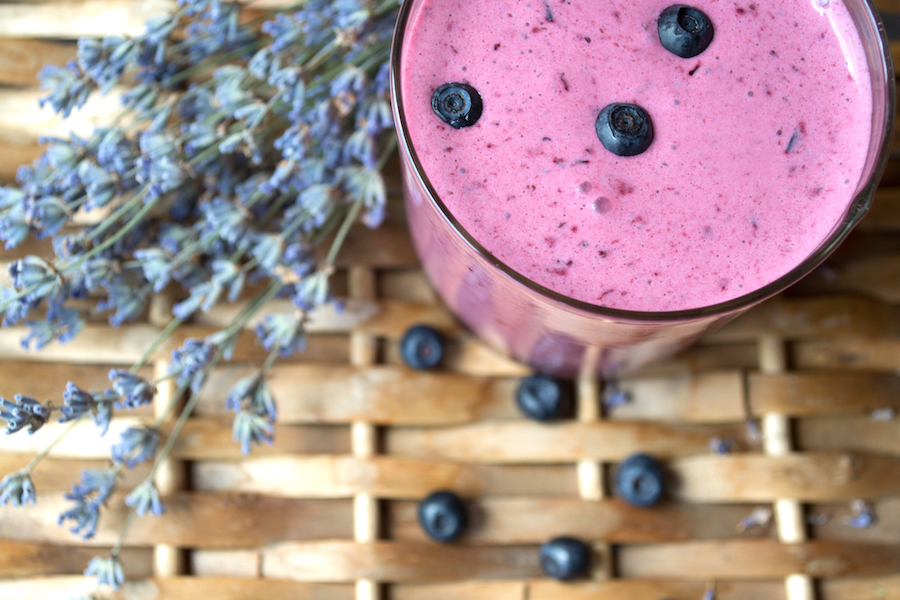 Ingredients:
1 teaspoon dried lavender
2 cups almond milk
1 cup blueberries
1 frozen banana
1 Tbsp. maple syrup
Method:
Add ingredients to a blender
Blitz on high speed until smooth
You can add a scoop of your favorite TLS® Shake, too!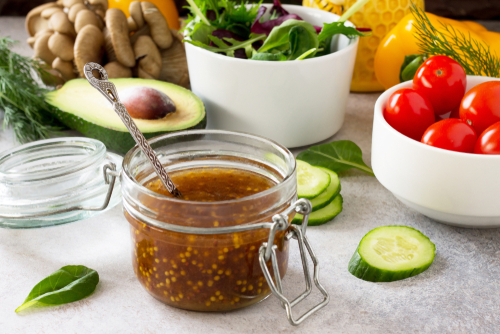 Ingredients:
14-16 oz blueberries
1 medium shallot
1 Tbsp oil for cooking
1/3 cup balsamic vinegar
2 Tbsp brown sugar
1 tsp lavender
Salt
Fresh cracked black pepper
3/4 – 1 cup olive oil
Method:
Preheat a small pan over medium heat and add a little bit of vegetable oil.
Add diced shallot and saute until transparent.
Add blueberries and cook for 5 minutes, stirring often. Press on the blueberries to start mashing them.
Raise the heat a little bit and add balsamic vinegar and brown sugar. Mix well and simmer until liquid is reduced by about half. Stir often.
Stir in lavender and cook for about a minute.
Take off heat and add cooked mixture to the blender.
Add ½ cup of olive oil, salt, and pepper to the blender. Blend well and add more olive oil until thinned enough.
Transfer into a container and set aside until completely cooled.
Keep in the refrigerator, in a jar with a lid.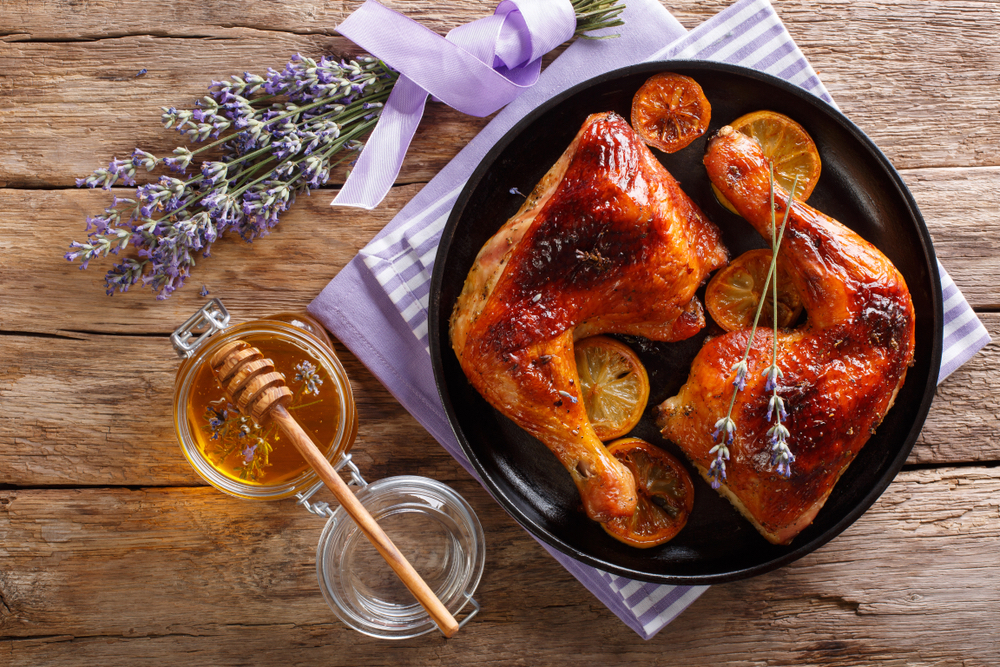 Serves: Makes 4 servings 
Ingredients:
3 pound chicken thighs or drumsticks
2 tablespoons dried lavender
4 tablespoons olive oil
4 tablespoons honey
2 springs thyme
Finely grated zest and juice of 1 lemon
A generous pinch of salt
Method:
Crush the lavender with a mortar and pestle.
In a large bowl, combine all ingredients besides chicken. Mix well.
Place the chicken in a large, deep container.
Pour the marinade over the chicken and make sure all the pieces are well coated.
Cover and marinate for at least 1 hour (or up to 4 hours.)
Preheat the oven to 400 degrees F.
Put the chicken and marinade in a large roasting pan and sprinkle with salt.
Roast the chicken for 40 to 45 minutes, turning the pieces over halfway.
To check if the chicken is done, pierce the thickest part of a thigh or drumstick with a skewer; the juices will run clear instead of pink or red when done.
Transfer the chicken to a large serving dish, pour the cooking juices over, and serve.
How do you incorporate this herb into your meals?
*These statements have not been evaluated by the Food and Drug Administration. This product(s) is not intended to diagnose, treat, cure or prevent any disease.