At MAIC 2017, Jessica Michaud was named the TLS Trainer of the year to recognize her hard work in educating others about TLS programs + products, helping others physically + financially, and being such a valuable part of the TLS team.
Today, we want to share with you a few food tips for those completing a TLS Detox from the TLS Trainer of the Year herself!
Many of you guys are starting detoxes in the next few weeks, so I wanted to post some of my top food ideas for maximizing your veggies during your Detox Week:
Stack Your Veggies
Use a variety of veggies in a variety of textures to offer yourself more of a good thing without feeling it.  A colorful plate full of a combination of cooked + raw foods means a nutrient-packed meal! Try this Cauliflower Pancake, for example:
1 cup riced cauliflower
1 egg,
Salt + pepper
Sauté in Olive oil
Place over a bed of raw spinach
Top it with sautéed veggies (peppers, zucchini, spinach, tomatoes)
Add an avocado or an egg if you want more fat or protein
Spinach
This is my trick for adding veggies to meals for my kids and clients.  Try using a food processor to chop up spinach and add it to eggs. This will maintain the texture of the eggs which was an issue I had when I tried convincing my kids to eat sautéed veggies with eggs.  To add another healthy serving, try placing the eggs over raw spinach or have sautéed veggies as a side!
Tip: it's also great to add to meatballs!

Cauliflower
Add to a blender or food processor on pulse to make the base of a salad, fried rice, or the pancake described above.  You can roast it with a salsa verde, puree the mixture, and use it as a healthy swap for mashed potatoes on top of grass-fed beef + veggies. It's such a versatile vegetable that works in so many different recipes!
Rethink Sandwiches
Skip the bread and wrap anything and everything in various forms of leafy greens! This can range from lettuce to kale. It just depends on what you enjoy and which veggies are available near you! Offer a little extra variety in your salads or sandwiches by grilling romaine lettuce for a warmer texture.


Cabbage
It's not just for soup anymore! I chop, dice, + shred red cabbage to use in everything from my meatballs to my salads!


Spiralized Veggies
It's no secret, but spiralizing your veggies can make adding them as a substitute for pasta a breeze! Purchase a spiralizer, such as the Vegetti, or check your grocery store's produce section for pre-spiralized options! You can find anything from beets to zucchini, carrots, and yellow squash.  These fun swaps to traditional ingredients are a great base to any meal and an incredible substitute for pasta.
Prep Smoothies
Take small Ziploc bags and prep a week's worth of smoothies for a great grab-and-go option. You can include bananas, spinach, berries, and apples.  Just don't forget other, less thought of ingredients such as cauliflower which have no taste but sneak in an additional serving of veggies for the day!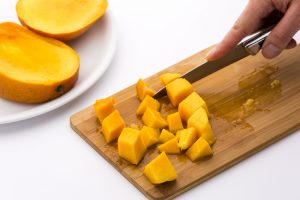 Crockpot or Stovetop Shredded Chicken
Get bone-in, high-quality chicken breasts to cook and shred. Store in 1 oz. serving sizes for a quick protein on-the-go. These are perfect for adding to a stir-fry or salad, plus they're perfect to freeze for later use!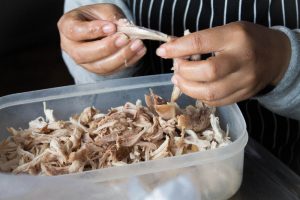 Tip: I use the Instant Pot so I can cook 3-4 chicken breasts in 20 minutes.
Key Tools
Spiralizer, Vegetti, InstantPot, Nutribullet (also Vitamix or Ninja), Food Processor
What tips do you have for a TLS Detox? Leave it in the comments!