By Kerri Whatley
I don't know many people who don't adore pasta dishes. However, while trying to lose weight and become healthy, eating pasta all the time isn't the best thing for you. While fiddling around on Pinterest the other day I ran across a recipe that I had to share with you guys, Zucchini Lasagna. I wasn't sure how I would feel about replacing my beloved pasta with zucchini, but it turns out I love it!
By replacing the pasta with thin sliced zucchini you can create a delicious low carb, lighter lasagna and you won't miss the Italian dishes we all adore.
I just love how zucchini is so versatile; it's an absolute winner in this recipe.
I used my mandoline to slice the zucchini which made slicing quick and easy. You can make the sauce ahead of time or the day before, I like to double my sauce and freeze the rest for quick week night meals.
What you'll get:
Servings: 6 • Serving Size: 1/6th • Old Points: 8.5 pts • Points+: 10 pts
Calories: 418.8 • Fat: 17.6 g • Protein: 39.2 g • Carb: 20.9 g • Fiber: 3.1 g
What you'll need:
1 lb 93% lean beef
3 cloves garlic
1/2 onion
1 tsp olive oil
salt and pepper
28 oz can crushed tomatoes
2 tbsp chopped fresh basil
3 medium zucchini, sliced 1/8″ thick
15 oz fat free ricotta
16 oz reduced fat mozzarella cheese, shredded (Weight Watchers)
1/4 cup Parmigianino Reggiano
1 large egg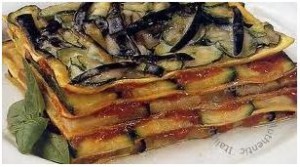 Photo courtesy of wizardrecipes.com
What you'll do:
On a gas grill or in the broiler, grill zucchini on each side, until cooked, about 1-2 minutes per side.
In a medium sauce pan, brown meat and season with salt. When cooked drain in colander to remove any fat. Add olive oil to the pan and sauté garlic and onions about 2 minutes. Return the meat to the pan; add tomatoes, basil, salt and pepper. Simmer on low for at least 30-40minutes, covered. Do not add extra water, the sauce should be thick.
Meanwhile, slice zucchini into 1/8″ thick slices, add salt and set aside or 10 minutes. Zucchini has a lot of water when cooked, salting it takes out a lot of moisture. After 10 minutes, blot excess moisture with a paper towel.
In a medium bowl mix ricotta cheese, parmesan cheese and egg. Stir well.
Preheat oven to 350°.
In a 9×12 casserole spread some sauce on the bottom and layers the zucchini to cover. Then place some of the ricotta cheese mixture, then top with the mozzarella cheese and repeat the process until all your ingredients are used up. Top with sauce and mozzarella and cover with foil.
Bake 45 minutes covered at 375°, then uncovered 15 minutes. Let stand about 5 – 10 minutes before serving.
Hope you enjoy this new take on lasagna, how do you like your Italian food?