We are excited to launch our brand-new TLS Menu Plans and their corresponding Recipe Booklets. You can find them on TLSslim.com under Resources > Program downloads and Recipes. Not only will you see these updates in the downloads, but they are also reflected on your TLSslim site program pages. https://www.tlsslim.com/resources/our-programs  
This is live in USA, Canada, UK, Australia, Hong Kong, Taiwan and Singapore on their TLS sites. 
 We have added healthier options to the power food lists, following a more 'whole food approach', which creates a better physiological response. Aligning with the latest research, so you get better and faster result. We know you will love the new, fresh and clean look!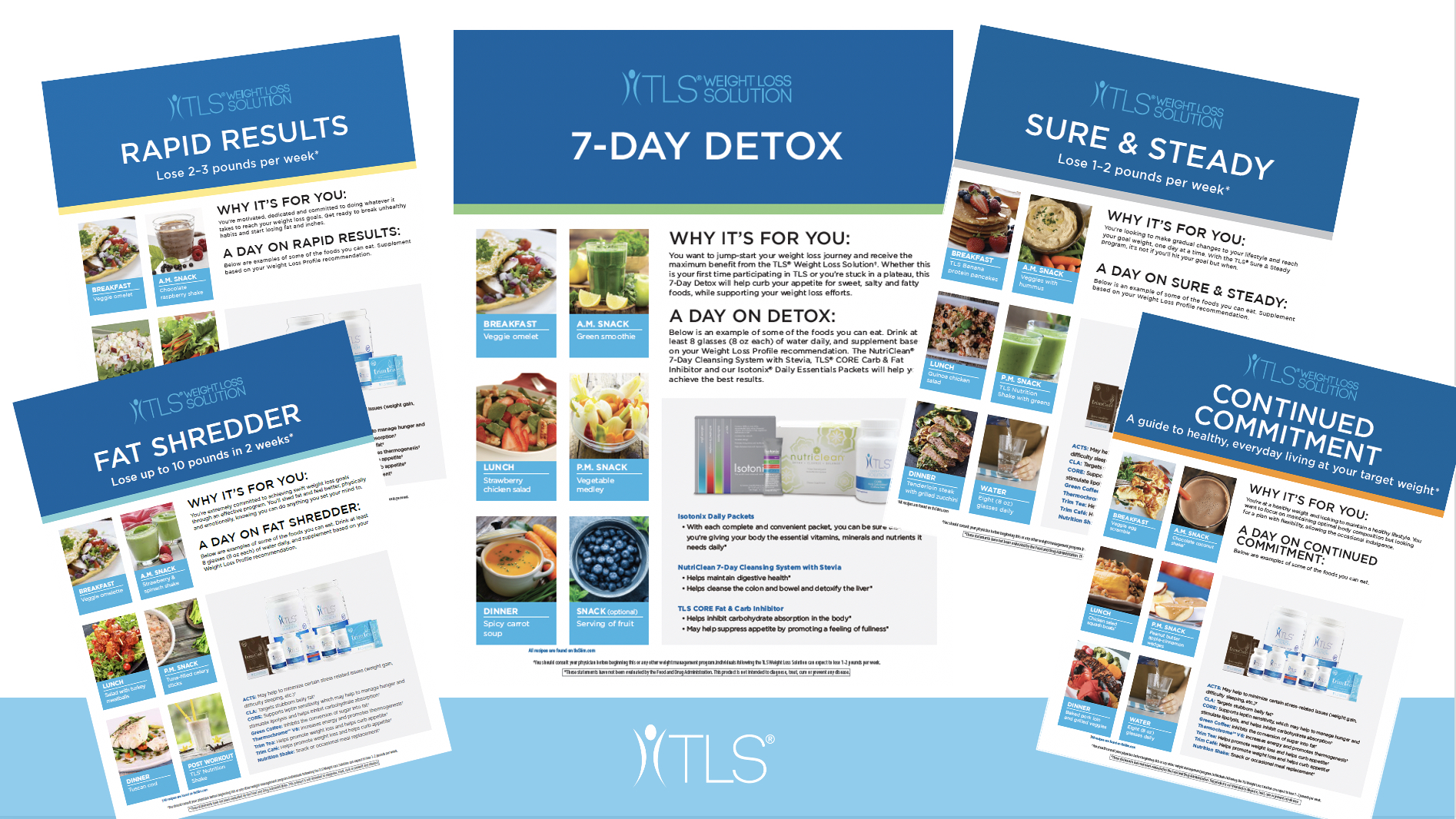 Here is a summary of the Changes we made: 
HEALTHY FATS 
Increased the potential number of servings per day of healthy fats in Rapid Results, Sure and Steady and Continued Commitment. Healthy fats are important for fat burning and satiety in addition to supporting brain health, joint health and helping to maintain healthy cholesterol levels.

 
DAIRY:  
Removed Dairy from Rapid Results, and added whole food starch instead

​

 

Removed Dairy from Sure & Steady.

​

 

Removed NON-FAT dairy options because removing fat from dairy makes it higher glycemic. You will see full-fat options in our TLS Continued Commitment menu plan.

 
​GRAINS: 
Improved GRAIN options in Sure & Steady & Continued Commitment. There are awesome whole food options and better choices today than ever.

 
​ 
FRUITS & VEGGIES: 
Improved the approved fruit and veggies lists on all menu plans.

 
PROTEIN: 
Improved protein options and increased vegetarian and vegan protein options in all menu plans, including a notation to download our Vegan & Vegetarian 101 document.

 
​ 
OTHER UPDATES: 
​We have updated the "RULES" Sections and added some FUN TLS TIPS to many of the plans like "TLS Approved Sweeteners" list and TLS Shake information. 

 
Continued Commitment we reduced the Grain, Dairy & Starch servings per day to just 1 serving per day across the board

​

 
Each corresponding recipe booklet for 7-day Detox, 14-Day Fat Shredder, Rapid Results, Sure and Steady and Continued Commitment have been re-vamped to be congruent with the new program guidelines and they are beautiful! You will find them easier to read and follow, and we included beautiful pictures. You will be proud to use these and share with your customers.

 
ALL NEW Asian Recipe Booklet. Since TLS is so popular in our Asia-Pacific markets we wanted to provide a recipe booklet that tailored to your needs and culture.

 
This has been a massive project that started early 2021, we have many people to thank. A special thank you to our USA TLS Coaches and Trainers who helped us with the recipe booklets, Our Asia-Pacific TLS Coaches and Trainers that assisted us with the Asian recipe booklet, as well as the many individuals from different teams in our corporate office. Thank you! 
Don't wait. Go check out the new Program Menu Plans and Recipe booklets today! 
You are worth it! 
Melanie D. Nelson & Sosan Hau