By: Tayler Glenn
This summer, find a new favorite cooling drink. Without the sugar & with more natural flavors, these non-alcoholic healthy summer drinks are exactly what your next pool day needs!
Peach-Thyme Tea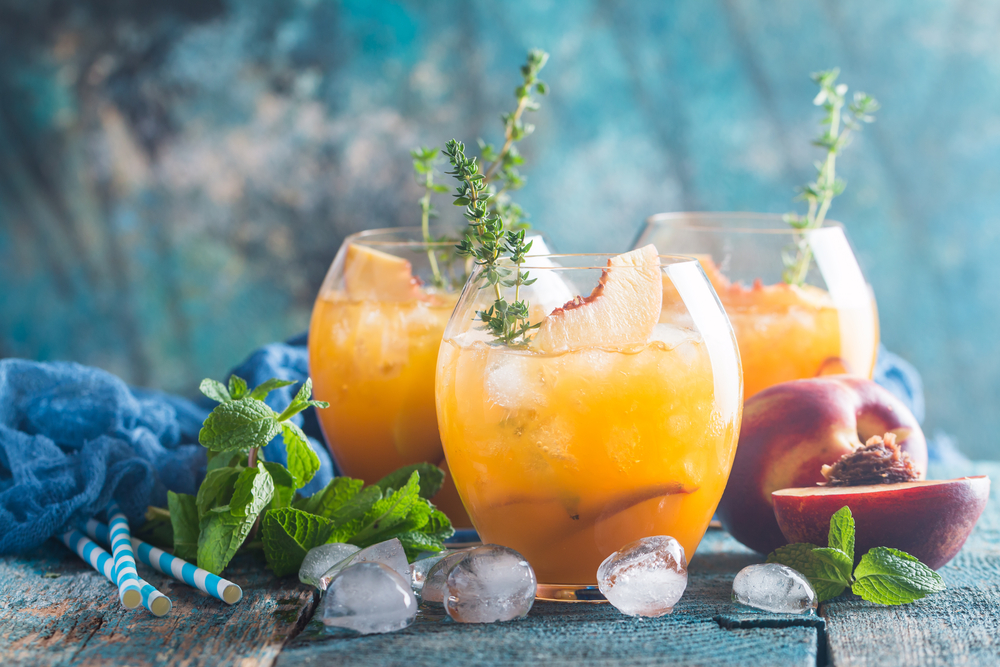 This Peach-Thyme Tea is one of those healthy summer drinks that doesn't taste like a health drink! Not overly sweet & carrying the unique taste and aroma of thyme, this iced tea is a new twist on an old classic.
Prep Time: 1 hour 30 minutes
Serves: Makes 6 servings
Ingredients:
1/4 cup honey or sticky sweetener of choice
1 Tbsp. thyme, chopped
8 cups water
6 cups peaches, sliced
10 regular-sized black tea bags
2 Tbsp. lemon juice
Optional: thyme springs & lemon slices
Prep:
Place honey, thyme, water, and 4 cups of the peaches in a pan.
Cover and bring to a simmer over medium-high, then stir and reduce heat to low.
Simmer, covered, stirring occasionally, for 30 minutes.
Let cool completely, about 30 minutes.
Pour mixture through a mesh strainer, pressing solids to get as much juice as possible
Place tea bags and remaining 2 cups peaches in a heatproof pitcher, at least 3-quart-sized.
Add boiling water, let steep 15 minutes, then discard tea bags.
Stir in lemon juice, peach mixture, then serve over ice.
Garnish with thyme sprigs and lemon slices as desired.
Enjoy!

Jalapeño Spritz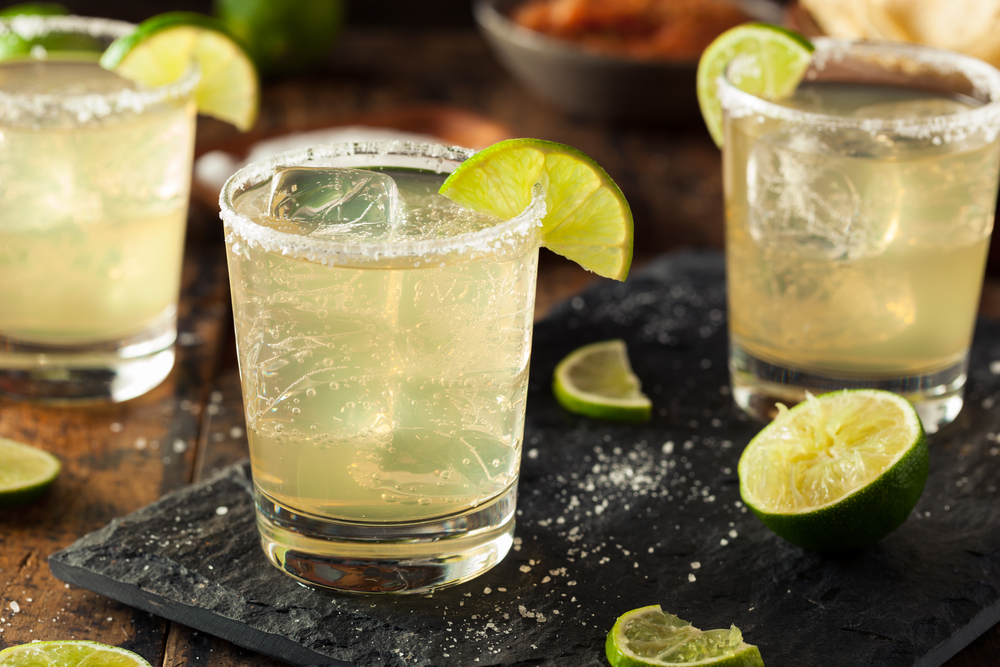 In terms of healthy summer drinks, it can be a real struggle to make a mocktail that is as delicious or impressive as a traditional cocktail. But, it's so nice to be able to offer options other than booze & sparkling water when friends come over! This combination of spice & sweetness only takes five minutes to mix and ingredients you probably already have in your fridge at home.
Prep Time: 5 minutes
Serves: Makes 2 servings
Ingredients:
1/4 cup lime juice
2 1/8-in.-thick jalapeño slices
Crushed ice
1/2 cup ginger beer, sugar-free or naturally sweetened
1/2 cup club soda
Salt, for rim
Prep:
Get two glasses, and gently wet the rim.
Dip into salt, then turn slowly to coat edges
Pour 2 tablespoons lime juice over 1 jalapeño slice in each one.
Fill glasses with crushed ice, and top each with 1/4 cup ginger beer and club soda.
Gently stir to combine.
Garnish with additional jalapeño slices, and serve immediately.
Enjoy!

Coconut Matcha Latte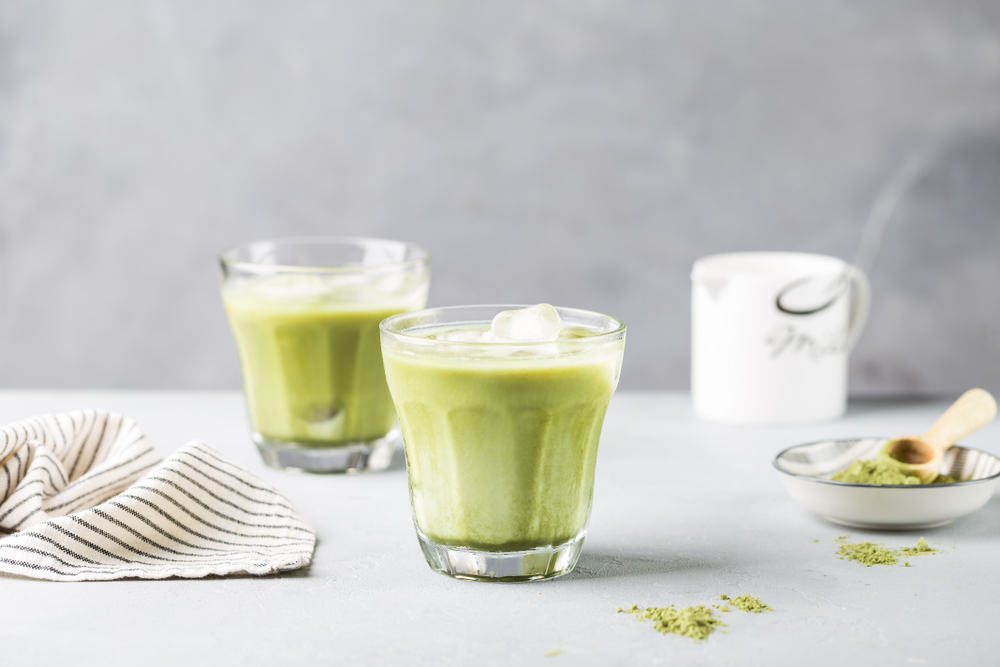 Matcha made a name for itself a few years ago, and we're so happy to have it on the list of healthy summer drinks!  This Coconut Matcha Latte is antioxidant-rich, creamy, cooling, and incredibly healthy!
Prep Time: 5 minutes
Serves: Makes 1 serving
Ingredients:
1/4

 

cup

 

hot water

2

 

tsp

 

matcha green tea powder

3/4

 

cup

 coconut milk,

 

warmed

1/2

 

tsp

 

vanilla extract

Ice cubes

Stevia or honey, to taste
Prep:
Place matcha powder in a shaker, add hot water, close the lid and shake it until frothy and well mixed. Be careful – pressure may build and container may be hot.

Put warm coconut milk in a separate glass jar with a lid, add vanilla and honey or Stevia, and shake well.

Fill the glass 2/3 full with ice, pour in coconut milk, then slowly add the matcha green tea mixture.

Stir until combined & cold
Enjoy!

Trim Cafe Latte Shake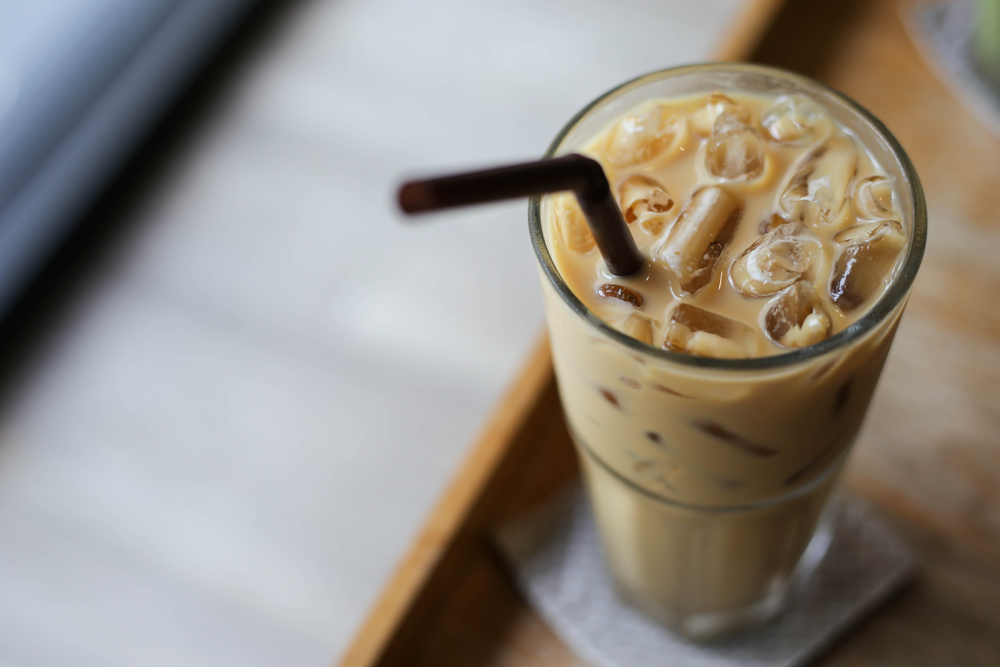 This coffee-flavored protein shake is full of amazing coffee flavor, the fat-burning kick of WellTrim®, and an incredible taste. It's a coffee lover's dream come true! It will keep you full for a long time which makes it great for breakfast or after a tough workout.
Prep Time: 5 minutes
Serves: Makes 1 serving
Ingredients:
1/2

 

cup

 

almond milk

1

 

cup

 cold Trim Cafe

1

 

frozen banana

1 svg. TLS® Shake – Vanilla

1/2

 

teaspoon

 

vanilla

Ice cubes, t

o taste
Prep:
Add all ingredients to a blender & blend until smooth
Add ice or liquid until you've reached desired consistency
Enjoy!