By: Thomas Baker
The Playlist to Get You Up & Walking
If you're trying to lose weight or just stay fit, walking is one of the best exercises for you to do.  It lowers your blood pressure, relieves stress, and can reduce your risk for certain chronic diseases.  If you're someone who has a little trouble motivating yourself to get up and moving, we've got a playlist to get you started!
With the sun shining this time of year, it's a perfect chance to take advantage of the weather and go walking in new places!  Sure, you can add a few steps to your day by parking a little further from the door, but 30 minutes per day is going to be where you'll experience real results!
Check out local parks and trails with beautiful scenery, or maybe there's a walking group in your town.  A school's track, a lovely park, local campus, or even running trail can help make your exercise feel like less of a chore and more of something you'll enjoy!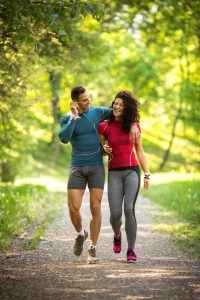 Plug in this playlist, take a deep breath, and enjoy your beautiful walk!
"Know No Better" – Major Lazer feat Travis Scott, Camila Cabello & Quavo
"NOTHING ELSE!" – Mura Masa feat Jamie Lidell
"All Stars" – Martin Solveig feat Alma
"The Drums" – Claptone feat George Kranz
"Sunrise" – Jillionaire, Fuse ODG & Fatman Scop
"Hello" – Martin Solveig & Dragonette
"Am I Wrong" – Nico & Vinz
"Stay" – Kygo feat Maty Noyes
"She Wants to Move" – N.E.R.D
"Slide" – Calvin Harris feat Frank Ocean & Migos
Do you have any favorite songs we missed?? Comment below to help us create the perfect playlist!