Last month, the Food and Drug Administration introduced proposed changes to the way you would read food labels.
The changes, which would be the first in more than 20 years, are necessary "to keep pace with the science of nutrition and to reduce confusion about what qualifies as healthful food."
According to First Lady Michelle Obama, who is helping spearhead the changes:
Our guiding principle here is very simple: that you as a parent and a consumer should be able to walk into your local grocery store, pick up an item off the shelf, and be able to tell whether it's good for your family. So this is a big deal, and it's going to make a big difference for families all across this country.
Among the changes: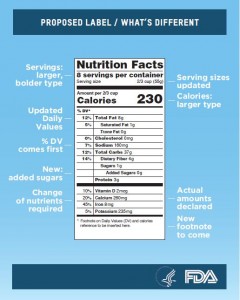 Include the amount of "added sugars" in a food product. Current food labels don't differentiate between sugars that naturally occur in foods and those added by manufacturers, such as corn syrup. According to FDA Commission Margaret Hamburg, added sugars contribute to a substantial portion of American calories without providing any nutritive value.
Update serving size requirements to reflect the amounts people currently eat. Under the new rules, a 20-ounce soda (which is 2.5 servings, according to its current label) would be required to count the entire soda bottle as one serving.
Present "dual column" labels to indicate both "per serving" and "per package" calorie and nutrition information for larger packages that could be consumed in one sitting or multiple sittings. Some manufacturers already do this voluntarily; the new rules would make it a requirement.
Require the declaration of potassium and vitamin D, nutrients that some in the U.S. population are not getting enough of. Vitamins A and C – which the FDA believes most Americans get adequate amounts of through their typical diets – would no longer be required on the label, though manufacturers could declare them voluntarily.
Revise the Daily Values for a variety of nutrients such as sodium, dietary fiber and vitamin D. Daily Values are used to calculate the Percent Daily Value on the label, which helps consumers understand the nutrition information in the context of a total daily diet.
Remove "Calories from Fat"from food labels. Research has shown that the type of fat is more important than the amount. Food labels would still be required to include amounts for "Total Fat," "Saturated Fat," and "Trans Fat."
Place more emphasis on certain elements important in addressing current public health problems like obesity and heart disease. Such statistics include calories, serving sizes and Percent Daily Value.
"By revamping the Nutrition Facts label, FDA wants to make it easier than ever for consumers to make better informed food choices that will support a healthy diet," said Michael R. Taylor, the FDA's deputy commissioner for foods and veterinary medicine. "To help address obesity, one of the most important public health problems facing our country, the proposed label would drive attention to calories and serving sizes."
What do you think of the proposed changes to food labels?