By: Tayler Glenn
September 29th is a day dedicated to the morning pick-me-up that makes it possible for most of us to get out of bed in the morning, or as we like to say "the best day of the year".  Yep – it's National Coffee Day! Besides the fact that it gets us up each day, coffee also gives some of us the energy to get through the day, and, in short, live our lives. In honor of this celebration, here are some ways to celebrate our favorite beverage:
Check out the coffee day deals
Grabbing coffee every day can really add up over time, so many opt for grabbing a to-go mug on our way out the door in the morning.  There's nothing wrong with an at-home brew, but it is nice to treat yourself every once & a while! Today, coffee shops around the country are offering deals from BOGO 50%, BOGO free, or simply giving away free cups! Click here to search for places near you that offer a little cash back for treating yourself! Sounds almost too good to be true, right?
Try out a new (and local!) shop
Yes, we know Starbucks has a ton of flavor combinations. But, if we're being honest with ourselves, the added flavors and syrups aren't exactly a great and healthy start to our day.  Instead of opting for a commercial coffee, why not try one of the local coffee shops around the corner? Often, these shops offer a higher quality coffee with unique blends of flavor profiles and aromas.  They even know how to make a real flat-white and macchiato, and you just might find that you enjoy the taste of coffee when it's well-made!
Brush up on your knowledge
Did you know that coffee has protective properties against headaches, gallstones, dementia, and cardiovascular disease?[1] Despite being demonized for its caffeine-induced side effects, coffee has some pretty great health benefits.  It has an interesting history and quite the complex process that takes it from field to home!  Everything from the soil the coffee plant is grown in to the way it's roasted can change the flavor, so we're left with endless possibilities!
Create the perfect sidekick
Sure, coffee cakes and breads are perfect with coffee. This doesn't mean we want to derail the day with sugar, though!  Instead of feeling like you're missing out, try these TLS-approved Dusted Donut Holes!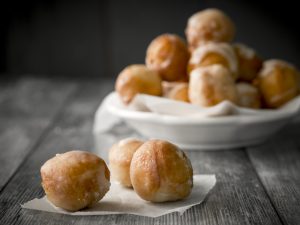 Serves:  Makes 16 servings
Prep Time: 30-40 minutes
Ingredients:
1 cup oat flour
½ cup stevia powder
¼ cup almond milk
1 tsp. baking powder
1 tsp. cinnamon
½ tsp. salt
½ tsp. vanilla extract
¼ tsp. baking soda
4 egg whites
1 serving TLS Whey Protein Shake or Plant-Based Protein Shake
(optional): ¼ cup stevia powder
(optional): 2 tbsp. cinnamon
Method:
Preheat oven to 325 degrees.
Coat mini-muffin tray with cooking spray.
Combine dry ingredients and wet ingredients separately.
Combine dry ingredients with wet ingredients and mix thoroughly into a uniform texture.
Bake for 20-25 minutes. Remove while warm and roll in dusting, if desired.
Try a new TLS Shake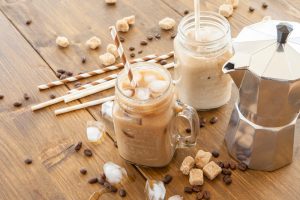 Serves: Makes 1 serving
Prep Time: 10 minutes
Ingredients: 
1 cup strongly brewed coffee, chilled
1 scoop TLS Shake – Vanilla
1 tsp. ground cacao
½ tsp. ground cardamom
½ tsp. pure almond extract
1 cup ice
Method: 
Place coffee, cacao, TLS Shake powder, cardamom, extract, and ice in a blender.
Blend until smooth.
Coffee isn't for everyone, but we don't want to leave you or your friends out of the fun! If you need a morning alternative, Mochatonix® is perfect for you!  It even comes in three flavors so you can choose your favorite: mocha, cappuccino, and vanilla!  Not only does it taste great, but you can drink it cold or hot and it includes Advantra Z to help burn fat while you sip!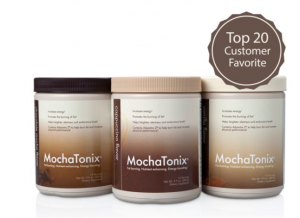 How are you celebrating National Coffee Day? Tell us in the comments!